Tim Horton's a Hit in Afghanistan
Troops in Kandahar get a Tim Horton's shop
March 7th 2006.
Is there any Canadian tradition more celebrated than peacekeeping? Maybe the 40-year addiction of Canadians to Tim Hortons' coffee.
Currently, peacekeepers in Afghanistan have no access to Canada's favourite brew, but that will soon change.
After weeks of military lobbying, Tim Hortons announced on Tuesday that they will set up a coffee shop in Kandahar to serve Canadian peacekeepers.
Apparently, Canada's largest coffee chain agrees that peacekeeping just isn't Canadian without double-doubles and Tim Bits.
The date hasn't been set yet, but co-founder Ron Joyce told the Hamilton Spectator that it will happen "shortly."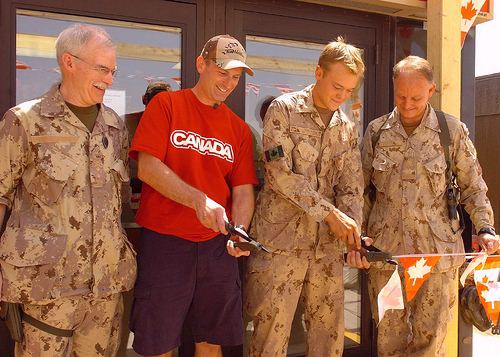 "The management team in Oakville, Ont., has got it in hand and it's going to happen. They've just got to get the pieces together," Joyce said.
Although Joyce sold his share of the chain in 2003, he received a personal inquiry from Canadian General Rick Hiller about expanding the chain to satisfy his troops' cravings for a taste of home. This put the java-mission in motion.
The coffee chain's unique place in Canadian culture and identity should not be underestimated.
Retired Major-General Cam Ross told the Spectator that he believes the opening of a Tim Hortons will boost the troop's spirits.
Ross is speaking from experience. He spent two years as UN force commander in the Middle East and frequently used Tim Hortons' goodies to make people feel at home.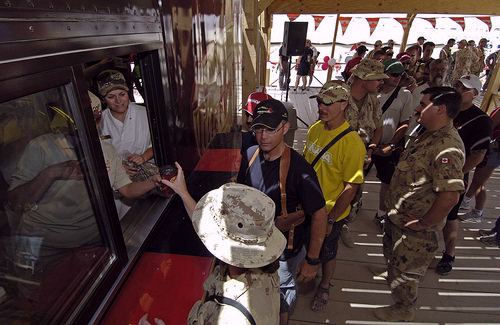 "I can definitely tell you Tim Hortons does influence positively [on the] morale of deployed troops," he said.
"It connects with Canada. How much more Canadian can you get than roll up the rim or Tim Hortons?" Ross said adding, "and I don't get paid by Time Hortons for saying so."
A trailer with takeout windows is expected to house the chain and deliveries to the Canadian base in Kandahar will be made by military transport.
Staffing for the operation has not yet been decided.
---
KANDAHAR, Afghanistan (CP) - It turns out the universal language isn't the language of love after all - at least not here at Kandahar Airfield.
Troops here, you see, are all strictly adhering to a "non-fraternization" policy - in other words, no hand holding, no kissing and definitely no sex - even if you and your spouse happen to be serving here together.
Bill Graveland - December 1st 2006.
No, the universal language here is all about coffee.
"I'll have a large double-double and a regular," said a young soldier with an Australian accent, stopping in at the base Tim Hortons (TSX:THI).
"We call it Tim Hortonese - Tim Hortons lingo," laughs Kelly Taylor, 42, of Oromocto, N.B. who has been working at the base since July while her military husband is at home.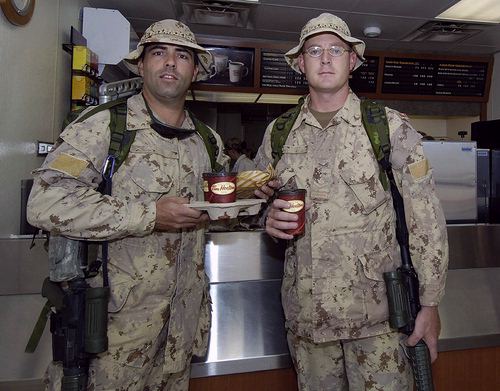 "The British will come up and ask us for a regular coffee, only 'regular' in Tim Hortons language is one milk, one sugar. Only to them it's not - it's white, whatever that means," she added.
Believe it or not, 1,300 customers per day file through the Kandahar Tim Hortons from 12 different countries stationed on the base. Whereas Canadians file in and out as if they are on a conveyor belt, it takes a lot longer for others.
"It takes a little while to pick up the lingo," said Air Engineering Technician Daniel Stace from Darbyshire, England, who is in the Royal Navy.
"A double-double? It took me a while to work that one out but normally I just stick to the bagels and the orange juice," he said.
Others don't even try to learn the language of Tims.
"No, not yet, because I only just drink black coffee and so that's just fine by me," said Sgt. Mike Koninkle of the Netherlands.
"I'm not quite familiar with all the slang around Tim Hortons and I just drink coffee and that's it and I don't need all the fancy coffee or tea," he added.
Taylor boasts that she can tell a soldier's nationality at the base even if they speak perfect English and are not wearing a uniform, simply by what they order.
"The British and the Dutch mostly will order Boston creams and Canadian maples. . . and the Americans will probably order five dozen donuts at a time. And the British and the Dutch always order the very sweet cappuccinos," Taylor explained.
"Canadians order bagels and coffee," she said.
The confusion over the Tim Hortonese has Taylor vowing to put a Tim Horton-English dictionary on the door of the store.
"I'm going to write a dictionary and post it on the outside of the door for all the non-Canadians. That's my job for the next week," she said.
The most humorous thing that happens at the Tim Hortons in Kandahar involves Canada's southern neighbours.
"We're a bilingual country and we have English and French on the menu sign here, Taylor smiled.
"We have gentlemen come up and ask for an apple fritter/beignes aux pommes, or an icecap/glace. It's pretty funny - they're pretty funny."