Welcome to Lilith Press's fashion section, wherein grrls (and guys) get to read commentary on all the latest fashion buzz and commentary. The articles posted here will be a combination of do-it-yourself, fashion tips, specific brands we like and more!
Fashion Designers want Guidelines for Models
---
Fitness Fashion on a Budget!
Note: Before beginning this post I want to make a note that I am not endorsing people to buy the overpriced garbage being pushed by Lululemon. Their fat shaming tactics aside, I think their clothing prices are ridiculous. Why would anyone spend $92 on a pair of yoga pants unless they were mentally deficient?!
Fashion is sometimes about enjoying what you've got and showing it off. After all, what is the point of all that exercising if you cannot show off some of the results?
But that doesn't mean you should be paying quite so much for exercise clothes you only wear maybe 30 minutes every day (or depending on your exercise schedule, less than 2 hours per week). Thus here are some tips for buying fitness clothes on the cheap!
Tip #1. Shop online and compare prices. You can save a bundle just by finding places online that offer free shipping and have great prices.
Tip #2. Look for sales. You can easily get 30 to 80% off the regular sticker prices if you look for things that are on sale.
Tip #3. Learn which websites are great for getting discount fashion - sites like Kitbag, Etsy offer amazing deals on clothing, and not just fitness fashion items.
Tip #4. Don't ignore websites that are overseas - as long as they offer free overseas shipping!!! (Or have a warehouse locally which they ship from.)
Tip #5. Check the manufacturers website - sometimes manufacturers offer discount rates on old stock that hasn't been sold.
Tip #6. Only buy it if you actually need it.
Tip #7. Only buy it if you really love it.
Tip #8. Check your closet!!! You probably have clothes already that you can use. So why buy something new if you have clothes already in the closet that are awesome!
Tip #9. Borrow from friends. If you have friends who are the same size as you and they have clothes they don't need, ask and see what they might dredge up.
Tip #10. Make your own clothes! Seriously, learning how to knit or sew is easy and is a grrrl's secret weapon when it comes to fashion! (Although I should note I know quite a few guys who can sew and knit too.)
No doubt you could make up your fashion shopping tips, but now that the idea has been planted you know you can explore alternatives.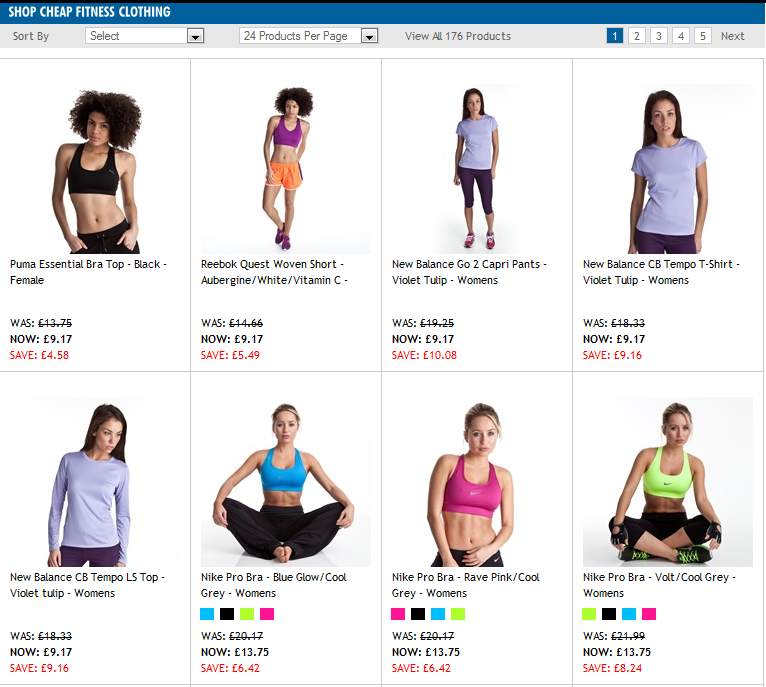 ---
Why Don't Men Dress This Well More Often?
By D. Eze
Men do not dress nicely that often. It is true. Most of the time men think it is okay to walk outside in jeans and a T-shirt. While women spend endless hours trying to figure out what looks best on them (even to the point of planning ahead the day before and let's not get into what women do if they have an important date coming up), men just pick shirt and pants, check to see if it is emitting a foul odor and head out the door.
Why don't they put more effort into their attire? Why don't men try to look as nice as possible as often as possible?
Maybe they just don't care. Maybe they have better things to do with their time. Maybe they just do not know how. Or maybe they just have not found the style that they are looking for yet.
Men believe in function following form. They want to be comfortable and if they also look good well that is a bonus. They want their cloths to first of all appealing them and then, if possible, be appealing to others.
Men know what they want they just don't know where to find it. Kish is that men's apparel retailer they have been looking for - as Kish is the epitome of stylish menswear.
Their clothing grant both function and form. They provide simple pieces that are fit for any occasion: relaxing at home, going out on a hot date, showing up for an important job interview, a crucial meeting with clients, or fancy party where one may need to dress to impress. The entire collection will afford men the ability to remain comfortable in their clothing not matter which piece they choose all the while providing men with a heightened sense of style that will impress anyone they encounter.
In particular, Kish's 13/14 Winter collection very apt in providing mean with function and form. The collection can only be described as urban style with a modernized Edwardian aesthetic. What does that look like. Check out these pictures.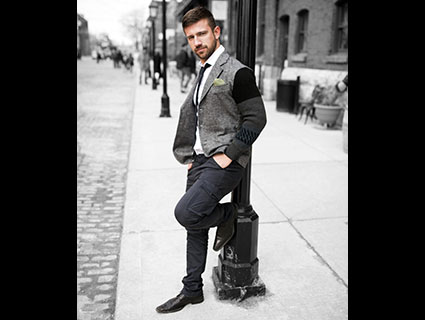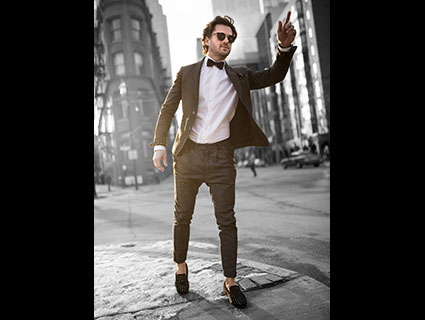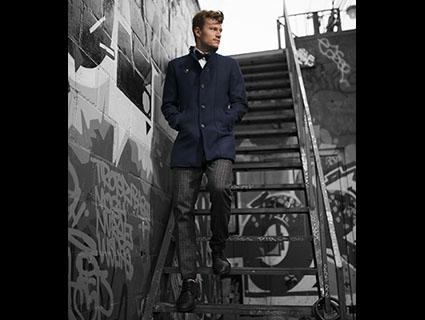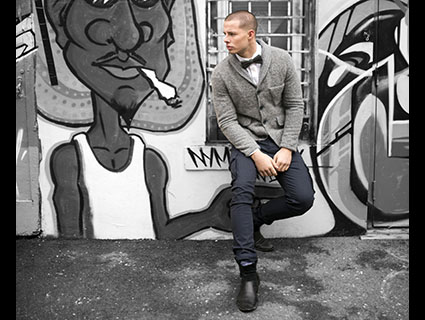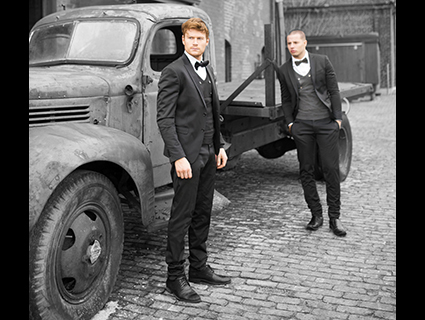 From the choice of fabrics, to the bow ties, to the why the clothing is cut, to the choice of colours you can see the Edwardian inspiration in the bow ties and the classic cut of the suits. But it has been definitely been modernized with small changes to important details like the hem of the pants (raised and embellished), the cut of the pants (lowered and widened), the details on the jackets (different materials in the constructions of the body and sleeves and added embellishments). These pieces have one foot in the early 1900s and the other foot firmly entrenched in early 2000's, which seems a difficult feat, but comes off as stylish and forward thinking.
What man would not want to show up at a date looking like this (see image on the right)? What women would turn down a man who showed up to a date looking like this?
If comfort is all you are looking for that's fine, but why not step it up a little bit and incorporate style as well.