Music!
Music is life and life is music. Music combines musical beats with poetry of words, combined in beautful, sometimes haunting, but always magestic examples of human communication that reaches deep into the psyche of all those who listen.
Sincerely,
Suzanne MacNevin
British-Canadian Feminist Writer
---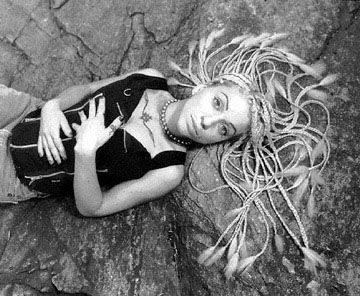 The Madonna of Folk Music
Biography by Charles Moffat - January 2008.
When I went to university years ago I was abducted and brainwashed by feminists who forced me to listen to Ani DiFranco for four years.
That is the joke I tell people at least. I've always held the belief that women are treated unfairly, but Ani DiFranco to me was the culmination of that belief in the form of music. Her music inspired me for years and it is a shame I was only introduced to her music in January of 2000.
Eight years later I've decided to shed more light on the life and music of Ani DiFranco.
Ani DiFranco is a musical activist who sings what she believes in and combines a punkish attitude towards corporate rock and folk music rhythms.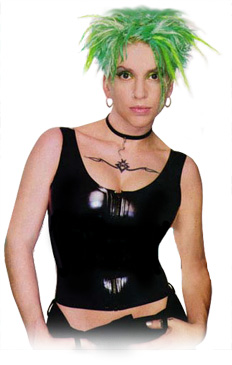 She was born on September 23rd 1970 in Buffalo, New York and by the age of 9 was playing Beatles covers in local bars. By age 18 she started her own record company "Righteous Records" in 1989. Twas renamed Righteous Babe Records in 1994.
In 1990 she relocated to New York City, where she took poetry classes and began touring with her music. 18 years later she is still touring strong, having only stopped briefly once due to tendonitis.
Since then she has released 31 albums, 3 EPs and numerous music videos. She is a popular artist to download mp3s of. There are over 200 Ani DiFranco songs out there.
DiFranco's guitar playing is often characterized by a signature staccato style, rapid fingerpicking and use of a plethora of alternate tunings. She delivers many of her lines in a speaking style notable for its rhythmic variation. Her lyrics, which often include alliteration, metaphor, word play and a more or less gentle irony, have also received praise for their sophistication.
Ani DiFranco's music has often been classified as both folk rock and alternative rock, she has reached across genres since her earliest albums. She has also collaborated with pop musician Prince, folk musician Utah Phillips, funk, soul and jazz musician Maceo Parker and rapper Corey Parker. Ani DiFranco herself noted that "folk music is not an acoustic guitar — that's not where the heart of it is. I use the word 'folk' in reference to punk music and rap music. It's an attitude, it's an awareness of one's heritage, and it's a community. It's subcorporate music that gives voice to different communities and their struggle against authority."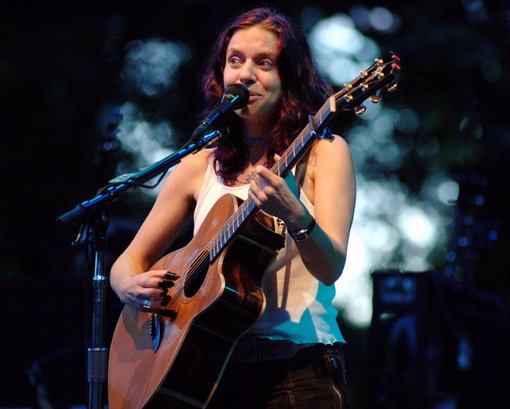 Relationships & Personal Life
Much of DiFranco's material is autobiographical and concerned with contemporary social issues such as racism, sexism, sexual abuse, homophobia, reproductive rights, poverty, and war. The combination of personal and political is partially responsible for DiFranco's early popularity among politically active college students. DiFranco's rapid rise in popularity in the mid-1990s was fueled mostly by personal contact and word of mouth rather than mainstream media, fans often expressed a feeling of community with each other.
On the subject of religion, DiFranco has stated: "Well, I'm not a religious person myself. I'm an atheist. I think religion serves a lot of different purposes in people's lives, and I can recognize the value of that, you know, the value of ceremony, the value of community, or even just having a forum to get together and talk about ideas, about morals — that's a cool concept. But then, of course, institutional religions are so problematic."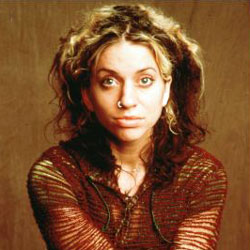 DiFranco has identified herself as either bisexual/bi-curious for much of her career and in 1998, she married sound engineer Andrew Gilchrist in a Unitarian service in Canada, overseen by Unitarian minister Utah Phillips. Numerous media sources reported that her fans felt betrayed by her union with a man. DiFranco and Gilchrist divorced five years later, but remain friends.
In 1998 Ani DiFranco's drummer, Andy Stochansky, left the band to pursue a solo career as a singer-songwriter. Their rapport during live shows is showcased on the 1997 album Living In Clip.
DiFranco's father died early in the summer of 2005. However, she continued her summer tour as a tribute to him.
On July 22, 2005, DiFranco developed tendonitis and took a hiatus from touring. (DiFranco had toured almost continuously in the preceding fifteen years, only taking brief breaks to record studio albums.) Her 2005 tour concluded with an appearance at the FloydFest World Music and Genre Crossover festival in Floyd, Virginia. DiFranco returned to touring in late April 2006, including a performance at the New Orleans Jazz & Heritage Festival on April 28.
DiFranco gave birth to a daughter, Petah Lucia, at her Buffalo home on January 20th 2007. The child's father is DiFranco's boyfriend Mike Napolitano, the co-producer of DiFranco's 2006 release Reprieve.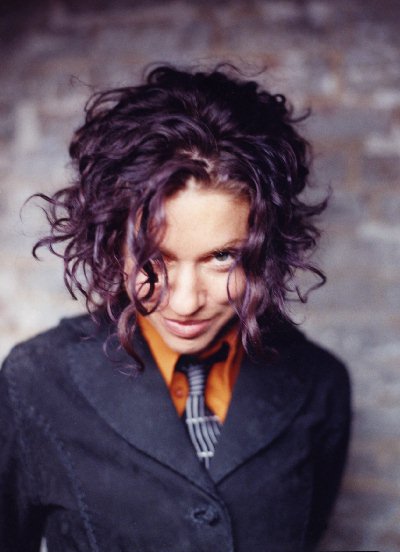 She has continued touring into 2008.
Career
On July 21, 2006, DiFranco received the "Woman of Courage Award" at the National Organization for Women (NOW) Conference and Young Feminist Summit in Albany, NY. Past winners have included singer and actress Barbra Streisand and Sen. Barbara Boxer, D-Calif. DiFranco is the first musician to receive the award, given each year to a woman who has set herself apart by her contributions to the feminist movement.
DiFranco has been toasted by the Buffalo News as the "Buffalo's leading lady of rock music." The News further said: "Through the Righteous Babe Foundation, DiFranco has backed various grassroots cultural and political organizations, supporting causes ranging from abortion rights to gay visibility."
Since 2003 DiFranco has been nominated four consecutive times for Best Recording Package at the Grammy Awards, one of which she won, in 2004, for Evolve.
More About Feminist Music
Music for Feminists by Feminists
Studio Albums
1990 - Ani DiFranco
1991 - Not So Soft
1992 - Imperfectly
1993 - Puddle Dive
1993 - Like I Said: Songs 1990-91
1994 - Out of Range
1995 - Not a Pretty Girl
1996 - Dilate
1998 - Little Plastic Castle
1999 - Up Up Up Up Up Up
1999 - To the Teeth
2001 - Revelling/Reckoning
2003 - Evolve
2004 - Educated Guess
2005 - Knuckle Down
2006 - Reprieve
2007 - Canon

Live Albums
(Official Bootleg series - available in stores)
1994 - An Acoustic Evening With
1994 - Women in (E)motion
1997 - Living in Clip
2002 - So Much Shouting, So Much Laughter
2004 - Atlanta - 10.9.03
2004 - Sacramento - 10.25.03
2004 - Portland - 4.7.04
2005 - Boston - 11.16.03
2005 - Chicago - 1.17.04
2005 - Madison - 1.25.04
2005 - Rome - 11.15.04
2006 - Carnegie Hall - 4.6.02
2007 - Boston - 11.10.06
2008 - Hamburg - 10.18.07

EPs
1996 - More Joy, Less Shame
1999 - Little Plastic Remixes
2000 - Swing Set

Demos
1989 - Demo tape (unreleased)

Videos
2002 - Render: Spanning Time with Ani DiFranco
2004 - Trust

Poetry
2004 - "Self-evident: poesie e disegni"
2007 - Verses
Ani DiFranco Quotes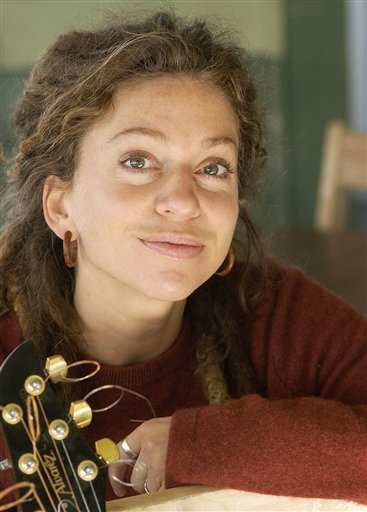 "Any tool is a weapon if you hold it right." - Ani DiFranco.
"Art is why I get up in the morning but my definition ends there. You know I don't think its fair that I'm living for something I can't even define." - Ani DiFranco.
"Art is why I get up in the morning; my definition ends there. You know it doesn't seem fair, that I'm living for something I can't even define. And there you are right there, in the mean time." - Ani DiFranco.
"Art may imitate life, but life imitates TV." - Ani DiFranco.
"God forbid you be an ugly girl, 'course too pretty is also your doom, 'cause everyone harbors a secret hatred for the prettiest girl in the room." - Ani DiFranco.
"I do it for the joy it brings, cause I'm a joyful girl. 'Cause the world owes us nothing, we owe each other the world." - Ani DiFranco.
"I don't care if they eat me alive, I've got better things to do then survive." - Ani DiFranco.
"I have something to prove, as long as I know there's something that needs improvement, and you know that everytime I move, I make a woman's movement." - Ani DiFranco.
"I know there is strength in the differences between us. I know there is comfort where we overlap." - Ani DiFranco.
"I was blessed with a birth and a death, and I guess I just want some say in between." - Ani DiFranco.
"I'd rather be able to face myself in the bathroom mirror than be rich and famous." - Ani DiFranco.
"I'm recording our history now on the bedroom wall, and when we leave the landlord will come and paint over it all." - Ani DiFranco.
"I've been a long time coming, and I'll be a long time gone. You've got your whole life to do something, and that's not very long." - Ani DiFranco.
"If I'm gonna go down I'm gonna do it with style. You won't hear me surrender, you won't hear me confess cause you've left me with nothing but I have worked with less." - Ani DiFranco.
"If you like it, let it be, and if you don't please do the same." - Ani DiFranco.
"In order to keep anything cultural, logical, or ideological, you have to reinvent the reality of it." - Ani DiFranco.
"It seems that different people have an idea of what I am, and what I should be. And then there's me." - Ani DiFranco.
"Just let me go, we have to be able to criticize what we love, to say what we have to say 'cause if you're not trying to make something better, then as far as I can tell, you are just in the way." - Ani DiFranco.
"Love is a piano dropped from a fourth story window, and you were in the wrong place at the wrong time." - Ani DiFranco.
"Maybe you don't like your job, maybe you didn't get enough sleep, well nobody likes their job, nobody got enough sleep. Maybe you just had the worst day of your life, but you know, there's no escape, there's no excuse, so just suck up and be nice." - Ani DiFranco.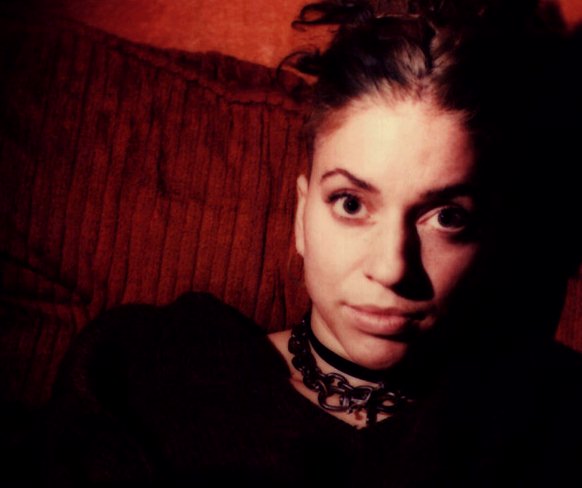 "Men make angry music and it's called rock-and-roll; women include anger in their vocabulary and suddenly they're angry and militant." - Ani DiFranco.
"My idea of feminism is self-determination, and it's very open-ended: every woman has the right to become herself, and do whatever she needs to do." - Ani DiFranco.
"My songs are just little letters to me." - Ani DiFranco.
"People need something or someone to fasten themselves to in order to reassure themselves that they are real." - Ani DiFranco.
"Some people wear their heart up on their sleeve. I wear mine underneath my right pant leg, strapped to my boot." - Ani DiFranco.
"Someone's got to be interested in how I feel, just because I'm here and I'm real." - Ani DiFranco.
"Sometimes the beauty is easy. Sometimes you don't have to try at all. Sometimes you can hear the wind blow in a handshake. Sometimes there's poetry written right on the bathroom wall." - Ani DiFranco.
"Strangers are exciting, their mystery never ends. But, there's nothing like looking at your own history in the faces of your friends." - Ani DiFranco.
"Taken out of context I must seem so strange." - Ani DiFranco.
"Taking me seriously is a big mistake. I certainly wouldn't." - Ani DiFranco.
"There isn't much I have to say, that I wouldn't rather just shut up and do." - Ani DiFranco.
"They taught me different was wrong." - Ani DiFranco.
"We have a complete void of progressive politics in this country right now. The will of the people goes ignored and unrealized. I'm searching for the people that can enter the political system, a strong third party. We need to consolidate." - Ani DiFranco.
"We have to be able to criticise what we love, to say what we have to say 'cause if your not trying to make something better, than as far as I can tell, you are just in the way." - Ani DiFranco..