Stephen King - Biography on the Man and Career Highlights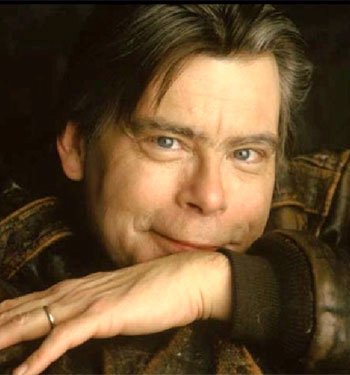 The King of Horror
By Angela Crockett - November 2007.
Stephen King has been a household name the world over for more than thirty years. With his best-selling books and movie adaptations, he's easily the most well known writer of today. Before he made it big with Carrie in 1974, however, he struggled for years with his career. Throughout his life, he's had personal milestones to overcome as well.
King was born Stephen Edwin King in Portland, Maine in 1947. His father left his family when Stephen was two, telling his mother that he was going out to buy a pack of cigarettes one night, only never to return. Ruth Pillsbury King was left as a single mother to raise Stephen and his brother, David.
Early on in his childhood, he took an interest in writing. His inspirations came from comic books and horror movies. The Kings did not have a television set in their home until 1958, leaving eleven years for the imaginative boy to develop his hobby.
In high school, Stephen continued to write and got a stint as a sports writer for the school newspaper. He also wrote humorous stories with his friends about their teachers, one time being caught.
He submitted many short stories to magazines, including Alfred Hitchcock's, only to get several rejection letters. He made his first sale at age nineteen with "The Glass Floor." During those years, Stephen attended college at the University of Maine at Orono, where he met his future wife, Tabitha Spruce, also a writer.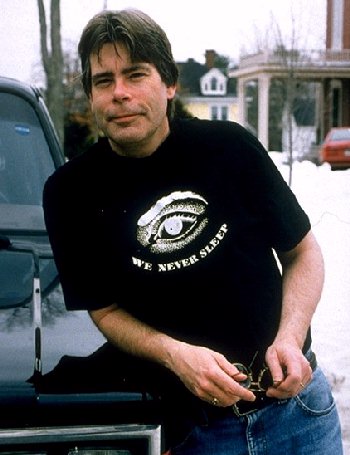 The two married in January of 1971. They struggled financially and lived in a trailer. After working small jobs, including at a school as a janitor, Stephen got a job as a high school English teacher. Tabitha worked at a Dunkin' Donuts. He continued to pursue his writing career, still getting rejections, but making some short story sales to men's magazines. He relied on these to help support their growing family.
By this time, Stephen had written a handful of novels, though none were published. Inspired by his time as a high school janitor, he began a story set in a girls' locker room. He threw it in the trash after a few pages, saying that it was no good. Tabitha found it and told him to finish it; she thought it was good. He followed her advice and Carrie was born, his big break. The novel was accepted for publication, and he received a $400,000 advance for it, which is huge for a first time writer. The Kings' financial woes were over.
His next novel was 'Salem's Lot, originally titled Second Coming. He has described it as Dracula meets Peyton Place. Next came The Shining. Much of this Stephen wrote in the famed room 217 at the Stanley Hotel in Estes Park, Colorado. He used the number in the book as one of the most haunted rooms in the Overlook Hotel, his fictitious setting for the novel. The Shining is probably Stephen's most famous work to date, spurring the classic Stanley Kubrick 1980 adaptation of it, as well as Stephen's written and produced version of it in the 1997 miniseries, which was filmed at the Stanley.
Throughout the rest of the '70s and '80s, Stephen continued to have several hit novels, including his epic The Stand, Pet Sematary, and The Talisman, co-written with author Peter Straub.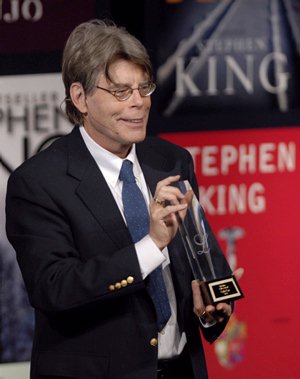 While his career was a success, his personal life was troubled. He faced alcohol and other addiction problems. He kept this hidden at the time, but opened up about it in his memoir On Writing. Tabitha convinced him to become sober, and he did and has remained so for twenty years.
The 1990s were another successful decade for King. He published several bestsellers such as Needful Things, Insomnia, and Bag of Bones. He also won a 1996 O Henry Award for his short story "The Man in the Black Suit."
In June of 1999, however, Stephen was again put through personal turmoil. On a daily walk in western Maine, he was struck by a van when the driver wasn't looking at the road. Stephen sustained several serious injuries. His lung collapsed. He later recounted his near death experience both in On Writing and on screen in his television series Kingdom Hospital. His recovery was long and difficult, but he survived, and he partly accredits his writing for that. It was Tabitha again who helped him. He had stopped writing after the accident, and she told him that maybe he should try to get back to it. She set up a writing area for him. Slowly, he wrote again, and finished his work in On Writing, in which he said, "Writing is not life, but sometimes I think writing can be a way back to life."
In the 2000s, Stephen finished off his Dark Tower series. He spent more than twenty years on the seven-set books, publishing the last three in this decade. He also released the short story collection Everything's Eventual, which included "The Man in the Black Suit," as well as his internet published story, "Riding the Bullet." Lisey's Story was published in late 2006, and hailed by critics and fans alike as one of his best achievements. King himself considers it his favorite work so far.
This year, he released Blaze, a "trunk novel" he originally wrote in the early '70s. His next novel, Duma Key, is set for release in January 2008.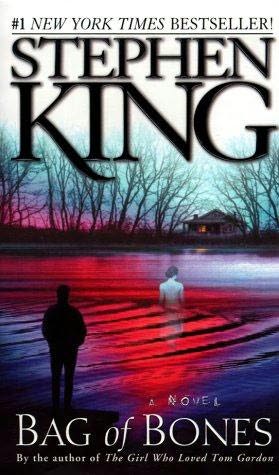 Highlights of King's career:
Dolores Claiborne - One of his mainstream works, this supports the idea that the worst "monsters" are the human ones, as opposed to the supernatural ones. Dolores, the protagonist, tells her life story, right off the bat stating that she killed her husband. The style of the book is unique in that there are no section or chapter breaks at all. It flows easily. She is proof of how well King can write from the female perspective and one of his strongest characters ever. With that and the harrowing, gripping plot, Dolores Claiborne is one of King's best.
Bag of Bones - The back cover calls it "a haunted love story," which is an accurate description. Mike Noonan loses his wife Jo in a young, unexpected death at the beginning of the novel. Stricken with grief, four years after her death, he decides to return to their summer home, called Sara Laughs. There he experiences everything from ghosts, to a new relationship, to a custody battle. The many plot lines eventually all tie together like a perfectly crafted puzzle, though his whole journey is filled with surprises for the reader. The characterization here is some of the strongest and realest in any work of fiction. That, coupled with the raw emotions it evokes, makes it a King masterpiece.
On Writing - A look at the man behind the words in his own words, On Writing is a touching memoir. He discusses parts of his life that both relate to his career and his personal life. Some of it is laugh out loud funny; some of it is tear jerking. King also gives advice and tips to aspiring writers. It's very helpful, and the book has made novelists out of some readers. Inspiring and a terrific read, On Writing is a must-have for both King fans and new writers.