America's Retail Economy Worst in 40 Years
Bush asleep at the Wheel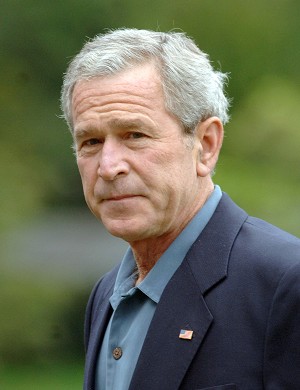 February 7th 2008.
United States - In New York city U.S. retailers delivered more evidence of an American recession today as merchants reported their weakest January performance in nearly four decades, extending a malaise that has deepened since the dismal holiday shopping season.
The sales figures made it clear that consumers are wrestling with high gas and food prices, a slumping housing market, an escalating credit crisis and a weakening job market retrenched further, buying mostly necessities even when redeeming their holiday gift cards.
There has been no clear signs from the White House that the Bush Administration intends to do anything about it. The US Senate prepared an economic stimulus plan but they didn't get any support from the White House and it died with only 58 votes. Backers fell short of the 60 votes needed to bring the economic stimulus package to the floor for passage, with the tally 58-41 in favor. President George W. Bush warned the Senate last week not to "load" up the bill with excessive payouts or benefits and this caused last minute vote changes against it.
The disappointments cut across all sectors including discounters like Wal-Mart Stores Inc., teen retailers including Pacific Sunwear of California Inc. and mall-based apparel chain Limited Brands Inc. Even affluent shoppers are pulling back, hurting stores like Nordstrom Inc.
"Clearly, this is a reflection of a very difficult environment for the consumer," said Ken Perkins, president of RetailMetrics LLC, a research company in Swampscott, Mass. "It looks like consumer spending is stalling."
Nonetheless, shares of a number of retailers rose as many either backed their earnings forecast or even raised guidance, signalling that they were able to control their inventories.
Hot Topic Inc. and Wal-Mart stuck with their earnings forecast, while Pacific Sunwear, Wet Seal and Gap Inc. raised their profit outlooks despite sales drops.
The UBS-International Council of Shopping Centers preliminary sales tally of 43 retailers rose 0.5 per cent in January, well below the original 1.5 per cent forecast. The results followed an anemic 0.7 pace in December and were below last year's same-store sales average gain of 2.1 per cent.
Michael Niemira, chief economist at the council, said January's performance was the weakest ever, according to records that go back to 1970. It is based on same-store sales, or sales at stores open at least a year.
Thursday's results extended a streak of news that showed more signs of consumer strain. Consumers' spending accounts for two-thirds of economic activity, and their outlays appear to have stalled from an already slowing pace seen over the past year.
Wal-Mart noted in its release Thursday that gift card redemptions were below expectations and that customers appear to be holding gift cards longer and "using them more often for food and consumables rather than discretionary purchases."
While consumers have had to contend with rising gas and food prices and a slumping housing market, there are signs that the job market is becoming a concern as well.
On Friday, the Labor Department reported that U.S. employers sliced payrolls by 17,000, the first decline in more than four years. And on Thursday, the department said jobless claims fell last week by 22,000, but the decline was smaller than expected.
Investors are hoping the Federal Reserve can avert a recession with a series of rate cuts, but economists say the move is too little, too late: We're already in a recession.
Analysts also say that while the government's proposed economic stimulus package, which offers rebate cheques for more than 100 million Americans, could help reignite spending, the lift would only be temporary and America would still be in a recession.
As Perkins said, if the job market continues to deteriorate, ``all bets are off."
Janet Hoffman, managing partner of the North American retail division of the consulting firm Accenture, agreed, noting she expects "some relief" but nothing "radical."
"Consumers have exhausted all the avenues to get access to credit," she added.
Retailers are expected to offer a better picture of the impact of slower sales when they report fourth-quarter earnings over the next few weeks. The retail fiscal year ends in late January.
What might salvage earnings for some retailers is their efforts to control inventories; they're also expected to pare merchandise offerings further in the coming months to respond to slowing demand.
Still, Wall Street profit expectations have been lowered in recent weeks — Perkins noted that fourth-quarter earnings growth for the 130 retailers he tracks is expected to be down 5.4 per cent, compared to a 1.2 per cent growth expected at the beginning of December.
Wal-Mart, the world's largest retailer, reported a 0.5 per cent gain in same-store sales. Analysts surveyed by Thomson Financial had expected a 2.0 per cent increase.
The company said it continues to do well with staples like groceries but that home furnishings remain weak. Wal-Mart noted in its news release that gift card redemptions were below expectations and that customers appear to be holding gift cards longer and ``using them more often for food and consumables rather than discretionary purchases."
Within the department store sector, J.C. Penney Co. had a 1.9 per cent decline in same-store sales at its department stores, though the results were better than the 6.3 per cent Wall Street expected.
Upscale Nordstrom suffered a 6.6 per cent same-store sales decline, much worse than the 0.7 per cent decrease expected.
Limited Brands reported an eight per cent drop in same-store sales in January, worse than the 6.9 per cent forecast.
Gap Inc. posted a two per cent decline in same-store sales, better than the 6.5 per cent decline projected by analysts.
Among teen retailers, Abercrombie & Fitch Co. had flat same-store sales, matching Wall Street expectations. Pacific Sunwear suffered a 7.4 per cent drop in same-store sales; analysts expected a 1.2 per cent rise.
---
Economic Stimulus Fails to Pass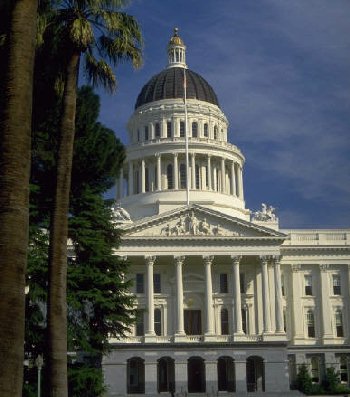 February 7th 2008.
The US Senate failed Wednesday to advance its own version of an economic stimulus program, boosting the odds for a White House-backed version approved last week by the House of Representatives. Backers fell short of the 60 votes needed to end debate and bring the measure to the floor for passage, with the tally 58-41 in favor.
The vote came amid wrangling in Congress over the details of the stimulus of some 150 billion dollars to help boost flagging growth by giving tax rebates and business incentives. The House-passed measure calls for checks of up to 600 dollars for individual taxpayers and and up to 1,200 dollars for couples, plus additional cash for dependent children.
Democratic leaders in the Senate sought to expand the measure by extending rebates to an additional 20 million elderly Americans living on social security benefits, veterans and others with low incomes. It also lengthens unemployment benefits.
The Senate version would cost more, at around 157 billion dollars, but the rebates for taxpayers would be reduced to 500 dollars for an individual and 1,000 for a couple. The Senate plan would include extra unemployment benefits as well.
Although most lawmakers are eager to approve a program to help revive an economy that some say is on the brink of recession, the next step was unclear after the failure of the Senate plan. But the failure of the Senate Democratic plan could pressure the chamber to pass the House version.
The White House warned the Senate Wednesday that time was of the essence. "Our first and foremost goal is delivering relief to American consumers and businesses to boost our economy," White House spokeswoman Dana Perino said in a statement.
"To be effective, this economic growth package must be timely, so it is crucial that the Senate now move quickly to pass a bill that will deliver relief to our economy," she said.
Senate Democratic Majority Leader Harry Reid said after the vote that he would have "a conversation" with his Republican leader on the next course of action.
Some Republicans this week offered to vote on the House bill with an amendment to allow seniors and veterans to receive a rebate, but no other additions.
President George W. Bush warned the Senate last week not to "load" up the bill with excessive payouts or benefits or extraneous conditions.
Reid and other Democrats chided Republicans for blocking the bill.
"Given a chance to act as a recession looms, more than 40 Republicans today said no to helping 20 million seniors and no to 250,000 disabled veterans," Reid said in a statement.
"They said no to those who have lost their jobs and no to small business that are suffering in the Bush economy. They said no to helping American families pay their heating bill and avoid foreclosure."
Treasury Secretary Henry Paulson told lawmakers earlier Wednesday that the Bush administration may have some flexibility to accept a broader economic stimulus package.
Paulson, speaking at a hearing, said that the White House is "well aware" of the economic pressures facing seniors and veterans, and predicted that once efforts are made to reconcile the House and Senate bill, "I'm sure something can be worked out."