Halle Berry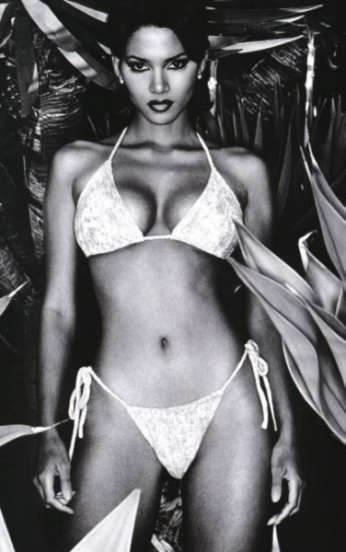 Biography of Halle Berry:
Born: 14 August 1968
Where: Cleveland, Ohio, USA
Awards: 1 Oscar, 1 Emmy, 1 Golden Globe
Height: 5' 7"
We just can't help it, can we? We all have an innate suspicion of models who become actors. We immediately feel that, otherwise talentless, they've been cast on their looks alone, that they have no real right to inhabit our screens. Whenever someone tries it, the jeers begin and those terrible four words are uttered: Cindy, Crawford, Fair and Game. Yet Halle Berry, a former model and, worse still, a Beauty Pageant winner, has risen above all that. Through a combination of the usual luck and, above all, hard work and persistence, she's made herself into a fine actress, an Emmy winner and the most welcome Oscar winner in recent years. And it has not been easy...
Halle Maria Berry was born on the 14th of August, 1968 (though some insist it was 1966), in Cleveland, Ohio. She was named after the town's Halle Building, which originally housed the Halle Brothers department store but is now an office block (it's also used in the Drew Carey Show). Her father, Jerome, an African American and a hospital attendant by trade, left when she was just four, so she and her elder sister Heidi were raised by their Caucasian, Liverpool-born mother, Judith, herself a nurse in a psychiatric ward. Jerome would return after four years but the violence he directed towards Judith and Heidi meant that he did not stay for long. Throughout her adult life, Halle Would have no contact with him at all, still being estranged when Jerome died in 2003.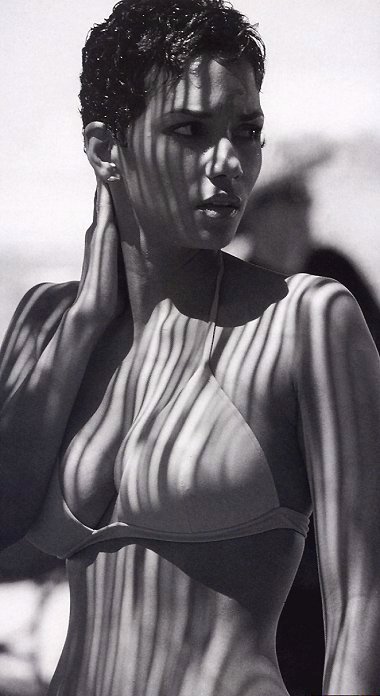 Halle's first few years were spent in a black neighbourhood of Cleveland. Here her fair complexion made her stand out, but not as much as she did when her mother moved them out of the inner-city to a mainly white suburb. Now, a little older and in this conservative milieu, her "difference" was not so readily tolerated. "I'm black," she said later. "I realised very early in my life that I wasn't going to be this mulatto stuck in the middle, not knowing if I'm black or white".
To overcome these racial difficulties, Halle threw herself into school activities at Bedford High and tried to make friends. She did well. She was in the Honour Society, a cheerleader, class president, and an editor on the school newspaper. And, naturally, she was Prom Queen. At least, she was joint Prom Queen. Having won outright, she was accused of voting irregularities and (guess what?) forced to share her title with a WASP.
Elsewhere, she was a clear winner. Her looks drew her towards beauty contests and, by 1983, she was Miss Teen Ohio. From here she became Miss Teen All-American, and Miss Ohio, then was runner-up in the Miss USA contest, a placing that saw her entered into the Miss World competition - she was the first African-American to do so. She didn't win, but she did make enough money from modelling to return to Cleveland and enrol at the Cuyahoga Community College where she studied broadcast journalism.
She didn't complete the course. Instead, having decided to act, she financed herself by more modelling and studied acting in Chicago, before moving on to Manhattan in search of work. And it was quick coming. Before long she was playing Emily Franklin, one of four young girls hoping to make it as models in the comedy series Living Dolls, a spin-off from Who's The Boss. It was coincidental and telling that Emily was the one who wanted to use modelling to finance her medical studies.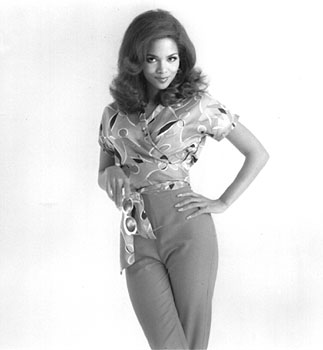 Sadly, the show lasted only three months, but Halle had come to the attention of radical black director Spike Lee, then casting for his latest movie, Jungle Fever. Halle was hired to play a crack addict (no doubt to illustrate how even the beautiful can be destroyed by drugs). She accompanied the police on visits to real-life crack houses and refused to wash for days before shooting began, to get that authentic feel. She's long been known for living her roles, both on and off camera, and takes an interest in the whole filming process. Lee allowed her to view the dailies and witness the editing. And she was impressive, so impressive that - despite the pong - she had a brief fling with the film's star, Wesley Snipes who, in the movie, played a married man who takes on several taboos by having an affair with white-girl Annabella Sciorra. Also featuring was Samuel L. Jackson, who'd be a regular co-star of Berry's.
Halle was also looking for TV work where she could find it and, in 1991, scored a part as Debbie Porter in the Dallas spin-off Knot's Landing, which had featured such luminaries as Alec Baldwin, Kirsty Swanson and even Ava Gardner. But film roles took precedence and next, again alongside Jackson, she played the love interest in the buddy-comedy Strictly Business. Here she was a cool club promoter who spurns the advances of a dull black stockbroker. He then turns to a dude in the mail-room to help him learn to be more impressive. A kind of My Fair Nigga - know what I'm sayin'? Halle's part did not come without a struggle. She was discarded by the original director for not being black enough, then was re-instated when the director himself was replaced.
Next came a hot role in a great movie. In The Last Boy Scout, she played the exotic girlfriend of Damon Wayans, a footballer who, aided by Bruce Willis, is drawn into a dangerous struggle with corporate gangsters. For research this time, Halle danced for real in a Hollywood strip club, and put in an excellent, if short, performance.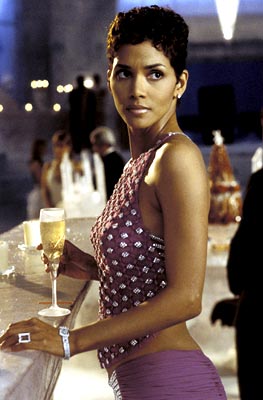 Her admirable work so far - not bad for a mere model, eh? - saw her cast in Eddie Murphy's next vehicle, Boomerang. Here Murphy played an arrogant, womanising ad exec who's traumatised when he, in turn, is treated like a piece of meat by his new boss, Robin Givens. Wholly undermined, he's helped out by "nice girl" Halle. Not only did she impress audiences but also co-star Chris Rock, who later had her appear in his rap spoof CB4.
Things were really looking up, career-wise, and in her love-life, too. Halle has had an extraordinarily bad time in relationships. She's lost some of the hearing in one ear due to physical abuse, and another fellow she dumped became something of a stalker, plaguing her for years afterwards and even sending her dead snakes in the post. In January 1993, this looked to be changing when she married Atlanta Braves right fielder David Justice (now of the Yankees), to whom she'd proposed after just six months. They became a pin-up couple, with magazines cooing over their relationship. Sadly, it did not last. They divorced amidst vicious acrimony in 1996. Halle threw herself into work, on screen and for charities. She toiled for the National Breast Cancer Coalition and visited US troops in Sarajevo, later being given an award by the Harvard Foundation for Intercultural and Race Relations.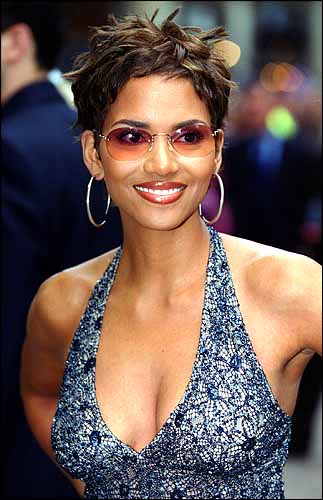 Determined not to be viewed as mere eye candy, Halle now took the lead in the TV miniseries Queen by Roots-writer Alex Haley. Here she played the title role in the true story of Haley's own grandmother, as she struggled on the tobacco plantations in the days immediately prior to the end of slavery. Fathered by a white slave master, Queen struggles to understand her own identity and to find love in a harsh world. Co-starring Ann-Margret, Martin Sheen and Danny Glover, the show was an epic and a great success.
After this came Father Hood, where Patrick Swayze played a crook on the run with his two kids who've broken out of a foster-shelter where they've been abused. Halle played a journalist trying to track them down and thus uncover the corruption in the foster system. The movie was disappointing, but it showed once again how Halle was keen to deal with serious subject matter. And this was the case too with The Program, about the awful pressures placed on college football-players. The film became notorious for one scene where a boy, unable to take any more, calmly lies down before onrushing traffic. There were several copy-cat fatalities, so Disney pulled the movie and removed the offending scene.
Having taken a far lighter role as sexy secretary Sharon Stone in The Flintstones, Halle then moved on to even heavier material than The Program. In Losing Isaiah, she was once again a crack addict, this time dumping her own baby in a dustbin. A few years later, now cleaned up, she finds that her child is alive and has been fostered by social worker Jessica Lange. A court battle ensues, with Berry aided by lawyer Samuel Jackson.
For a couple of years, her career went downhill - probably due to the savage break-up of her marriage and the ensuing press furore. She was the Queen of Sheba to Jimmy Smits' Solomon in a TV remake of the Yul Brynner/Gina Lollobrigida classic. Then there was an unimportant (read Female) part in the Kurt Russell/Steven Seagal roustabout Executive Decision, about terrorists seizing an aircraft. Next there was The Rich Man's Wife, a poor noir thriller where she played an unhappy spouse who tells stranger Clive Owen she wishes her husband were dead. When he soon is, she begins to fear that she's set something terrible in motion. Worse still was BAPs where she played one of two desperately tacky Southern waitresses who, hoping to launch their own restaurant-come-hairdressers, seek their fortune in LA where Berry winds up trying to kid millionaire Martin Landau that she's his former lover's grand-daughter.
Meanwhile, Landau's butler teaches her and her friend how to be ladies. Doesn't sound very promising, does it? No.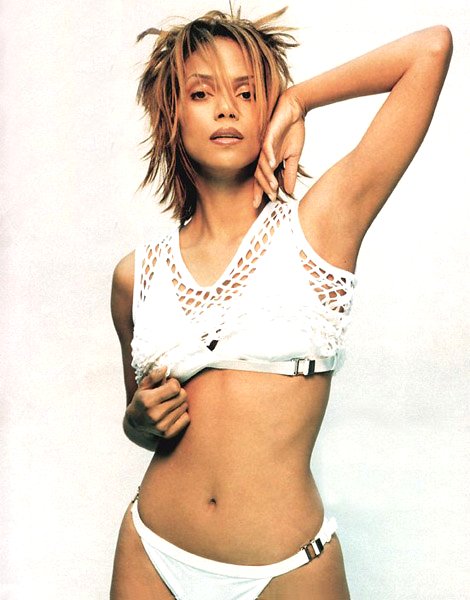 Now, with the Justice affair behind her, things began to change. First came miniseries The Wedding , another racially motivated movie, this time asking whether Berry should marry a white jazz musician or do the proper thing and wed a black man. Then came the comeback, and in the strangest possible way. In Bulworth, Warren Beatty played a suicidal senator who organises a hit on himself and decides to spend his last hours telling the truth to the people. Down in South Central, he meets street-smart Berry who thinks his honesty is another political con-job, but gradually comes to fall for his bizarre integrity, as does the rest of the nation. It's an appalling film on so many levels. That Berry should fall for the wrinkled Beatty was absurd, but that wasn't a patch on Beatty's skin-crawlingly embarrassing attempts at rapping. Yet somehow Berry shone - and all the more so because she was surrounded by such awestriking ineptitude.
Now back in the minds of Hollywood's powerbrokers, she cemented her position with two smaller but infinitely more worthy projects. First came Why Do Fools Fall In Love where she played one of three women claiming to be the widow of singer Frankie Lymon and battling for his estate. Then, in 1999, there was Introducing Dorothy Dandridge, executively produced by Berry herself. Dandridge was the first black actress to be nominated for the Best Actress Oscar - for Carmen Jones. The film followed her from her early days on the club circuit, through her screen career, her affair with Otto Preminger, her troubles with racists (in one hotel they emptied the pool and scrubbed it after she put her foot in it), and on to her sad death from an overdose. Co-incidentally, Dandridge was born in the same Cleveland hospital as Halle Berry.
Halle was terrific in the role, winning both an Emmy and a Golden Globe. She was back -her disappointment at turning down the Sandra Bullock role in Speed now a distant memory. And, at last, she had a stable relationship, in 1999 having got engaged to Eric Benet. Benet was a successful musician, signed to WEA - his A Day In The Life album would go Gold. He had been married too, but his wife had died in a car crash, leaving him to care for daughter India (born in 1992). He needed Berry as much as she needed him (maybe more after he appeared in Mariah Carey's disastrous Glitter), and they were married in January 2001. However, the relationship would quickly turn sour. Berry would rail at newspapers for making up stories about Benet's affairs, but eventually he admitted that it was all true. Trying to keep the marriage together, she helped him combat his sex addiction, took him to counselling, but it was all to no avail.
They separated in October 2003 and she filed for divorce, a situation complicated when Benet, whose career had gone downhill, tried to have their pre-nuptial agreement annulled. By this time Berry was, after all, one of the highest paid stars in Hollywood.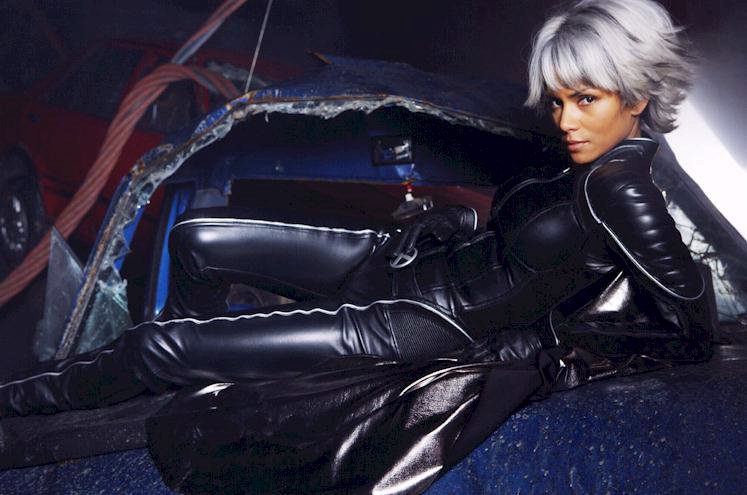 The new millennium brought big movies. First she made a tremendous Storm, a mutant super-heroine capable of controlling the weather, in the massive hit X-Men. Then came Swordfish, with John Travolta and her X-Men co-star Hugh Jackman. This concerned computer hackers going after billions of dollars in unused government funds, Berry's Ginger being used by boyfriend/employer Travolta to seduce/recruit ex-con Jackman, and was very stylish, though audience polls suggested that everyone's favourite moment was when Halle went topless. She shrugged that off, admitting she took the role in order to finance other more interesting work. But she vociferously denied receiving an extra $500,000 for removing her clothes, as she would deny the $1 million fee it was claimed she accepted for the sex scene in Monster's Ball.
But it wasn't all plain sailing. In February 2000, Halle ran a red light in her rented Chevrolet Blazer and, on Sunset Boulevard, hit the vehicle of one Hetha Raythatha whose wrist was broken in the collision. Halle took off for hospital where she received 20 stitches in her head, only reporting the accident later. Despite claiming she was disorientated by the injury to her head, she was charged with leaving the scene of an accident and got three years probation, a $13,500 fine and 200 hours community service. PLUS she'll have to pay whatever compensation is demanded after the inevitable civil action.
Whatever, she was now a huge star. Next came Monster's Ball where she played the widow of executed criminal Puff Daddy. A struggling waitress with a kid to support, she's lonely and desperate and seeks solace in the arms of Billy Bob Thornton who, as it turns out, is one of the wardens who put her husband to death - the situation being complicated further by the fact that Thornton's son, played by Heath Ledger, commits suicide. The film was a big hit, but nearly wasn't made at all. With finances tight, all the actors worked for union scale. And it was controversial before it was ever released, the director having to cut a full minute from the scene where Berry and Thornton first make love.
The renowned critic David Thomson wrote that Halle was so good in the scene that she "absolved" the whole movie, saying she was a "wrecked creature%u2026 demanding confrontation, full frontal embrace. And it is in her plunging down to some erotic base line that the film does really locate a bond between blacks and whites that gives cause for hope". The Academy agreed with his estimation, nominating her for an Oscar. After appearing in so many cinematic critiques of race relations in America, she was delighted to be nominated alongside Denzel Washington and Will Smith. When she won, her delight overflowed, as she sobbed her thanks out to the millions and, hyperventilating wildly, told all black women how proud she was to be the vessel who'd opened the door for all of them. Everyone knew what she meant. Along with Washington's win and a Special Oscar for Sidney Poitier, the ceremony was an absolute triumph for the black acting community.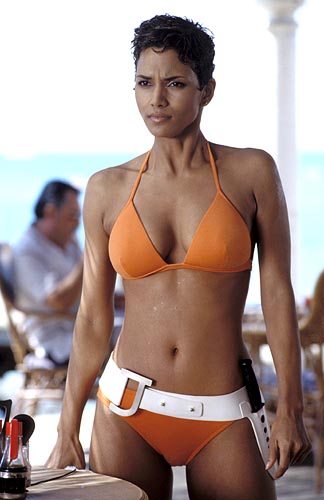 Though she continued to suffer from diabetes, a condition she discovered when she collapsed on-set while filming Living Dolls, Halle's career remained on the up. She appeared in ads for Revlon, M&Ms and Pepsi Twist. And she won the part of Jinx in the 20th James Bond instalment, Die Another Day. As the only Oscar winner to play a Bond girl (she won during filming, Kim Basinger won 14 years after Never Say Never Again) it was fitting that she should bring something new to the franchise, Jinx being a dab-hand with a double-entendre but also a very competent agent, planting bombs and diving from great heights. Sure, she was glamorous, echoing Ursula Andress in Dr No when she rose from the sea in a very skimpy bikini, complete with diving knife, but with Jinx and Bond side-by-side it was almost a buddy movie.
Next, she played Storm again, in X-Men 2 - she turned down Ben Affleck's Gigli to do so, being replaced by Jennifer Lopez. Here, renegade mutant Nightcrawler has attacked the White House in order to turn the authorities against the mutants and general Brian Cox is after them all, Storm at one point creating tornados to save her friends in an aerial pursuit. It was another massive success, smashing the $200 million barrier. And there'd be another hit immediately with Gothika, with Berry headlining and dominating the poster. Here she was Miranda Grey, a prison psychiatrist who suffers a car crash and wakes up in the prison, accused of murdering her husband and unable to remember a thing. Trapped in this Dickensian establishment, where Robert Downey Jr was a fellow pschiatrist and Penelope Cruz a former patient and now an inmate, she must struggle for her freedom and her sanity.
Such was her current pulling power that only The Cat In The Hat kept Gothika from the number one spot. The success made up for the broken arm she received in an on-screen struggle with Downey, an injury that halted production for 8 weeks.
Aside from the hits, she'd also enjoy massive exposure at the 2003 Oscars ceremony when presenting the Best Actor award to Adrien Brody for The Pianist. Over-joyed at his good fortune, Brody seized her and kissed her with quite unseemly passion, the clinch being the highlight of a show viewed by hundreds of millions.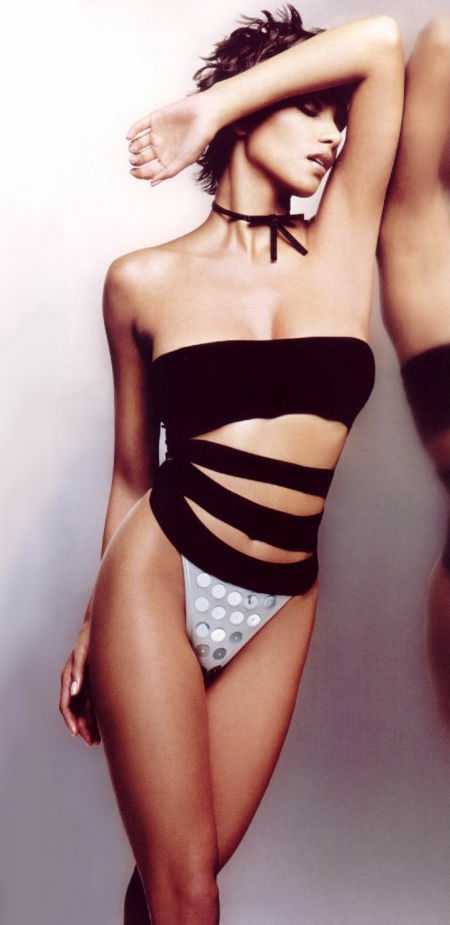 Now came Catwoman, the beginning of a hoped-for franchise based on the success of Michelle Pfeiffer in Batman Returns, Pfeiffer herself having turned the part down because the suit was too uncomfortable. Ashley Judd would also pass it up, preferring to work on Broadway in the infinitely more serious Cat On A Hot Tin Roof. Using the rather spurious logic that the character has nine completely separate lives, the makers decided to forget all that Selena Kyle stuff and consider instead the story of Patience Phillips, a shy and sensitive graphic designer working for the ruthless Hedare Beauty Cosmetics company, run by Sharon Stone (remember Berry's character in The Flintstones?). The company are about to launch a revolutionary new anti-aging product, Phillips stumbles onto the dark secret behind it then becomes Catwoman after an encounter with an Egyptian Mau. Pursuing her would be besotted detective Benjamin Bratt as she sought revenge against criminals in general and Stone in particular. It was another tough shoot, with failed stunts sending Berry to hospital yet again, and it did not test well, re-shoots being required just a month before release. It would eventually be a big financial flop, but Berry would make light of matters by becoming the first actress ever to turn up to accept a Golden Raspberry. Having been paid $14 million for her performance, she had good reason to be magnanimous.
Halle moved on to Their Eyes Were Watching God, a TV movie produced by Oprah Winfrey and based on the novel by Zora Neale Hurston. This saw her as the free-spirited Janie Crawford, a young woman going through several loveless marriages in a pre-WW2 small town, then challenging the conservative views of those around her by conducting an affair with a younger man. The film was something of a soap opera, lacking the novel's grittiness, but its efforts to explore the female black experience in the South saw it draw 24.6 million viewers, the best made-for-TV movie figures in six years. The movie would also bring her a new partner in co-star Michael Ealy. It would be a stormy on-off relationship, finally ending in 2005.
Next she'd lend her voice to the animated Robots, playing a similar role to her Ginger in Swordfish. This time she'd be a cyber-seducer, sent to stop Ewan McGregor's young inventor from uncovering a conspiracy to take over Robot City's biggest corporation. Berry was now constantly newsworthy, one story involving her successful attempt to prevent ex-Navy SEAL Greg Broussard from stalking her (he believed they were engaged - the nutjob). She'd also win a restraining order against one Robert Sawyer, accused of sending her threatening letters. Being thus harassed had, unfortunately, been an ongoing problem throughout her adult life, Berry revealing that she'd actually been stalked for years by the very first boyfriend she dumped, the guy even sending her dead snakes through the mail. She did, though, enjoy more healthy relationships, one being with Canadian model Gabriel Aubry, nine years her junior. They'd meet in November, 2005, on a shoot for Versace (Berry would also still hold a contract with Revlon).
Having acted as executive producer on Lackawanna Blues, a celebration of black culture in the 1950s and 60s, Berry would then return as Storm in X-Men: The Last Stand, where a "cure" is found for mutants and Xavier and Magneto have violently opposing opinions on how to proceed. With so many superheroes on show and such mind-boggling effects, Berry would refuse to reprise her role unless her character was expanded. And so, now both fist-fighting and flying, Storm would be given extra prominence.
After X-Men 3, Berry's other film of 2006 would be Perfect Stranger, directed by James Foley, famed for his At Close Range and Glengarry Glen Ross. Here she'd play a New York reporter who goes undercover, both on the street and on the 'Net, to investigate the murder of a childhood friend. Evidence points to Bruce Willis, ad agency CEO and millionaire mogul, and Berry must use the most modern methods to bring him down.
Now unarguably one of the top ten female film stars in the world, it seems the Beauty Queen has made it all the way. Still looking good, no?