Pirates of the Caribbean IV: The Fountain of Youth
4th 'Pirates' film already on horizon
"Pirates of the Caribbean: At World's End" hardly marks an end. Like fellow blockbusters 'Spider-Man' and 'Shrek,' the salty series has entered the era of the unlimited sequel.
With the latest in Walt Disney Co.'s lucrative series reaping an unprecedented $401 million globally in its debut through the Memorial Day weekend, the question of whether there will be a fourth installment has effectively been answered.
Sure, producer Jerry Bruckheimer is coy, saying he and his mates need a break. But he already has rights to a book that could end up as another installment.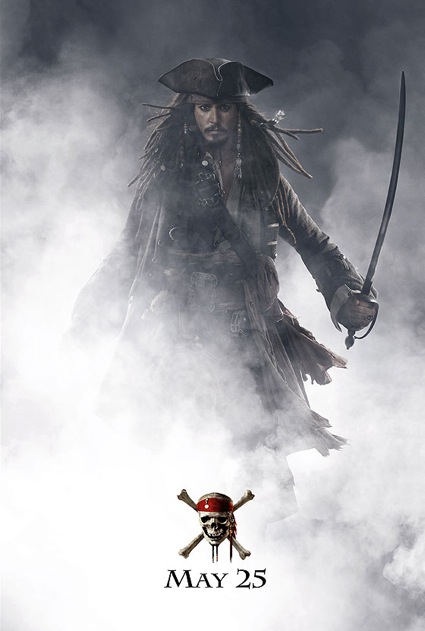 Star Johnny Depp? He hasn't promised another voyage, but he clearly loves the flamboyant, irreverent Jack Sparrow character, telling one interviewer: "As long as you're doing it for the right reasons, why not?"
In today's Hollywood, blockbuster franchises function almost as independent corporations that, once up and running, can't easily be mothballed. Which is why another "Pirates" is pretty much a given.
"When these franchises become part of the world's culture, they take on a life of their own," said Dick Cook, Disney's studio chairman, who says he's on board for another "Pirates" if the script is right and the filmmakers are willing.
Enter the era of the unlimited sequel. DreamWorks Animation SKG began developing a fourth "Shrek" film more than a year ago — long before "Shrek the Third" was even finished, said Anne Globe, the Glendale studio's head of marketing. The next installment is slated for 2010.
A fourth installment of "Spider-Man" — the third one just debuted May 4 — has been in the works for more than a month, with the studio circling screenwriters it may tap.
"If you want the kind of longevity we're hoping for with 'Spider-Man,' you have to think of them as stand-alone movies, not '1-2-3-4,' " said Amy Pascal, Sony Pictures' studio chairman. "They're sort of like the James Bond stories."
One reason the big franchise machines keep operating is the special effects-laden movies have become ever bigger and more costly — making and marketing May's three megasequels cost more than $1 billion altogether — and they require elaborate planning. Studios also need long lead times to line up marketing alliances.
Disney worked with 13 promotional partners to help spread the word on "Pirates of the Caribbean: At World's End," including Volvo, Verizon, Coca-Cola, Circuit City, Best Buy, Toys R Us and Starwood Hotels. Even the obscure, Tampa-based Odyssey Marine Exploration — which recently made headlines when it reported recovering 17 tons of treasure from a shipwreck in the Atlantic — signed on.
Nonetheless, the sheer size of the summer blockbusters can drain filmmakers. Bruckheimer said there would at least be a respite after the production of back-to-back sequels to the 2003 original "Pirates of the Caribbean: The Curse of the Black Pearl."
"We've been working on this trilogy for 5½ years, and the latest one was just a monster," he said in an interview from Tokyo for last week's premiere. "It's always about making sure you have a great story with interesting plots, themes and characters. There is a possibility — we'll see what happens."
Though Bruckheimer and Disney executives say the "Pirates" trilogy has concluded, they hint that the series could continue through a spinoff or prequel. In an interview with an Australian film website, screenwriter Terry Rossio said he and partner Ted Elliott would take a crack at another "Pirates" script and see if they could make it work.
Big franchises also take on a life of their own by reaching beyond the multiplex into TV, stage and theme parks. DreamWorks Animation is wrapping up a network special, "Shrek the Halls," for this holiday season, and the big green ogre is headed for the Broadway stage in a 2008 musical.
The franchise sequels can pay off not just for studios but for the entire industry. For the first time, Hollywood could be en route to more than $4 billion in U.S. and Canadian ticket sales for its extended summer season, thanks largely to momentum from this month's trio of high-profile "three-quels."
"Spider-Man 3" reset the opening weekend standard with its $151-million domestic launch early this month, while "Pirates" this past weekend broke the domestic holiday record with $142 million, according to the research firm Media by Numbers. "Shrek the Third" set a new mark this month for animated films by debuting at $122 million.
On a worldwide basis, Disney says its "Pirates" overtook "Spider-Man 3's" $382-million six-day haul — a 3-week-old record. Privately, Sony executives questioned Disney's decision to include Monday's overseas grosses, as well as Thursday night's "pre-opening" sales in the U.S., in the total.
In generating the huge box-office numbers this month, studios overcame concerns about the kind of sequel fatigue that in the past plagued such franchises as "Batman" and "Superman" before they were revived.
Using pricey marketing campaigns, Hollywood sought to convince prospective moviegoers that the latest versions of "Spider-Man," "Shrek" and "Pirates" weren't just retreads. Reviews were mixed, but fans still went in droves to see all three.
In Southern California, moviegoers interviewed were divided on the prospect of a fourth "Pirates" after watching the latest chapter, which clocked in at nearly three hours.
Elizabeth Lopez, 24, of Long Beach, suspected the latest "Pirates" might disappoint as the third film in the series.
"But it actually was very good," she said. "Yes, I'm hoping they make another one because of the way it ended."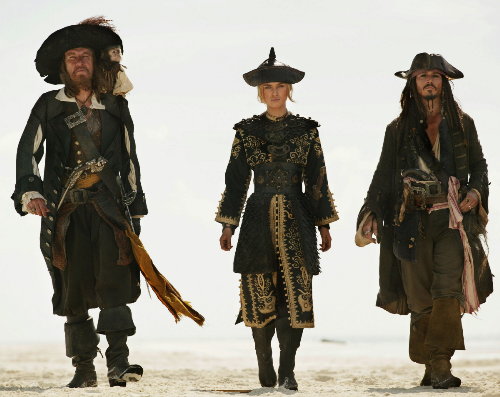 Pirates III: Not So Hot
Sinking Ship: Jack Sparrow has Sold Out in Pirates of the Caribbean: At World's End
Review by Ruth Hong
The fairytale survives.
Well, it not so much survives, as flounders around in mediocre plot lines with too many twists in a vague attempt at pretending to be a script with depth.
This is, of course, in reference to the recently released, third installment of Pirates of the Caribbean: At World's End. There is ever the lingering question of why there are sequels to begin with; after all, the first movie actually ended rather neatly, with Johnny Depp's gentle swaying still a wonderful, sexy…sexy…what was that? Whoops, lost my train of thought there.
Curse of the Black Pearl, the first movie of the trilogy, was more or less a work of marvelous imagination. Imagine what it must have took to look at a rickety ride in Disneyland and going… "hmm"…before launching into a fantastic tale of pirates, aristocrats, and dark curses. It was Disney at one of its best storytelling moments, each stunt, each gag and each climax perfectly and tastefully positioned to turn out what was a Good Film.
It is therefore, hard to believe, that Disney also produced this movie – this was not a Good Film. The movie mostly spends time obsessing about Keira Knightley's body, Keira Knightley's body, Johnny Depp's body, and then Keira Knightley's body. Who cares about character development when Knightley is walking around without her knickers on? Historically accurate of course – women wore no knickers in those days.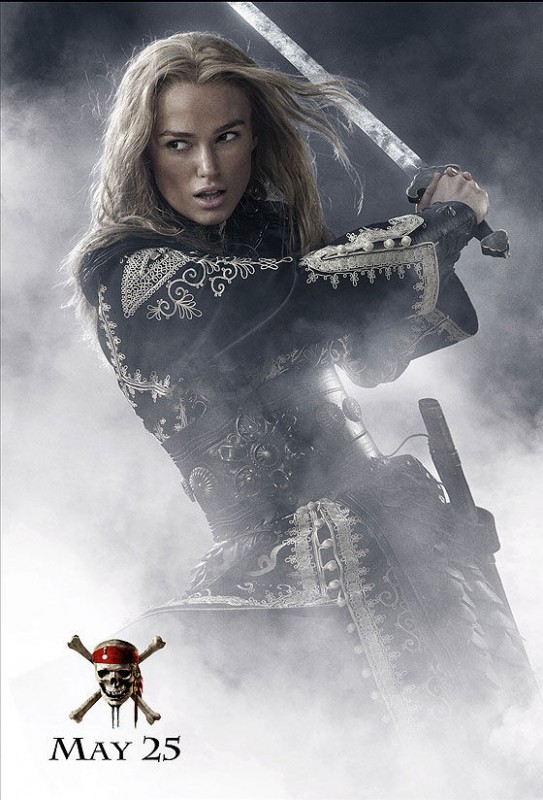 Or wait, did they? When one thinks about it, women weren't even allowed on a sailing vessel in that day and age; it was bad luck. But when was the last time Hollywood cared about historical accuracy? Obviously, Marie Antoinette grooved to The Cure; clearly, knights wore armor with the Nike logo imprinted on their helms, and danced to Queen (see: A Knight's Tale). In that respect, Pirates of the Caribbean: At World's End was historically accurate – Hollywood history that is.
Remember Curse of the Black Pearl, when we did not yet know about Knightley's Elizabeth Swann's underwear habits, and instead, discovered what she was capable of in times of trouble? In this film, we are treated to the sight of Elizabeth turning into a Vampire-Slayer-esque character, with no real explanation as to how she suddenly became a martial arts expert. Similarly, Depp's character, the ever-enigmatic Jack Sparrow, goes from Mr. Happy-Go-Lucky to a man with ambitions of achieving immortality. Huge leap in personality there if you ask me.
The romantic tension between Jack Sparrow and Elizabeth Swann, while serving as one of the only intriguing plotlines in the second installment of the trilogy, is almost all but ignored in this film. Unfortunately, audiences are forced to witness Elizabeth's and Orlando Bloom's Will Turner's cold war with each other for more than three quarters of the movie. This did not turn out to be a treat. If audiences wanted to deal with marital issues, they might as well have stayed home with their spouses and partners.
In this day and age, it is rather shameless, the way the Asian culture is romanticized in At World's End. On one hand, I understand the need for Asian girls in revealing Kimonos that really bring out their breasts. If that doesn't attract the straight male audience, I don't know what will. On the other hand, it is certainly not amusing that the main Asian character, Captain Sao Feng (made to look like the typical stereotype of the Chinese Lord) is a rude, uncouth and chauvinistic moron.
Not that there were absolutely no redeeming points about this entire feature of course.
Captain Jack Sparrow's hallucinatory sequences are vastly entertaining in their own surreal style. Keith Richard's appearance as Jack Sparrow's older brother is priceless, and his sound advice is some of the best advice ever given anywhere. The romance between Bill Nighy's Davy Jones and his lady-love is to a certain extent, heart wrenching and even believable (as believable as can be, since one of the two has an Octopus for a face).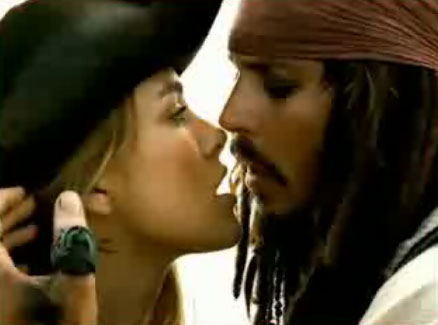 Unfortunately, those few moments are not enough to make this movie into something worth watching more than once. As for spending twenty or thirty dollars for the impending DVD release? What can I say except, well, no.
On the other hand, considering the quality of At World's End as compared to the utter ridiculousness of Dead Man's Chest, another sequel might be well worth the next twelve dollars for the movie ticket. This outing was much better than the second installment, which shows promise for a fourth installment.
The second film, Dead Man's Chest, had been almost utterly plotless – one only needed to know two or three elements of the second film to catch on with what was happening in the third movie. The rest of it was largely forgettable, shamelessly flaunting Johnny Depp's appearance in order to generate large sums of money from the box office.
I must admit that using Johnny Depp as a highlight to attract audiences really worked on me.
But good storyline or not, considering the relative success of the trilogy so far, and judging from the hints at the end of the movie, there is every possible chance that there will be a fourth Pirates of the Caribbean movie. Why think of fresh original plots when Hollywood can literally re-use the same, proven storylines over and over again? Look at The X-Men trilogy for example. While the first two installments were fantastic, the last movie, touted as the last of the X-Men franchise, was generally known as a less than satisfactory feature. Is that truly the end of the franchise however? No. We are expecting to see Hugh Jackman don his tights in 2008, for Wolverine's very own movie.
Really, that's just a sequel in denial that it is a sequel; an identity crisis if you will.
As long as a movie makes a nice sum, we can all expect to see characters revived again and again on the big screen until they are begging for the sweet release of death.
Much like Pirates of the Caribbean: At World's End actually.
Out of Five stars, I give this movie Two. One for effort, and the other because it's better than the second installment.