Samurai Jack
The Time Traveling Samurai known as "Jack"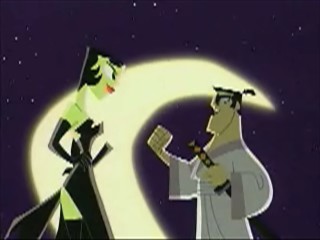 The cartoon "Samurai Jack" was nominated for 6 Emmy's between the 2002 and 2005 period, and won 4 of them. Right away that suggests a show which deserves attention.
"Samurai Jack" is animated in South Korea and frequently shows Korean landscape. The equivalent Korean word for samurai is "sa-eul-a-bee". It is actually Korea where samurais originally came from. Long ago, a Korean Saeulabi went into exile in Japan and began teaching new students in the art of swordplay and personal honour. His students later became known as samurai. (Of course many Japanese would never admit this historical fact.)
Created by animator Genndy Tartakovsky and aired on both Cartoon Network and Toonami from 2001 to 2004, Samurai Jack is easily recognizable for its highly detailed cinematic style and pacing. Just watch a few of Samurai Jack music videos (made by fans) on this website and you will get an idea of why the Samurai Jack animators were asked to create the Star Wars: Clone Wars animated series in 2003. Despite the cancellation of the show in 2004 it continues to be shown in reruns on several channels (ie. Boomerang).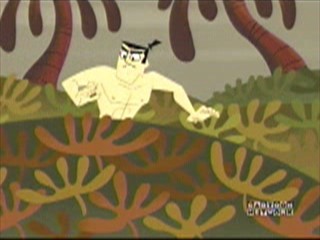 The plot of Samurai Jack varies from episode to episode, but behind everything is Jack's quest to go back in time and prevent the demon Aku from conquering the Earth. From an early age Jack was sent into hiding by his parents and trained in the martial arts so he could someday face and defeat Aku, but in the last moment he hesitated and Aku cast a spell on him which transported him thousands of years into the far future. Displaced in time Jack now faces legions of Aku's robotic minions, monsters, aliens, bounty hunters, assassins, ninjas, traps and so forth. Conveniently these baddies all bleed oil, slime or green goo and thus the violence isn't censored out.
Production on the show was eventually halted in 2004, but the fan base has remained strong. A feature film was reported in 2009, but Genndy Tartakovsky has become a notorious procrastinator and fans now doubt he will ever finish the Samurai Jack storyline.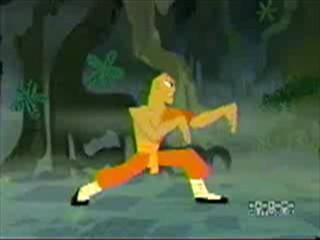 New Line Cinema claims the lackluster performance of The Powerpuff Girls Movie was their reason for not making a film, but it should be noted the Powerpuff Girls cartoon was created and produced by a completely separate group of people, appealed to a different audience and had very mixed reviews. (Samurai Jack fans are insulted to have their beloved samurai even compared to such a crappy film.) In 2007 Frederator Films announced they will be making a feature film adaptation of Samurai Jack, written and directed by Genndy Tartakovsky. Pre-production began in September 2009, but there has been no word on a possible release date.
The fight choreography for Samurai Jack is impressive, right down to the details. A good example of an episode to watch is when Samurai Jack encounters the Shaolin monks. Clips from the Jack's encounter with the Shaolin monks is shown in the video below.
The setting for Samurai Jack's alternate future is a dystopian future where magic, mythical creatures, aliens and technology run amok. The show frequently features adaptations of historical and mythological figures, whether they be from Valhalla, Egypt, Greek, Chinese or Scotland. The cultural references bring in fictional and pop culture references too, including Japanese films such as "Lone Wolf and Cub" and comicbooks like "Ronin".
One of the favourite secondary characters in Samurai Jack is "The Scotsman", an equal to Jack with his sword (and like Jack also wields a magic sword) and highly amusing. The Scotsman is featured in multiple episodes, suggesting the creators realized he was such a humourous character and decided to keep bringing him back. Its entirely possible that a film version will display the Scotsman.
The voice actors for the main characters are Phil LaMarr (Samurai Jack), Mako (Aku) [of Conan the Barbarian fame] and John DiMaggio (the Scotsman).
So where does the future of Samurai Jack lie? In a show about a time traveling samurai only time will tell.
UPDATE - A new season Samurai Jack did finally come out in 2017 and included 10 new episodes. We have not seen them yet however.