Calories: Food Vs. Exercise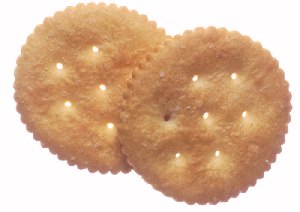 Counting Calories
& Burning Them
What is a calorie?
A calorie is the amount of heat needed to warm 1 gram of water 1 degree Celsius.
6 Ritz crackers, seemingly small, weighs 20 grams but contains 6 grams of sugar and fat. Those 6 grams of fat and sugar pack 100 calories worth of stored energy, which if unused will be stored as body fat.
To burn off the energy in those crackers you would need to: Go swimming for approx. 15 minutes; Go jogging for approx. 12 minutes; Sprint (run as fast as you can) for approx. 8 minutes.
Note that these are just approximate. The number of calories you burn depends upon the activity your are doing and the intensity level you are exercising at. Any activity that you perform can be done at a variety of intensity levels. If you exercise at a higher intensity level, you will be working harder, expending more energy and burning more calories than someone who is not working quite so hard.
Your bodyweight makes a difference also. The larger you are the more energy you need to use go faster. So a 240 lb. man will burn through calories approx. twice as fast than a 120 lb. man doing the same exercise at the same intensity level. (Much like a 2 tonne SUV uses a lot more gasoline compared to a 1 tonne car.)
It it estimated that 1 pound of fat is equal to 3500 calories. To lose that 1 pound the average person would need to walk for approx. 12.5 hours. Or they could go jogging every morning for one hour for a week.
So you can't lose weight quickly. It takes a lot of exercise to lose a single pound of fat. But if you eat sensibly and exercise regularly, over time it will happen.
The best time to lose weight and burn calories is in the morning, before breakfast. Your stomach is empty so any energy you use is coming from your fat reserves.
| | |
| --- | --- |
| Type of Exercise | Approx. Calories/hour |
| Sleeping | 55 |
| Standing | 100 |
| Walking | 150 |
| Housework, moderate | 160+ |
| Golf, with trolley | 180 |
| Golf, without trolley | 240 |
| Gardening, planting | 250 |
| Dancing, ballroom | 260 |
| Walking, 3mph | 280 |
| Table Tennis | 290 |
| Tennis | 350+ |
| Swimming | 400 |
| Skating/blading | 420+ |
| Dancing, aerobic | 420+ |
| Aerobics | 450+ |
| Bicycling, moderate | 450+ |
| Jogging, 5 mph | 500 |
| Swimming, active | 500+ |
| Hiking | 500+ |
| Step Aerobics | 550+ |
| Rowing | 550+ |
| Cycling, studio | 650 |
| Squash | 650+ |
| Skipping with rope | 650+ |
| Weightlifting | 700+ |
| Running, Sprinting | 700+ |
The ideal exercise to lose weight in the morning therefore is jogging, because you want an exercise you can do over a longer period (approx. an hour or an half-hour), that won't tire you out too much, but will allow you to still burn a lot of calories in a short period.
You could jog during other times of the day, such as afterwork or in the evening before going to bed, but then you risk getting cramps if you have eaten right before. A better choice would be to do some weightlifting or some aerobics shortly before your evening meal, and some abdominal exercises shortly before you go to sleep (sex is also highly recommended before sleep).
The other factor to this is diet. You need to control how many calories you are consuming in a day, and sadly this means you need to look at the labels regularly to determine just how many calories is in what you are eating.
You should be eating approx. 2000 calories per day. If you are an athlete you might be on a high protein diet and eating a lot more, but lets face it most of us aren't athletes and exercising 8 hours or more every day.
The amount of calories you need in a day depends largely on your height and how much exercise you get.
If you are short (about 5'2") you only need about 1200 to 1500 calories in a single day.
If you are about average height (5'6") you only need about 1500 to 1800 calories per day.
If you are tall (6' or over) you will need about 1800 to 2100 calories per day.
If you are muscular, athletic and very active (ie. you work as a construction worker) you may need more.
You will over time learn how to balance yourself so you have a good idea of how much food/energy you actually need in a day. If you want to lose weight by dieting we recommend cutting back on calories by one height category as we listed above (about 300 calories/day).
You could do a "crash diet" and cut back on 500 calories/day, but we do not recommend this. Crash diets tend to result in a yo-yo effect wherein you just end up gaining the weight back when you finish the diet. During a crash diet your body goes into "starvation mode" and starts storing all the energy it can, then when you quit the diet your body is still in starvation mode and stores all the energy when you start eating more in the post-diet period. If you are going to crash diet, we recommend doing a "post-diet diet" in which you are eating a little more, but you are giving your body time to adjust so it realizes you aren't starving and isn't going to yo-yo on you.
It is really important to eat the appropriate amount for your size in order to maintain your weight rather than be fluctuating between dress and belt sizes.
As mentioned above you will learn over time how to balance your diet and your exercise.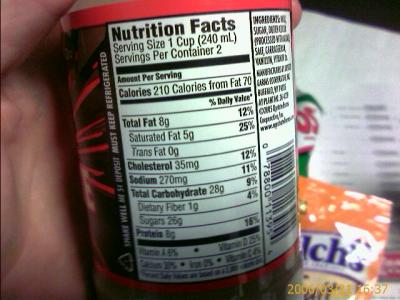 Ten Steps Towards Lower Calories
Step One: Drink More Water, Less Coffee/Soda.
Step Two: Pay Attention to Labels and actually read the nutritional information.
Step Three: Low Fat & Low Calories? Don't trust the snazzy logos. Fat free is not calorie free.
Step Four: Avoid Alcohol, High-Sugar Energy Drinks.
Step Five: Avoid processed foods with lots of added sugar/fat: Snacks, Fast Food and Junk Food.
Step Six: Go for real food, fruits, vegetables, lean meat and spices.
Step Seven: Cut back on how much bread, rice and high-carb food you eat.
Step Eight: Eat more high-fibre: Lettuce, Bran, Celery, etc.
Step Nine: Eat smaller portions.
Step Ten: Don't starve yourself. Just make healthier choices.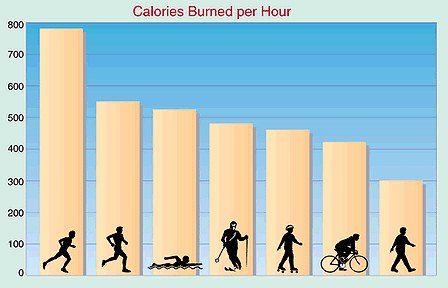 Note About Cardio Eguipment
Many cardio machines don't ask for your weight and tell you that you're burning X number of calories. The number displayed is for a person of average weight (usually 150 pounds). So, if the machine doesn't have you input your weight, don't believe the number of calories displayed.
A solution is to take your current weight and determine what percentage over or under the 150 average is and then multiply the number displayed by that percentage. So if you weigh 165 lbs. you are 10% over, so add 10% to the number of calories you are burning.
When in doubt, just try to do more.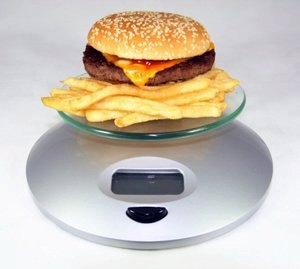 Binge Eating
Imagine for a moment if you sat down and ate a lot in one sitting? Say 3 plates worth of Thanksgiving or Christmas Dinner?
It probably isn't as bad as you think because Thanksgiving/Christmas food is mostly vegetables, meat, etc. It might be 3000 calories or more, but at least you only do that twice per year.
But if you're eating 3000 calories or more every day (and you're not an athlete or doing heavy lifting constantly) then something is seriously wrong.
Sometimes is it fun to sit in front of the TV and eat a whole tub of ice cream, but how many calories is it? If I look in my freezer for the nutritional info for my Cookies and Cream Ice Cream (2 litres of it) it contains 2400 calories (150 calories per 1/2 cup). If I ate the whole thing and sat in front of the TV doing nothing I'd gain about two thirds of a pound.
Stop and do the math with some of your favourite foods that you like to binge on. You might surprise yourself with just how many calories you are packing away in a hurry.



SORTED BY FAT GRAM CONTENT



 Description of food                      Energy   Protein   Fat  Saturated FatCholesterolCarbohydrate  Sodium
                                          (Calories(Grams) (Grams)   (Grams)   (Milligrams  (Grams)   (Milligram
 COFFEE, BREWED                6 FL OZ           0       0      0            0          0           0         2
 TEA, BREWED                   8 FL OZ           0       0      0            0          0           0         1
 SALT                          1 TSP             0       0      0            0          0           0      2132
 VINEGAR, CIDER                1 TBSP            0       0      0            0          0           1         0
 COFFEE, INSTANT, PREPARED     6 FL OZ           0       0      0            0          0           1         0
 LETTUCE, BUTTERHEAD, RAW,LEAVE1 LEAF            0       0      0            0          0           0         1
 COLA, DIET, ASPARTAME ONLY    12 FL OZ          0       0      0            0          0           0        23
 COLA, DIET, SACCHARIN ONLY    12 FL OZ          0       0      0            0          0           0        75
 CLUB SODA                     12 FL OZ          0       0      0            0          0           0        78
 COLA, DIET, ASPRTAME + SACCHRN12 FL OZ          0       0      0            0          0           0        32
 TEA, INSTANT,PREPRD,UNSWEETEND8 FL OZ           0       0      0            0          0           1         1
 PARSLEY, FREEZE-DRIED         1 TBSP            0       0      0            0          0           0         2
 RADISHES, RAW                 4 RADISH          5       0      0            0          0           1         4

 Description of food                      Energy   Protein   Fat  Saturated FatCholesterolCarbohydrate  Sodium
                                           (Calories(Grams) (Grams)   (Grams)   (Milligrams  (Grams)   (Milligram

 CINNAMON                      1 TSP             5       0      0            0          0           2         1
 LETTUCE, CRISPHEAD, RAW,PIECES1 CUP             5       1      0            0          0           1         5
 PAPRIKA                       1 TSP             5       0      0            0          0           1         1
 CELERY, PASCAL TYPE, RAW,STALK1 STALK           5       0      0            0          0           1        35
 PICKLES, CUCUMBER, DILL       1 PICKLE          5       0      0            0          0           1       928
 BAKING POWDER, LOW SODIUM     1 TSP             5       0      0            0          0           1         0
 PARSLEY, RAW                  10 SPRIG          5       0      0            0          0           1         4
 BAKING POWDER,SAS, CA PO4     1 TSP             5       0      0            0          0           1       329
 OREGANO                       1 TSP             5       0      0            0          0           1         0
 MUSTARD, PREPARED, YELLOW     1 TSP             5       0      0            0          0           0        63
 BAKING POWDER,SAS,CAPO4+CASO4 1 TSP             5       0      0            0          0           1       290
 PEPPER, BLACK                 1 TSP             5       0      0            0          0           1         1
 LEMON JUICE, CANNED           1 TBSP            5       0      0            0          0           1         3

 Description of food                      Energy   Protein   Fat  Saturated FatCholesterolCarbohydrate  Sodium
                                           (Calories(Grams) (Grams)   (Grams)   (Milligrams  (Grams)   (Milligram

 CURRY POWDER                  1 TSP             5       0      0            0          0           1         1
 BAKING POWDER, STRGHT PHOSPHAT1 TSP             5       0      0            0          0           1       312
 CUCUMBER, W/ PEEL             6 SLICES          5       0      0            0          0           1         1
 ITALIAN SALAD DRESSING,LOCALOR1 TBSP            5       0      0            0          0           2       136
 ONION POWDER                  1 TSP             5       0      0            0          0           2         1
 SPINACH, RAW                  1 CUP            10       2      0            0          0           2        43
 BROCCOLI, FRZN, COOKED, DRANED1 PIECE          10       1      0            0          0           2         7
 ALFALFA SEEDS, SPROUTED, RAW  1 CUP            10       1      0            0          0           1         2
 BARBECUE SAUCE                1 TBSP           10       0      0            0          0           2       130
 ENDIVE, CURLY, RAW            1 CUP            10       1      0            0          0           2        11
 CABBAGE, CHINESE,PE-TSAI, RAW 1 CUP            10       1      0            0          0           2         7
 PICKLES, CUCUMBER, FRESH PACK 2 SLICES         10       0      0            0          0           3       101
 ASPARAGUS,CANNED,SPEARS,W/SALT4 SPEARS         10       1      0            0          0           2       278

 Description of food                      Energy   Protein   Fat  Saturated FatCholesterolCarbohydrate  Sodium
                                           (Calories(Grams) (Grams)   (Grams)   (Milligrams  (Grams)   (Milligram

 ONIONS, SPRING, RAW           6 ONION          10       1      0            0          0           2         1
 CHILI POWDER                  1 TSP            10       0      0          0.1          0           1        26
 GARLIC POWDER                 1 TSP            10       0      0            0          0           2         1
 LETTUCE, LOOSELEAF            1 CUP            10       1      0            0          0           2         5
 SEAWEED, KELP, RAW            1 OZ             10       0      0          0.1          0           3        66
 IMITATN WHIPD TOPING,PWDRD,PRP1 TBSP           10       0      0          0.4          0           1         3
 PRETZELS, STICK               10 PRETZ         10       0      0            0          0           2        48
 SOY SAUCE                     1 TBSP           10       2      0            0          0           2      1029
 ASPARAGUS,CANNED,SPEARS,NOSALT4 SPEARS         10       1      0            0          0           2         3
 CABBAGE, COMMON, RAW          1 CUP            15       1      0            0          0           4        13
 PEPPERS, SWEET, COOKED, GREEN 1 PEPPER         15       0      0            0          0           3         1
 PEPPERS, SWEET, COOKED, RED   1 PEPPER         15       0      0            0          0           3         1
 PLUMS, RAW, 1-1/2-IN DIAM     1 PLUM           15       0      0            0          0           4         0

 Description of food                      Energy   Protein   Fat  Saturated FatCholesterolCarbohydrate  Sodium
                                          (Calories(Grams) (Grams)   (Grams)   (Milligrams  (Grams)   (Milligram

 ASPARAGUS, CKD FRM RAW,DR,SPER4 SPEARS         15       2      0            0          0           3         2
 ASPARAGUS, CKD FRM FRZ,DR,SPER4 SPEARS         15       2      0          0.1          0           3         2
 EGGS, RAW, WHITE              1 WHITE          15       4      0            0          0           0        55
 CATSUP                        1 TBSP           15       0      0            0          0           4       156
 LEMONS, RAW                   1 LEMON          15       1      0            0          0           5         1
 PICKLES, CUCUMBER, SWT GHERKIN1 PICKLE         20       0      0            0          0           5       107
 LETTUCE, CRISPHEAD, RAW,WEDGE 1 WEDGE          20       1      0            0          0           3        12
 MUSTARD GREENS, COOKED, DRANED1 CUP            20       3      0            0          0           3        22
 LETTUCE, BUTTERHEAD, RAW,HEAD 1 HEAD           20       2      0            0          0           4         8
 ONION SOUP, DEHYDRTD, UNPRPRED1 PKT            20       1      0          0.1          0           4       627
 PEPPERS, HOT CHILI, RAW, RED  1 PEPPER         20       1      0            0          0           4         3
 MUSHROOMS, RAW                1 CUP            20       1      0            0          0           3         3
 PEPPERS, HOT CHILI, RAW, GREEN1 PEPPER         20       1      0            0          0           4         3

 Description of food                      Energy   Protein   Fat  Saturated FatCholesterolCarbohydrate  Sodium
                                           (Calories(Grams) (Grams)   (Grams)   (Milligrams  (Grams)   (Milligram

 PEPPERS, SWEET, RAW, RED      1 PEPPER         20       1      0            0          0           4         2
 ONION SOUP, DEHYDRATD, PREPRED1 PKT            20       1      0          0.1          0           4       635
 PEPPERS, SWEET, RAW, GREEN    1 PEPPER         20       1      0            0          0           4         2
 CELERY, PASCAL TYPE, RAW,PIECE1 CUP            20       1      0            0          0           4       106
 MELBA TOAST, PLAIN            1 PIECE          20       1      0          0.1          0           4        44
 RELISH, SWEET                 1 TBSP           20       0      0            0          0           5       107
 CABBAGE, CHINESE, PAK-CHOI,CKD1 CUP            20       3      0            0          0           3        58
 YEAST, BAKERS, DRY, ACTIVE    1 PKG            20       3      0            0          0           3         4
 CABBAGE, SAVOY, RAW           1 CUP            20       1      0            0          0           4        20
 CABBAGE, RED, RAW             1 CUP            20       1      0            0          0           4         8
 COLLARDS, COOKED FROM RAW     1 CUP            25       2      0          0.1          0           5        36
 SNAP BEAN,CNND,DRND,GRN,NOSALT1 CUP            25       2      0            0          0           6         3
 GELATIN, DRY                  1 ENVELP         25       6      0            0          0           0         6

 Description of food                      Energy   Protein   Fat  Saturated FatCholesterolCarbohydrate  Sodium
                                           (Calories(Grams) (Grams)   (Grams)   (Milligrams  (Grams)   (Milligram

 OKRA PODS, COOKED             8 PODS           25       2      0            0          0           6         4
 EGGPLANT, COOKED, STEAMED     1 CUP            25       1      0            0          0           6         3
 SUGAR, WHITE, GRANULATED      1 PKT            25       0      0            0          0           6         0
 CAULIFLOWER, RAW              1 CUP            25       2      0            0          0           5        15
 SNAP BEAN,CNND,DRND,YLLW, SALT1 CUP            25       2      0            0          0           6       339
 TOMATOES, RAW                 1 TOMATO         25       1      0            0          0           5        10
 SNAP BEAN,CNND,DRND,YLLW,NOSAL1 CUP            25       2      0            0          0           6         3
 YEAST, BREWERS, DRY           1 TBSP           25       3      0            0          0           3        10
 SNAP BEAN,CNND,DRND,GREEN,SALT1 CUP            25       2      0            0          0           6       339
 BEAN SPROUTS, MUNG, COOKD,DRAN1 CUP            25       3      0            0          0           5        12
 BEAN SPROUTS, MUNG, RAW       1 CUP            30       3      0            0          0           6         6
 POPCORN, AIR-POPPED, UNSALTED 1 CUP            30       1      0            0          0           6         0
 CAULIFLOWER, COOKED FROM RAW  1 CUP            30       2      0            0          0           6         8

 Description of food                      Energy   Protein   Fat  Saturated FatCholesterolCarbohydrate  Sodium
                                           (Calories(Grams) (Grams)   (Grams)   (Milligrams  (Grams)   (Milligram

 CABBAGE, COMMON, COOKED, DRNED1 CUP            30       1      0            0          0           7        29
 CARROTS, RAW, WHOLE           1 CARROT         30       1      0            0          0           7        25
 BEETS, COOKED, DRAINED, WHOLE 2 BEETS          30       1      0            0          0           7        49
 TURNIP GREENS, COOKED FROM RAW1 CUP            30       2      0          0.1          0           6        42
 TURNIPS, COOKED, DICED        1 CUP            30       1      0            0          0           8        78
 PINEAPPLE, CANNED, JUICE PACK 1 SLICE          35       0      0            0          0           9         1
 PEACHES, CANNED, JUICE PACK   1 HALF           35       0      0            0          0           9         3
 GRAPES, EUROPEAN, RAW, THOMPSN10 GRAPE         35       0      0          0.1          0           9         1
 CARROTS, CANNED, DRN, W/ SALT 1 CUP            35       1      0          0.1          0           8       352
 CARROTS, CANNED,DRND, W/O SALT1 CUP            35       1      0          0.1          0           8        61
 CAULIFLOWER, COOKED FROM FROZN1 CUP            35       3      0          0.1          0           7        32
 SNAP BEAN,FRZ,CKD,DRND,GREEN  1 CUP            35       2      0            0          0           8        18
 PLUMS, RAW, 2-1/8-IN DIAM     1 PLUM           35       1      0            0          0           9         0

 Description of food                      Energy   Protein   Fat  Saturated FatCholesterolCarbohydrate  Sodium
                                           (Calories(Grams) (Grams)   (Grams)   (Milligrams  (Grams)   (Milligram

 MUSHROOMS, CANNED, DRND,W/SALT1 CUP            35       3      0          0.1          0           8       663
 PEACHES, RAW                  1 PEACH          35       1      0            0          0          10         0
 SWEETPOTATOES, CNNED, VAC PACK1 PIECE          35       1      0            0          0           8        21
 TANGERINES, RAW               1 TANGRN         35       1      0            0          0           9         1
 SNAP BEAN,FRZ,CKD,DRND,YELLOW 1 CUP            35       2      0            0          0           8        18
 GRAPEFRUIT, RAW, PINK         1/2 FRUT         40       1      0            0          0          10         0
 TOMATO JUICE, CANNED W/O SALT 1 CUP            40       2      0            0          0          10        24
 JELLIES                       1 PKT            40       0      0            0          0          10         4
 APRICOTS, CANNED, JUICE PACK  3 HALVES         40       1      0            0          0          10         3
 GRAPES, EUROPEAN, RAW, TOKAY  10 GRAPE         40       0      0          0.1          0          10         1
 JAMS AND PRESERVES            1 PKT            40       0      0            0          0          10         2
 BEET GREENS, COOKED, DRAINED  1 CUP            40       4      0            0          0           8       347
 GRAPEFRUIT, RAW, WHITE        1/2 FRUT         40       1      0            0          0          10         0

 Description of food                      Energy   Protein   Fat  Saturated FatCholesterolCarbohydrate  Sodium
                                           (Calories(Grams) (Grams)   (Grams)   (Milligrams  (Grams)   (Milligram

 ONIONS, RAW, SLICED           1 CUP            40       1      0          0.1          0           8         2
 SPINACH, COOKED FROM RAW, DRND1 CUP            40       5      0          0.1          0           7       126
 RAISINS                       1 PACKET         40       0      0            0          0          11         2
 PEARS, CANNED, JUICE PACK     1 HALF           40       0      0            0          0          10         3
 TOMATO JUICE, CANNED WITH SALT1 CUP            40       2      0            0          0          10       881
 SNAP BEAN,RAW,CKD,DRND,YELLOW 1 CUP            45       2      0          0.1          0          10         4
 SAUERKRAUT, CANNED            1 CUP            45       2      0          0.1          0          10      1560
 HONEYDEW MELON, RAW           1/10 MEL         45       1      0            0          0          12        13
 PINEAPPLE, CANNED, HEAVY SYRUP1 SLICE          45       0      0            0          0          12         1
 CARROTS, RAW, GRATED          1 CUP            45       1      0            0          0          11        39
 KIWIFRUIT, RAW                1 KIWI           45       1      0            0          0          11         4
 SUGAR, WHITE, GRANULATED      1 TBSP           45       0      0            0          0          12         0
 VEGETABLE JUICE COCKTAIL, CNND1 CUP            45       2      0            0          0          11       883

 Description of food                      Energy   Protein   Fat  Saturated FatCholesterolCarbohydrate  Sodium
                                           (Calories(Grams) (Grams)   (Grams)   (Milligrams  (Grams)   (Milligram

 BROCCOLI, RAW, COOKED, DRAINED1 CUP            45       5      0          0.1          0           9        17
 SNAP BEAN,RAW,CKD,DRND,GREEN  1 CUP            45       2      0          0.1          0          10         4
 KOHLRABI, COOKED, DRAINED     1 CUP            50       3      0            0          0          11        35
 BROCCOLI, FRZN, COOKED, DRANED1 CUP            50       6      0            0          0          10        44
 PUMPKIN, COOKED FROM RAW      1 CUP            50       2      0          0.1          0          12         2
 JELLIES                       1 TBSP           50       0      0            0          0          13         5
 APRICOTS, RAW                 3 APRCOT         50       1      0            0          0          12         1
 BEETS, COOKED, DRAINED, DICED 1 CUP            55       2      0            0          0          11        83
 CARROTS, COOKED FROM FROZEN   1 CUP            55       2      0            0          0          12        86
 ARTICHOKES, GLOBE, COOKED, DRN1 ARTCHK         55       3      0            0          0          12        79
 JAMS AND PRESERVES            1 TBSP           55       0      0            0          0          14         2
 BEETS, CANNED, DRAINED,W/ SALT1 CUP            55       2      0            0          0          12       466
 ONIONS, RAW, CHOPPED          1 CUP            55       2      0          0.1          0          12         3

 Description of food                      Energy   Protein   Fat  Saturated FatCholesterolCarbohydrate  Sodium
                                           (Calories(Grams) (Grams)   (Grams)   (Milligrams  (Grams)   (Milligram

 PLUMS, CANNED, JUICE PACK     3 PLUMS          55       0      0            0          0          14         1
 BEETS, CANNED, DRAINED,NO SALT1 CUP            55       2      0            0          0          12        78
 SPINACH, COOKED FR FRZEN, DRND1 CUP            55       6      0          0.1          0          10       163
 PEACHES, CANNED, HEAVY SYRUP  1 HALF           60       0      0            0          0          16         5
 PEARS, CANNED, HEAVY SYRUP    1 HALF           60       0      0            0          0          15         4
 ONIONS, RAW, COOKED, DRAINED  1 CUP            60       2      0          0.1          0          13        17
 ORANGES, RAW                  1 ORANGE         60       1      0            0          0          15         0
 CORN, COOKED FRM FROZN, WHITE 1 EAR            60       2      0          0.1          0          14         3
 CORN, COOKED FRM FROZN, YELLOW1 EAR            60       2      0          0.1          0          14         3
 LEMON JUICE, RAW              1 CUP            60       1      0            0          0          21         2
 APPLES, RAW, PEELED, SLICED   1 CUP            65       0      0          0.1          0          16         0
 PAPAYAS, RAW                  1 CUP            65       1      0          0.1          0          17         9
 HONEY                         1 TBSP           65       0      0            0          0          17         1

 Description of food                      Energy   Protein   Fat  Saturated FatCholesterolCarbohydrate  Sodium
                                           (Calories(Grams) (Grams)   (Grams)   (Milligrams  (Grams)   (Milligram

 PEAS, EDIBLE POD, COOKED,DRNED1 CUP            65       5      0          0.1          0          11         6
 LIME JUICE, RAW               1 CUP            65       1      0            0          0          22         2
 APRICOT, CANNED, HEAVY SYRUP  3 HALVES         70       0      0            0          0          18         3
 WATER CHESTNUTS, CANNED       1 CUP            70       1      0            0          0          17        11
 POPSICLE                      1 POPCLE         70       0      0            0          0          18        11
 GELATIN DESSERT, PREPARED     1/2 CUP          70       2      0            0          0          17        55
 CARROTS, COOKED FROM RAW      1 CUP            70       2      0          0.1          0          16       103
 WINE, TABLE, RED              3.5 F OZ         75       0      0            0          0           3         5
 LIMEADE,CONCEN,FROZEN,DILUTED 6 FL OZ          75       0      0            0          0          20         0
 PEACHES, RAW, SLICED          1 CUP            75       1      0            0          0          19         0
 VEGETABLES, MIXED, CANNED     1 CUP            75       4      0          0.1          0          15       243
 TOMATO SAUCE, CANNED WITH SALT1 CUP            75       3      0          0.1          0          18      1482
 WINE, TABLE, WHITE            3.5 F OZ         80       0      0            0          0           3         5

 Description of food                      Energy   Protein   Fat  Saturated FatCholesterolCarbohydrate  Sodium
                                           (Calories(Grams) (Grams)   (Grams)   (Milligrams  (Grams)   (Milligram

 LEMONADE,CONCEN,FRZEN,DILUTED 6 FL OZ          80       0      0            0          0          21         1
 APPLES, RAW, UNPEELED,3 PER LB1 APPLE          80       0      0          0.1          0          21         0
 CORN GRITS, COOKED, INSTANT   1 PKT            80       2      0            0          0          18       343
 ORANGES, RAW, SECTIONS        1 CUP            85       2      0            0          0          21         0
 TEA,INSTANT,PREPARD,SWEETENED 8 FL OZ          85       0      0            0          0          22         0
 MOLASSES, CANE, BLACKSTRAP    2 TBSP           85       0      0            0          0          22        38
 MILK, SKIM, NO ADDED MILKSOLID1 CUP            85       8      0          0.3          4          12       126
 FRUIT PUNCH DRINK, CANNED     6 FL OZ          85       0      0            0          0          22        15
 SYRUP, CHOCOLATE FLAVORED THIN2 TBSP           85       1      0          0.2          0          22        36
 ITALIAN BREAD                 1 SLICE          85       3      0            0          0          17       176
 CHERRIES, SOUR,RED,CANND,WATER1 CUP            90       2      0          0.1          0          22        17
 PINEAPPLE-GRAPEFRUIT JUICEDRNK6 FL OZ          90       0      0            0          0          23        24
 40% BRAN FLAKES, POST         1 OZ             90       3      0          0.1          0          22       260

 Description of food                      Energy   Protein   Fat  Saturated FatCholesterolCarbohydrate  Sodium
                                           (Calories(Grams) (Grams)   (Grams)   (Milligrams  (Grams)   (Milligram

 MARSHMALLOWS                  1 OZ             90       1      0            0          0          23        25
 BEER, LIGHT                   12 FL OZ         95       1      0            0          0           5        11
 GRAPEFRUIT JUICE, CANNED,UNSWT1 CUP            95       1      0            0          0          22         2
 GRAPEFRUIT JUICE, RAW         1 CUP            95       1      0            0          0          23         2
 CHICKEN CHOW MEIN, CANNED     1 CUP            95       7      0          0.1          8          18       725
 GIN,RUM,VODKA,WHISKY 80-PROOF 1.5 F OZ         95       0      0            0          0           0         0
 GUM DROPS                     1 OZ            100       0      0            0          0          25        10
 WHEATIES CEREAL               1 OZ            100       3      0          0.1          0          23       354
 GRAPEFRT JCE,FRZN,DLTD,UNSWTEN1 CUP           100       1      0            0          0          24         2
 GRAPE-NUTS CEREAL             1 OZ            100       3      0            0          0          23       197
 GRAPE DRINK, CANNED           6 FL OZ         100       0      0            0          0          26        11
 CREAM OF WHEAT,CKD,MIX N EAT  1 PKT           100       3      0            0          0          21       241
 SUPER SUGAR CRISP CEREAL      1 OZ            105       2      0            0          0          26        25

 Description of food                      Energy   Protein   Fat  Saturated FatCholesterolCarbohydrate  Sodium
                                           (Calories(Grams) (Grams)   (Grams)   (Milligrams  (Grams)   (Milligram

 VEGETABLES, MIXED, CKED FR FRZ1 CUP           105       5      0          0.1          0          24        64
 TOMATO PUREE, CANNED WITH SALT1 CUP           105       4      0            0          0          25       998
 GIN,RUM,VODKA,WHISKY 86-PROOF 1.5 F OZ        105       0      0            0          0           0         0
 FONDANT, UNCOATED             1 OZ            105       0      0            0          0          27        57
 TOMATO PUREE, CANNED W/O SALT 1 CUP           105       4      0            0          0          25        50
 JELLY BEANS                   1 OZ            105       0      0            0          0          26         7
 APPLESAUCE, CANNED,UNSWEETENED1 CUP           105       0      0            0          0          28         5
 ORANGE JUICE, CANNED          1 CUP           105       1      0            0          0          25         5
 ORANGE + GRAPEFRUIT JUCE,CANND1 CUP           105       1      0            0          0          25         7
 RICE KRISPIES CEREAL          1 OZ            110       2      0            0          0          25       340
 HARD CANDY                    1 OZ            110       0      0            0          0          28         7
 PRODUCT 19 CEREAL             1 OZ            110       3      0            0          0          24       325
 CORN FLAKES, KELLOGG'S        1 OZ            110       2      0            0          0          24       351

 Description of food                      Energy   Protein   Fat  Saturated FatCholesterolCarbohydrate  Sodium
                                           (Calories(Grams) (Grams)   (Grams)   (Milligrams  (Grams)   (Milligram

 ORANGE JUICE,FRZN,CNCN,DILUTED1 CUP           110       2      0            0          0          27         2
 SUGAR FROSTED FLAKES, KELLOGG 1 OZ            110       1      0            0          0          26       230
 CORN FLAKES, TOASTIES         1 OZ            110       2      0            0          0          24       297
 PEACHES, CANNED, JUICE PACK   1 CUP           110       2      0            0          0          29        10
 TRIX CEREAL                   1 OZ            110       2      0          0.2          0          25       181
 GIN,RUM,VODKA,WHISKY 90-PROOF 1.5 F OZ        110       0      0            0          0           0         0
 SPECIAL K CEREAL              1 OZ            110       6      0            0          0          21       265
 ORANGE JUICE, RAW             1 CUP           110       2      0          0.1          0          26         2
 PRUNES, DRIED                 5 LARGE         115       1      0            0          0          31         2
 POTATOES, BOILED, PEELED BEFOR1 POTATO        115       2      0            0          0          27         7
 SWEETPOTATOES, BAKED, PEELED  1 POTATO        115       2      0            0          0          28        11
 GRAPEFRUIT JUICE, CANNED,SWTND1 CUP           115       1      0            0          0          28         5
 FRUIT COCKTAIL,CNND,JUICE PACK1 CUP           115       1      0            0          0          29        10

 Description of food                      Energy   Protein   Fat  Saturated FatCholesterolCarbohydrate  Sodium
                                           (Calories(Grams) (Grams)   (Grams)   (Milligrams  (Grams)   (Milligram

 JERUSALEM-ARTICHOKE, RAW      1 CUP           115       3      0            0          0          26         6
 MACARONI, COOKED, TENDER,COLD 1 CUP           115       4      0          0.1          0          24         1
 APPLE JUICE, CANNED           1 CUP           115       0      0            0          0          29         7
 PLUMS, CANNED, HEAVY SYRUP    3 PLUMS         120       0      0            0          0          31        25
 MALT-O-MEAL, W/O SALT         1 CUP           120       4      0            0          0          26         2
 APRICOTS, CANNED, JUICE PACK  1 CUP           120       2      0            0          0          31        10
 CORNMEAL,DEGERMED,ENRCHED,COOK1 CUP           120       3      0            0          0          26         0
 POTATOES, BOILED, PEELED AFTER1 POTATO        120       3      0            0          0          27         5
 MALT-O-MEAL, WITH SALT        1 CUP           120       4      0            0          0          26       324
 TABLE SYRUP (CORN AND MAPLE)  2 TBSP          122       0      0            0          0          32        19
 TANGERINE JUICE, CANNED,SWTNED1 CUP           125       1      0            0          0          30         2
 GINGER ALE                    12 FL OZ        125       0      0            0          0          32        29
 PARSNIPS, COOKED, DRAINED     1 CUP           125       2      0          0.1          0          30        16

 Description of food                      Energy   Protein   Fat  Saturated FatCholesterolCarbohydrate  Sodium
                                           (Calories(Grams) (Grams)   (Grams)   (Milligrams  (Grams)   (Milligram

 PEAS,GRN, FROZEN COOKED,DRANED1 CUP           125       8      0          0.1          0          23       139
 GRAPEJCE,FRZN,DILUTD,SWTND,W/C1 CUP           125       0      0          0.1          0          32         5
 ANGELFOOD CAKE, FROM MIX      1 PIECE         125       3      0            0          0          29       269
 YOGURT, W/ NONFAT MILK        8 OZ            125      13      0          0.3          4          17       174
 PEARS, CANNED, JUICE PACK     1 CUP           125       1      0            0          0          32        10
 CORN, COOKED FRM FROZN, WHITE 1 CUP           135       5      0            0          0          34         8
 CORN, COOKED FRM FROZN, YELLOW1 CUP           135       5      0            0          0          34         8
 CRM WHEAT,CKD,REG,INST,NO SALT1 CUP           140       4      0          0.1          0          29         5
 PINEAPPLE JUICE, CANNED,UNSWTN1 CUP           140       1      0            0          0          34         3
 APRICOT NECTAR, NO ADDED VIT C1 CUP           140       1      0            0          0          36         8
 CRM WHEAT,CKD, QUICK, NO SALT 1 CUP           140       4      0          0.1          0          29       142
 CRM WHEAT,CKD,REG,INST,W/SALT 1 CUP           140       4      0          0.1          0          29       390
 CRM WHEAT,CKD,QUICK, W/  SALT 1 CUP           140       4      0          0.1          0          29       390

 Description of food                      Energy   Protein   Fat  Saturated FatCholesterolCarbohydrate  Sodium
                                           (Calories(Grams) (Grams)   (Grams)   (Milligrams  (Grams)   (Milligram

 WINE, DESSERT                 3.5 F OZ        140       0      0            0          0           8         9
 CORN GRITS,CKD,REG,WHTE,NOSALT1 CUP           145       3      0            0          0          31         0
 POTATOES, BAKED FLESH ONLY    1 POTATO        145       3      0            0          0          34         8
 CRANBERRY JUICE COCKTAL W/VITC1 CUP           145       0      0            0          0          38        10
 CORN GRITS,CKD,REG,WHTE,W/SALT1 CUP           145       3      0            0          0          31       540
 CORN GRITS,CKD,REG,YLLW,W/SALT1 CUP           145       3      0            0          0          31       540
 PLUMS, CANNED, JUICE PACK     1 CUP           145       1      0            0          0          38         3
 CORN GRITS,CKD,REG,YLLW,NOSALT1 CUP           145       3      0            0          0          31         0
 GRAPEFRUIT, CANNED, SYRUP PACK1 CUP           150       1      0            0          0          39         5
 PINEAPPLE, CANNED, JUICE PACK 1 CUP           150       1      0            0          0          39         3
 BEER, REGULAR                 12 FL OZ        150       1      0            0          0          13        18
 APPLES, DRIED, SULFURED       10 RINGS        155       1      0            0          0          42        56
 TANGERINES, CANNED, LIGHT SYRP1 CUP           155       1      0            0          0          41        15

 Description of food                      Energy   Protein   Fat  Saturated FatCholesterolCarbohydrate  Sodium
                                           (Calories(Grams) (Grams)   (Grams)   (Milligrams  (Grams)   (Milligram

 GRAPE JUICE, CANNED           1 CUP           155       1      0          0.1          0          38         8
 LEMON-LIME SODA               12 FL OZ        155       0      0            0          0          39        33
 PEPPER-TYPE SODA              12 FL OZ        160       0      0            0          0          41        37
 SWEETPOTATOES, BOILED W/O PEEL1 POTATO        160       2      0          0.1          0          37        20
 COLA, REGULAR                 12 FL OZ        160       0      0            0          0          41        18
 ROOT BEER                     12 FL OZ        165       0      0            0          0          42        48
 ORANGE SODA                   12 FL OZ        180       0      0            0          0          46        52
 GRAPE SODA                    12 FL OZ        180       0      0            0          0          46        48
 RICE, WHITE, INSTANT, COOKED  1 CUP           180       4      0          0.1          0          40         0
 PRUNE JUICE, CANNED           1 CUP           180       2      0            0          0          45        10
 PLANTAINS, COOKED             1 CUP           180       1      0          0.1          0          48         8
 BLUEBERRIES, FROZEN, SWEETENED1 CUP           185       1      0            0          0          50         2
 FRUIT COCKTAIL,CNND,HEAVYSYRUP1 CUP           185       1      0            0          0          48        15

 Description of food                      Energy   Protein   Fat  Saturated FatCholesterolCarbohydrate  Sodium
                                           (Calories(Grams) (Grams)   (Grams)   (Milligrams  (Grams)   (Milligram

 RICE, WHITE, PARBOILED, COOKED1 CUP           185       4      0            0          0          41         0
 PEARS, CANNED, HEAVY SYRUP    1 CUP           190       1      0            0          0          49        13
 PEACHES, CANNED, HEAVY SYRUP  1 CUP           190       1      0            0          0          51        15
 APPLESAUCE, CANNED, SWEETENED 1 CUP           195       0      0          0.1          0          51         8
 PINEAPPLE, CANNED, HEAVY SYRUP1 CUP           200       1      0            0          0          52         3
 APRICOTS, DRIED, COOKED,UNSWTN1 CUP           210       3      0            0          0          55         8
 APRICOT, CANNED, HEAVY SYRUP  1 CUP           215       1      0            0          0          55        10
 POTATOES, BAKED WITH SKIN     1 POTATO        220       5      0          0.1          0          51        16
 PRUNES, DRIED, COOKED,UNSWTNED1 CUP           225       2      0            0          0          60         4
 RICE, WHITE, COOKED           1 CUP           225       4      0          0.1          0          50         0
 BLUEBERRIES, FROZEN, SWEETENED10 OZ           230       1      0            0          0          62         3
 DATES                         10 DATES        230       2      0          0.1          0          61         2
 PLUMS, CANNED, HEAVY SYRUP    1 CUP           230       1      0            0          0          60        49

 Description of food                      Energy   Protein   Fat  Saturated FatCholesterolCarbohydrate  Sodium
                                           (Calories(Grams) (Grams)   (Grams)   (Milligrams  (Grams)   (Milligram

 PEACHES, FROZEN,SWETNED,W/VITC1 CUP           235       2      0            0          0          60        15
 NONFAT DRY MILK, INSTANTIZED  1 CUP           245      24      0          0.3         12          35       373
 STRAWBERRIES, FROZEN, SWEETEND1 CUP           245       1      0            0          0          66         8
 RASPBERRIES, FROZEN, SWEETENED1 CUP           255       2      0            0          0          65         3
 CAROB FLOUR                   1 CUP           255       6      0            0          0         126        24
 PEACHES, FROZEN,SWETNED,W/VITC10 OZ           265       2      0            0          0          68        17
 STRAWBERRIES, FROZEN, SWEETEND10 OZ           275       2      0            0          0          74         9
 RHUBARB, COOKED, ADDED SUGAR  1 CUP           280       1      0            0          0          75         2
 RASPBERRIES, FROZEN, SWEETENED10 OZ           295       2      0            0          0          74         3
 ORANGE JUICE,FROZEN CONCENTRTE6 FL OZ         340       5      0          0.1          0          81         6
 SUGAR, POWDERED, SIFTED       1 CUP           385       0      0            0          0         100         2
 LIMEADE,CONCENTRATE,FRZN,UNDIL6 FL OZ         410       0      0            0          0         108         0
 CRANBERRY SAUCE, CANNED,SWTND 1 CUP           420       1      0            0          0         108        80

 Description of food                      Energy   Protein   Fat  Saturated FatCholesterolCarbohydrate  Sodium
                                           (Calories(Grams) (Grams)   (Grams)   (Milligrams  (Grams)   (Milligram

 LEMONADE,CONCENTRATE,FRZ,UNDIL6 FL OZ         425       0      0            0          0         112         4
 SUGAR, WHITE, GRANULATED      1 CUP           770       0      0            0          0         199         5
 SUGAR, BROWN, PRESSED DOWN    1 CUP           820       0      0            0          0         212        97
 HONEY                         1 CUP          1030       1      0            0          0         279        17
 IMITATN WHIPD TOPING,PRESSRZD 1 TBSP           10       0      1          0.8          0           1         2
 WHIPPED TOPPING, PRESSURIZED  1 TBSP           10       0      1          0.4          2           0         4
 IMITATION CREAMERS, POWDERED  1 TSP            10       0      1          0.7          0           1         4
 CELERY SEED                   1 TSP            10       0      1            0          0           1         3
 BOUILLON, DEHYDRTD, UNPREPARED1 PKT            15       1      1          0.3          1           1      1019
 IMITATION WHIPPED TOPPING,FRZN1 TBSP           15       0      1          0.9          0           1         1
 SNACK TYPE CRACKERS           1 CRACKR         15       0      1          0.2          0           2        30
 BEEF BROTH, BOULLN, CONSM,CNND1 CUP            15       3      1          0.3          0           0       782
 IMITATION CREAMERS, LIQUID FRZ1 TBSP           20       0      1          1.4          0           2        12

 Description of food                      Energy   Protein   Fat  Saturated FatCholesterolCarbohydrate  Sodium
                                           (Calories(Grams) (Grams)   (Grams)   (Milligrams  (Grams)   (Milligram

 BAMBOO SHOOTS, CANNED, DRAINED1 CUP            25       2      1          0.1          0           4         9
 CHICKEN LIVER, COOKED         1 LIVER          30       5      1          0.4        126           0        10
 SQUASH, SUMMER, COOKED, DRAIND1 CUP            35       2      1          0.1          0           8         2
 DANDELION GREENS, COOKED, DRND1 CUP            35       2      1          0.1          0           7        46
 WHEAT, THIN CRACKERS          4 CRACKR         35       1      1          0.5          0           5        69
 CHICKEN NOODLE SOUP,DEHYD,PRPD1 PKT            40       2      1          0.2          2           6       957
 TOMATO VEG SOUP, DEHYD,PREPRED1 PKT            40       1      1          0.3          0           8       856
 KALE, COOKED FROM FROZEN      1 CUP            40       4      1          0.1          0           7        20
 BROCCOLI, RAW                 1 SPEAR          40       4      1          0.1          0           8        41
 MUSHROOMS, COOKED, DRAINED    1 CUP            40       3      1          0.1          0           8         3
 KALE, COOKED FROM RAW         1 CUP            40       2      1          0.1          0           7        30
 STRAWBERRIES, RAW             1 CUP            45       1      1            0          0          10         1
 ASPARAGUS, CKD FRM RAW, DR,CUT1 CUP            45       5      1          0.1          0           8         7

 Description of food                      Energy   Protein   Fat  Saturated FatCholesterolCarbohydrate  Sodium
                                           (Calories(Grams) (Grams)   (Grams)   (Milligrams  (Grams)   (Milligram

 TURKEY LOAF, BREAST MEAT W/O C2 SLICES         45      10      1          0.2         17           0       608
 TURKEY LOAF, BREAST MEAT, W/ C2 SLICES         45      10      1          0.2         17           0       608
 CHERRIES, SWEET, RAW          10 CHERY         50       1      1          0.1          0          11         0
 SALTINES                      4 CRACKR         50       1      1          0.5          4           9       165
 LIME JUICE,CANNED             1 CUP            50       1      1          0.1          0          16        39
 TOMATOES, CANNED, S+L, W/ SALT1 CUP            50       2      1          0.1          0          10       391
 ASPARAGUS, CKD FRM FRZ,DRN,CUT1 CUP            50       5      1          0.2          0           9         7
 SPINACH, CANNED, DRND,W/ SALT 1 CUP            50       6      1          0.2          0           7       683
 TOMATOES, CANNED, S+L,W/O SALT1 CUP            50       2      1          0.1          0          10        31
 BROCCOLI, RAW, COOKED, DRAINED1 SPEAR          50       5      1          0.1          0          10        20
 TURNIP GREENS, CKED FRM FROZEN1 CUP            50       5      1          0.2          0           8        25
 WATERMELON, RAW, DICED        1 CUP            50       1      1          0.1          0          11         3
 SPINACH, CANNED, DRND,W/O SALT1 CUP            50       6      1          0.2          0           7        58

 Description of food                      Energy   Protein   Fat  Saturated FatCholesterolCarbohydrate  Sodium
                                           (Calories(Grams) (Grams)   (Grams)   (Milligrams  (Grams)   (Milligram

 LEMON JUICE, CANNED           1 CUP            50       1      1          0.1          0          16        51
 RYE WAFERS, WHOLE-GRAIN       2 WAFERS         55       1      1          0.3          0          10       115
 WHITE BREAD, SLICE 22 PER LOAF1 SLICE          55       2      1          0.2          0          10       101
 LEMON JUICE,FRZN,SINGLE-STRNGH6 FL OZ          55       1      1          0.1          0          16         2
 WHITE BREAD, TOASTED 22 PER   1 SLICE          55       2      1          0.2          0          10       101
 GRAHAM CRACKER, PLAIN         2 CRACKR         60       1      1          0.4          0          11        86
 BRUSSELS SPROUTS, RAW, COOKED 1 CUP            60       4      1          0.2          0          13        33
 COLLARDS, COOKED FROM FROZEN  1 CUP            60       5      1          0.1          0          12        85
 RASPBERRIES, RAW              1 CUP            60       1      1            0          0          14         0
 WHITE BREAD, SLICE 18 PER LOAF1 SLICE          65       2      1          0.3          0          12       129
 RAISIN BREAD                  1 SLICE          65       2      1          0.2          0          13        92
 MIXED GRAIN BREAD, TOASTED    1 SLICE          65       2      1          0.2          0          12       106
 CRACKED-WHEAT BREAD, TOASTED  1 SLICE          65       2      1          0.2          0          12       106

 Description of food                      Energy   Protein   Fat  Saturated FatCholesterolCarbohydrate  Sodium
                                           (Calories(Grams) (Grams)   (Grams)   (Milligrams  (Grams)   (Milligram

 RAISIN BREAD, TOASTED         1 SLICE          65       2      1          0.2          0          13        92
 TORTILLAS, CORN               1 TORTLA         65       2      1          0.1          0          13         1
 OATMEAL BREAD, TOASTED        1 SLICE          65       2      1          0.2          0          12       124
 PRETZELS, TWISTED, DUTCH      1 PRETZ          65       2      1          0.1          0          13       258
 CRACKED-WHEAT BREAD           1 SLICE          65       2      1          0.2          0          12       106
 WHEAT BREAD                   1 SLICE          65       2      1          0.2          0          12       138
 WHITE BREAD, TOASTED 18 PER   1 SLICE          65       2      1          0.3          0          12       129
 NECTARINES, RAW               1 NECTRN         65       1      1          0.1          0          16         0
 WHEAT BREAD, TOASTED          1 SLICE          65       3      1          0.2          0          12       138
 RYE BREAD, LIGHT              1 SLICE          65       2      1          0.2          0          12       175
 CLAMS, RAW                    3 OZ             65      11      1          0.3         43           2       102
 OATMEAL BREAD                 1 SLICE          65       2      1          0.2          0          12       124
 RYE BREAD, LIGHT, TOASTED     1 SLICE          65       2      1          0.2          0          12       175

 Description of food                      Energy   Protein   Fat  Saturated FatCholesterolCarbohydrate  Sodium
                                           (Calories(Grams) (Grams)   (Grams)   (Milligrams  (Grams)   (Milligram

 MIXED GRAIN BREAD             1 SLICE          65       2      1          0.2          0          12       106
 BRUSSELS SPROUTS, FRZN, COOKED1 CUP            65       6      1          0.1          0          13        36
 LETTUCE, CRISPHEAD, RAW, HEAD 1 HEAD           70       5      1          0.1          0          11        49
 WHOLE-WHEAT BREAD             1 SLICE          70       3      1          0.4          0          13       180
 WHOLE-WHEAT BREAD, TOASTED    1 SLICE          70       3      1          0.4          0          13       180
 ALL-BRAN CEREAL               1 OZ             70       4      1          0.1          0          21       320
 VIENNA BREAD                  1 SLICE          70       2      1          0.2          0          13       145
 COCA PWDR W/O NONFAT DRY MILK 3/4 OZ           75       1      1          0.3          0          19        56
 PINEAPPLE, RAW, DICED         1 CUP            75       1      1            0          0          19         2
 BLACKBERRIES, RAW             1 CUP            75       1      1          0.2          0          18         0
 PUMPERNICKEL BREAD, TOASTED   1 SLICE          80       3      1          0.2          0          16       177
 BLUEBERRIES, RAW              1 CUP            80       1      1            0          0          20         9
 PUMPERNICKEL BREAD            1 SLICE          80       3      1          0.2          0          16       177

 Description of food                      Energy   Protein   Fat  Saturated FatCholesterolCarbohydrate  Sodium
                                           (Calories(Grams) (Grams)   (Grams)   (Milligrams  (Grams)   (Milligram

 WHITE BREAD CUBES             1 CUP            80       2      1          0.4          0          15       154
 FLOUNDER OR SOLE, BAKED,W/OFAT3 OZ             80      17      1          0.3         59           0       101
 SQUASH, WINTER, BAKED         1 CUP            80       2      1          0.3          0          18         2
 CORN, COOKED FROM RAW, WHITE  1 EAR            85       3      1          0.2          0          19        13
 MALTED MILK, CHOCOLATE, POWDER3/4 OZ           85       1      1          0.5          1          18        49
 CORN, COOKED FROM RAW, YELLOW 1 EAR            85       3      1          0.2          0          19        13
 RAISIN BRAN, POST             1 OZ             85       3      1          0.1          0          21       185
 PUMPKIN, CANNED               1 CUP            85       3      1          0.4          0          20        12
 PEARS, RAW, BOSC              1 PEAR           85       1      1            0          0          21         0
 40% BRAN FLAKES, KELLOGG'S    1 OZ             90       4      1          0.1          0          22       264
 MILK, SKIM, ADDED MILK SOLIDS 1 CUP            90       9      1          0.4          5          12       130
 RAISIN BRAN, KELLOGG'S        1 OZ             90       3      1          0.1          0          21       207
 BOSTON BROWN BREAD,W/YLLWCRNML1 SLICE          95       2      1          0.3          3          21       113

 Description of food                      Energy   Protein   Fat  Saturated FatCholesterolCarbohydrate  Sodium
                                           (Calories(Grams) (Grams)   (Grams)   (Milligrams  (Grams)   (Milligram

 CANTALOUP, RAW                1/2 MELN         95       2      1          0.1          0          22        24
 BOSTON BROWN BREAD,W/WHTECRNM 1 SLICE          95       2      1          0.3          3          21       113
 SHRIMP, CANNED, DRAINED       3 OZ            100      21      1          0.2        128           1      1955
 FRENCH BREAD                  1 SLICE         100       3      1          0.3          0          18       203
 COCOA PWDR W/ NOFAT DRMLK,PRPD1 SERVNG        100       3      1          0.6          1          22       139
 TOTAL CEREAL                  1 OZ            100       3      1          0.1          0          22       352
 COCOA PWDR WITH NONFAT DRYMILK1 OZ            100       3      1          0.6          1          22       139
 PEARS, RAW, BARTLETT          1 PEAR          100       1      1            0          0          25         0
 SHREDDED WHEAT CEREAL         1 OZ            100       3      1          0.1          0          23         3
 BANANAS                       1 BANANA        105       1      1          0.2          0          27         1
 HONEY NUT CHEERIOS CEREAL     1 OZ            105       3      1          0.1          0          23       257
 SUGAR SMACKS CEREAL           1 OZ            105       2      1          0.1          0          25        75
 FROOT LOOPS CEREAL            1 OZ            110       2      1          0.2          0          25       145

 Description of food                      Energy   Protein   Fat  Saturated FatCholesterolCarbohydrate  Sodium
                                           (Calories(Grams) (Grams)   (Grams)   (Milligrams  (Grams)   (Milligram

 GOLDEN GRAHAMS CEREAL         1 OZ            110       2      1          0.7          0          24       346
 ORANGE JUICE, CHILLED         1 CUP           110       2      1          0.1          0          25         2
 LUCKY CHARMS CEREAL           1 OZ            110       3      1          0.2          0          23       201
 PEAS, GREEN,CNND,DRND,W/O SALT1 CUP           115       8      1          0.1          0          21         3
 PEAS, GREEN,CNND,DRND, W/ SALT1 CUP           115       8      1          0.1          0          21       372
 PEARS, RAW, D'ANJOU           1 PEAR          120       1      1            0          0          30         0
 COTTAGE CHEESE,UNCREAMED      1 CUP           125      25      1          0.4         10           3        19
 APPLES, RAW, UNPEELED,2 PER LB1 APPLE         125       0      1          0.1          0          32         0
 POPCORN, SUGAR SYRUP COATED   1 CUP           135       2      1          0.1          0          30         0
 MANGOS, RAW                   1 MANGO         135       1      1          0.1          0          35         4
 TUNA, CANND, DRND,WATR, WHITE 3 OZ            135      30      1          0.3         48           0       468
 ENGLISH MUFFINS, PLAIN        1 MUFFIN        140       5      1          0.3          0          27       378
 ENGLISH MUFFINS, PLAIN, TOASTD1 MUFFIN        140       5      1          0.3          0          27       378

 Description of food                      Energy   Protein   Fat  Saturated FatCholesterolCarbohydrate  Sodium
                                           (Calories(Grams) (Grams)   (Grams)   (Milligrams  (Grams)   (Milligram

 BANANAS, SLICED               1 CUP           140       2      1          0.3          0          35         2
 SPAGHETTI, COOKED, TENDER     1 CUP           155       5      1          0.1          0          32         1
 MACARONI, COOKED, TENDER, HOT 1 CUP           155       5      1          0.1          0          32         1
 POTATOES, MASHED,RECPE,W/ MILK1 CUP           160       4      1          0.7          4          37       636
 CORN,CNND,WHL KRNL,WHTE,NO SAL1 CUP           165       5      1          0.2          0          41         6
 CORN,CNND,WHL KRNL,YLLW,W/SALT1 CUP           165       5      1          0.2          0          41       571
 CORN,CNND,WHL KRNL,WHTE,W/SALT1 CUP           165       5      1          0.2          0          41       571
 CORN,CNND,WHL KRNL,YLLW,NO SAL1 CUP           165       5      1          0.2          0          41         6
 PITA BREAD                    1 PITA          165       6      1          0.1          0          33       339
 LIMA BEANS,THICK SEED,FRZN,CKD1 CUP           170      10      1          0.1          0          32        90
 BLACKEYE PEAS, IMMATR,RAW,CKED1 CUP           180      13      1          0.3          0          30         7
 CORN, CNND,CRM STL,YLLW,W/SALT1 CUP           185       4      1          0.2          0          46       730
 CORN, CNND,CRM STL,YLLW,NO SAL1 CUP           185       4      1          0.2          0          46         8

 Description of food                      Energy   Protein   Fat  Saturated FatCholesterolCarbohydrate  Sodium
                                           (Calories(Grams) (Grams)   (Grams)   (Milligrams  (Grams)   (Milligram

 CORN, CNND,CRM STL,WHIT,NO SAL1 CUP           185       4      1          0.2          0          46         8
 CORN, CNND,CRM STL,WHIT,W/SALT1 CUP           185       4      1          0.2          0          46       730
 SPAGHETTI, COOKED, FIRM       1 CUP           190       7      1          0.1          0          39         1
 LIMA BEANS,BABY, FRZN,CKED,DRN1 CUP           190      12      1          0.1          0          35        52
 MACARONI, COOKED, FIRM        1 CUP           190       7      1          0.1          0          39         1
 BLACK-EYED PEAS, DRY, COOKED  1 CUP           190      13      1          0.2          0          35        20
 EVAPORATED MILK, SKIM, CANNED 1 CUP           200      19      1          0.3          9          29       293
 PEACHES, DRIED,COOKED,UNSWETND1 CUP           200       3      1          0.1          0          51         5
 GREAT NORTHN BEANS,DRY,CKD,DRN1 CUP           210      14      1          0.1          0          38        13
 LENTILS, DRY, COOKED          1 CUP           215      16      1          0.1          0          38        26
 PLANTAINS, RAW                1 PLANTN        220       2      1          0.3          0          57         7
 BLACK BEANS, DRY, COOKED,DRAND1 CUP           225      15      1          0.1          0          41         1
 BLACKEYE PEAS,IMMTR,FRZN,CKED 1 CUP           225      14      1          0.3          0          40         9

 Description of food                      Energy   Protein   Fat  Saturated FatCholesterolCarbohydrate  Sodium
                                           (Calories(Grams) (Grams)   (Grams)   (Milligrams  (Grams)   (Milligram

 PEA BEANS, DRY, COOKED,DRAINED1 CUP           225      15      1          0.1          0          40        13
 RICE, BROWN, COOKED           1 CUP           230       5      1          0.3          0          50         0
 PEAS, SPLIT, DRY, COOKED      1 CUP           230      16      1          0.1          0          42        26
 RED KIDNEY BEANS, DRY, CANNED 1 CUP           230      15      1          0.1          0          42       968
 SWEETPOTATOES, CANNED, MASHED 1 CUP           260       5      1          0.1          0          59       191
 LIMA BEANS, DRY, COOKED,DRANED1 CUP           260      16      1          0.2          0          49         4
 PINTO BEANS,DRY,COOKED,DRAINED1 CUP           265      15      1          0.1          0          49         3
 CATSUP                        1 CUP           290       5      1          0.2          0          69      2845
 GRAPEFRT JCE,FRZN,CNCN,UNSWTEN6 FL OZ         300       4      1          0.1          0          72         6
 APRICOTS, DRIED, UNCOOKED     1 CUP           310       5      1            0          0          80        13
 NONFAT DRY MILK, INSTANTIZED  1 ENVLPE        325      32      1          0.4         17          47       499
 BUCKWHEAT FLOUR, LIGHT, SIFTED1 CUP           340       6      1          0.2          0          78         2
 CAKE OR PASTRY FLOUR, SIFTED  1 CUP           350       7      1          0.1          0          76         2

 Description of food                      Energy   Protein   Fat  Saturated FatCholesterolCarbohydrate  Sodium
                                           (Calories(Grams) (Grams)   (Grams)   (Milligrams  (Grams)   (Milligram

 PEACHES, DRIED                1 CUP           380       6      1          0.1          0          98        11
 GRAPEJCE,FRZN,CONCEN,SWTND,W/C6 FL OZ         385       1      1          0.2          0          96        15
 WHEAT FLOUR, ALL-PURPOSE,SIFTD1 CUP           420      12      1          0.2          0          88         2
 RAISINS                       1 CUP           435       5      1          0.2          0         115        17
 SELF-RISING FLOUR, UNSIFTED   1 CUP           440      12      1          0.2          0          93      1349
 WHEAT FLOUR, ALL-PURPOSE,UNSIF1 CUP           455      13      1          0.2          0          95         3
 DATES, CHOPPED                1 CUP           490       4      1          0.3          0         131         5
 RICE, WHITE, RAW              1 CUP           670      12      1          0.2          0         149         9
 RICE, WHITE, PARBOILED, RAW   1 CUP           685      14      1          0.1          0         150        17
 OLIVES, CANNED, GREEN         4 MEDIUM         15       0      2          0.2          0           0       312
 OLIVES, CANNED, RIPE, MISSION 3 SMALL          15       0      2          0.3          0           0        68
 IMITATN SOUR DRESSING         1 TBSP           20       0      2          1.6          1           1         6
 HALF AND HALF, CREAM          1 TBSP           20       0      2          1.1          6           1         6

 Description of food                      Energy   Protein   Fat  Saturated FatCholesterolCarbohydrate  Sodium
                                           (Calories(Grams) (Grams)   (Grams)   (Milligrams  (Grams)   (Milligram

 FRENCH SALAD DRESSING, LOCALOR1 TBSP           25       0      2          0.2          0           2       306
 COOKED SALAD DRSSING, HOME RCP1 TBSP           25       1      2          0.5          9           2       117
 PARMESAN CHEESE, GRATED       1 TBSP           25       2      2            1          4           0        93
 1000 ISLAND, SALAD DRSNG,LOCAL1 TBSP           25       0      2          0.2          2           2       150
 WHOLE-WHEAT WAFERS, CRACKERS  2 CRACKR         35       1      2          0.5          0           5        59
 CHEESE CRACKERS, SANDWCH,PEANT1 SANDWH         40       1      2          0.4          1           5        90
 PANCAKES, BUCKWHEAT, FROM MIX 1 PANCAK         55       2      2          0.9         20           6       125
 CHICKEN RICE SOUP, CANNED     1 CUP            60       4      2          0.5          7           7       815
 PANCAKES, PLAIN, FROM MIX     1 PANCAK         60       2      2          0.5         16           8       160
 PANCAKES, PLAIN, HOME RECIPE  1 PANCAK         60       2      2          0.5         16           9       115
 BAKING PWDR BISCUITS,REFRGDOGH1 BISCUT         65       1      2          0.6          1          10       249
 VEGETARIAN SOUP, CANNED       1 CUP            70       2      2          0.3          0          12       822
 CHICKEN, ROASTED, DRUMSTICK   1.6 OZ           75      12      2          0.7         41           0        42

 Description of food                      Energy   Protein   Fat  Saturated FatCholesterolCarbohydrate  Sodium
                                           (Calories(Grams) (Grams)   (Grams)   (Milligrams  (Grams)   (Milligram

 CHICKEN NOODLE SOUP, CANNED   1 CUP            75       4      2          0.7          7           9      1106
 SEAWEED, SPIRULINA, DRIED     1 OZ             80      16      2          0.8          0           7       297
 VEGETABLE BEEF SOUP, CANNED   1 CUP            80       6      2          0.9          5          10       956
 BROWN GRAVY FROM DRY MIX      1 CUP            80       3      2          0.9          2          14      1147
 CLAM CHOWDER, MANHATTAN, CANND1 CUP            80       4      2          0.4          2          12      1808
 TOMATO SOUP W/ WATER, CANNED  1 CUP            85       2      2          0.4          0          17       871
 CLAMS, CANNED, DRAINED        3 OZ             85      13      2          0.5         54           2       102
 MALTED MILK,NATURAL, POWDER   3/4 OZ           85       3      2          0.9          4          15        96
 ROLLS, DINNER, COMMERCIAL     1 ROLL           85       2      2          0.5          0          14       155
 CHICKEN GRAVY FROM DRY MIX    1 CUP            85       3      2          0.5          3          14      1134
 BUTTERMILK, FLUID             1 CUP           100       8      2          1.3          9          12       257
 OATMEAL,CKD,INSTNT,PLAIN,FORTF1 PKT           105       4      2          0.3          0          18       285
 MILK, LOFAT, 1%, ADDED SOLIDS 1 CUP           105       9      2          1.5         10          12       128

 Description of food                      Energy   Protein   Fat  Saturated FatCholesterolCarbohydrate  Sodium
                                           (Calories(Grams) (Grams)   (Grams)   (Milligrams  (Grams)   (Milligram

 CHEERIOS CEREAL               1 OZ            110       4      2          0.3          0          20       307
 ROLLS, FRANKFURTER + HAMBURGER1 ROLL          115       3      2          0.5          0          20       241
 WHITE BREAD CRUMBS, SOFT      1 CUP           120       4      2          0.6          0          22       231
 OATMEAL,CKD,RG,QCK,INST,W/SALT1 CUP           145       6      2          0.4          0          25       374
 OATMEAL,CKD,RG,QCK,INST,W/OSAL1 CUP           145       6      2          0.4          0          25         2
 WATERMELON, RAW               1 PIECE         155       3      2          0.3          0          35        10
 ROLLS, HARD                   1 ROLL          155       5      2          0.4          0          30       313
 OATMEAL,CKD,INSTNT,FLVRD,FORTF1 PKT           160       5      2          0.3          0          31       254
 SPAGHETTI, TOM SAUCE CHEES,CND1 CUP           190       6      2          0.4          3          39       955
 NOODLES, EGG, COOKED          1 CUP           200       7      2          0.5         50          37         3
 BAGELS, PLAIN                 1 BAGEL         200       7      2          0.3          0          38       245
 BAGELS, EGG                   1 BAGEL         200       7      2          0.3         44          38       245
 TOMATO PASTE, CANNED WITH SALT1 CUP           220      10      2          0.3          0          49      2070

 Description of food                      Energy   Protein   Fat  Saturated FatCholesterolCarbohydrate  Sodium
                                           (Calories(Grams) (Grams)   (Grams)   (Milligrams  (Grams)   (Milligram

 TOMATO PASTE, CANNED W/O SALT 1 CUP           220      10      2          0.3          0          49       170
 YOGURT, W/ LOFAT MILK,FRUITFLV8 OZ            230      10      2          1.6         10          43       133
 PRETZELS, TWISTED, THIN       10 PRETZ        240       6      2          0.4          0          48       966
 WHOLE-WHEAT FLOUR,HRD WHT,STIR1 CUP           400      16      2          0.3          0          85         4
 FIGS, DRIED                   10 FIGS         475       6      2          0.4          0         122        21
 CORNMEAL,DEGERMED,ENRICHED,DRY1 CUP           500      11      2          0.2          0         108         1
 BARLEY, PEARLED,LIGHT, UNCOOKD1 CUP           700      16      2          0.3          0         158         6
 ANGELFOOD CAKE, FROM MIX      1 CAKE         1510      38      2          0.4          0         342      3226
 MARGARINE, SPREAD,HARD,60% FAT1 PAT            25       0      3          0.7          0           0        50
 SOUR CREAM                    1 TBSP           25       0      3          1.6          5           1         6
 LIGHT, COFFEE OR TABLE CREAM  1 TBSP           30       0      3          1.8         10           1         6
 SANDWICH SPREAD, PORK, BEEF   1 TBSP           35       1      3          0.9          6           2       152
 MAYONNAISE, IMITATION         1 TBSP           35       0      3          0.5          4           2        75

 Description of food                      Energy   Protein   Fat  Saturated FatCholesterolCarbohydrate  Sodium
                                           (Calories(Grams) (Grams)   (Grams)   (Milligrams  (Grams)   (Milligram

 CHEESE CRACKERS, PLAIN        10 CRACK         50       1      3          0.9          6           6       112
 POPCORN, POPPED, VEG OIL,SALTD1 CUP            55       1      3          0.5          0           6        86
 FISH STICKS, FROZEN, REHEATED 1 STICK          70       6      3          0.8         26           4        53
 PORK, LUNCHEON MEAT,CKD HAM,LN2 SLICES         75      11      3          0.9         27           1       815
 TURKEY HAM, CURED TURKEY THIGH2 SLICES         75      11      3            1         32           0       565
 MINESTRONE SOUP, CANNED       1 CUP            80       4      3          0.6          2          11       911
 BEEF NOODLE SOUP, CANNED      1 CUP            85       5      3          1.1          5           9       952
 BAKING PWDR BISCUITS,FROM MIX 1 BISCUT         95       2      3          0.8          0          14       262
 MILK, LOFAT, 1%, NO ADDEDSOLID1 CUP           100       8      3          1.6         10          12       123
 FUDGE, CHOCOLATE, PLAIN       1 OZ            115       1      3          2.1          1          21        54
 CARAMELS, PLAIN OR CHOCOLATE  1 OZ            115       1      3          2.2          1          22        64
 CAP'N CRUNCH CEREAL           1 OZ            120       1      3          1.7          0          23       213
 ROLLS, DINNER, HOME RECIPE    1 ROLL          120       3      3          0.8         12          20        98

 Description of food                      Energy   Protein   Fat  Saturated FatCholesterolCarbohydrate  Sodium
                                           (Calories(Grams) (Grams)   (Grams)   (Milligrams  (Grams)   (Milligram

 CRABMEAT, CANNED              1 CUP           135      23      3          0.5        135           1      1350
 TURKEY, ROASTED, LIGHT MEAT   2 PIECES        135      25      3          0.9         59           0        54
 CHICKEN, ROASTED, BREAST      3.0 OZ          140      27      3          0.9         73           0        64
 SWEETPOTATOES, CANDIED        1 PIECE         145       1      3          1.4          8          29        74
 CHOCOLATE MILK, LOWFAT 1%     1 CUP           160       8      3          1.5          7          26       152
 PEA, GREEN, SOUP, CANNED      1 CUP           165       9      3          1.4          0          27       988
 REFRIED BEANS, CANNED         1 CUP           295      18      3          0.4          0          51      1228
 CHESTNUTS, EUROPEAN, ROASTED  1 CUP           350       5      3          0.6          0          76         3
 BULGUR, UNCOOKED              1 CUP           600      19      3          1.2          0         129         7
 BUTTER, SALTED                1 PAT            35       0      4          2.5         11           0        41
 MARGARINE, REGULR,HARD,80% FAT1 PAT            35       0      4          0.8          0           0        47
 BUTTER, UNSALTED              1 PAT            35       0      4          2.5         11           0         1
 VIENNA SAUSAGE                1 SAUSAG         45       2      4          1.5          8           0       152

 Description of food                      Energy   Protein   Fat  Saturated FatCholesterolCarbohydrate  Sodium
                                           (Calories(Grams) (Grams)   (Grams)   (Milligrams  (Grams)   (Milligram

 SESAME SEEDS                  1 TBSP           45       2      4          0.6          0           1         3
 PORK, LINK, COOKED            1 LINK           50       3      4          1.4         11           0       168
 PORK, CURED, BACON,CANADN,CKED2 SLICE          85      11      4          1.3         27           1       711
 CHICKEN ROLL, LIGHT           2 SLICES         90      11      4          1.1         28           1       331
 GRAVY AND TURKEY, FROZEN      5 OZ             95       8      4          1.2         26           7       787
 BROWNIES W/ NUTS,FRSTNG,CMMRCL1 BROWNE        100       1      4          1.6         14          16        59
 PORK, CURED, HAM, ROSTED,LEAN 2.4 OZ          105      17      4          1.3         37           0       902
 SNACK CAKES,DEVILS FOOD,CREMFLSM CAKE         105       1      4          1.7         15          17       105
 POTATOES,FRENCH-FRD,FRZN,OVEN 10 STRIP        110       2      4          2.1          0          17        16
 DEVIL'S FOOD CAKE,CHOCFRST,FMX1 CUPCAK        120       2      4          1.8         19          20        92
 BRAN MUFFINS, FROM COMMERL MIX1 MUFFIN        140       3      4          1.3         28          24       385
 TURKEY, ROASTED, LIGHT + DARK 3 PIECES        145      25      4          1.4         65           0        60
 PUDDING, VNLLA,COOKED FROM MIX1/2 CUP         145       4      4          2.3         15          25       178

 Description of food                      Energy   Protein   Fat  Saturated FatCholesterolCarbohydrate  Sodium
                                           (Calories(Grams) (Grams)   (Grams)   (Milligrams  (Grams)   (Milligram

 BEEF, DRIED, CHIPPED          2.5 OZ          145      24      4          1.8         46           0      3053
 PUDDING, TAPIOCA, FROM MIX    1/2 CUP         145       4      4          2.3         15          25       152
 YOGURT, W/ LOFAT MILK, PLAIN  8 OZ            145      12      4          2.3         14          16       159
 PUDDING, CHOC, COOKED FROM MIX1/2 CUP         150       4      4          2.4         15          25       167
 PUDDING, VNLLA,INSTANT FRM MIX1/2 CUP         150       4      4          2.2         15          27       375
 PUDDING, RICE, FROM MIX       1/2 CUP         155       4      4          2.3         15          27       140
 PUDDING, CHOC, INSTANT, FR MIX1/2 CUP         155       4      4          2.3         14          27       440
 OYSTERS, RAW                  1 CUP           160      20      4          1.4        120           8       175
 GINGERBREAD CAKE, FROM MIX    1 PIECE         175       2      4          1.1          1          32       192
 COTTAGE CHEESE,LOWFAT 2%      1 CUP           205      31      4          2.8         19           8       918
 FIG BARS                      4 COOKIE        210       2      4            1         27          42       180
 SHERBET, 2% FAT               1 CUP           270       2      4          2.4         14          59        88
 CHICKPEAS, COOKED, DRAINED    1 CUP           270      15      4          0.4          0          45        11

 Description of food                      Energy   Protein   Fat  Saturated FatCholesterolCarbohydrate  Sodium
                                           (Calories(Grams) (Grams)   (Grams)   (Milligrams  (Grams)   (Milligram

 CORNMEAL,BOLTED,DRY FORM      1 CUP           440      11      4          0.5          0          91         1
 ITALIAN BREAD                 1 LOAF         1255      41      4          0.6          0         256      2656
 WHIPPING CREAM, UNWHIPED,LIGHT1 TBSP           45       0      5          2.9         17           0         5
 MARGARINE, IMITATION 40% FAT  1 TBSP           50       0      5          1.1          0           0       134
 BROWN AND SERVE SAUSAGE,BRWND 1 LINK           50       2      5          1.7          9           0       105
 MAYONNAISE TYPE SALAD DRESSING1 TBSP           60       0      5          0.7          4           4       107
 EGGS, RAW, YOLK               1 YOLK           60       3      5          1.6        213           0         7
 EGGS, COOKED, HARD-COOKED     1 EGG            75       6      5          1.6        213           1        62
 EGGS, RAW, WHOLE              1 EGG            75       6      5          1.6        213           1        63
 EGGS, COOKED, POACHED         1 EGG            75       6      5          1.5        212           1       140
 MOZZARELLA CHESE,SKIM, LOMOIST1 OZ             80       8      5          3.1         15           1       150
 ONION RINGS, BREADED,FRZN,PRPD2 RINGS          80       1      5          1.7          0           8        75
 TOFU                          1 PIECE          85       9      5          0.7          0           3         8

 Description of food                      Energy   Protein   Fat  Saturated FatCholesterolCarbohydrate  Sodium
                                           (Calories(Grams) (Grams)   (Grams)   (Milligrams  (Grams)   (Milligram

 OYSTERS, BREADED, FRIED       1 OYSTER         90       5      5          1.4         35           5        70
 BAKING PWDR BISCUITS,HOMERECPE1 BISCUT        100       2      5          1.2          0          13       195
 ICE CREAM, VANLLA, REGULR 11% 3 FL OZ         100       2      5          3.4         22          12        44
 POUND CAKE, COMMERCIAL        1 SLICE         110       2      5            3         64          15       108
 MILK, LOFAT, 2%, NO ADDEDSOLID1 CUP           120       8      5          2.9         18          12       122
 SALMON, CANNED, PINK, W/ BONES3 OZ            120      17      5          0.9         34           0       443
 POUND CAKE, FROM HOME RECIPE  1 SLICE         120       2      5          1.2         32          15        96
 BEEF GRAVY, CANNED            1 CUP           125       9      5          2.7          7          11      1305
 NATURE VALLEY GRANOLA CEREAL  1 OZ            125       3      5          3.3          0          19        58
 SYRUP, CHOCOLATE FLVRED, FUDGE2 TBSP          125       2      5          3.1          0          21        42
 MILK, LOFAT, 2%, ADDED SOLIDS 1 CUP           125       9      5          2.9         18          12       128
 TURKEY ROAST, FRZN,LGHT+DRK,CK3 OZ            130      18      5          1.6         45           3       578
 BLUEBERRY MUFFINS, HOME RECIPE1 MUFFIN        135       3      5          1.5         19          20       198

 Description of food                      Energy   Protein   Fat  Saturated FatCholesterolCarbohydrate  Sodium
                                           (Calories(Grams) (Grams)   (Grams)   (Milligrams  (Grams)   (Milligram

 BEEF ROAST, EYE O RND, LEAN   2.6 OZ          135      22      5          1.9         52           0        46
 SALMON, BAKED, RED            3 OZ            140      21      5          1.2         60           0        55
 BLUEBERRY MUFFINS,FROM COM MIX1 MUFFIN        140       3      5          1.4         45          22       225
 CORN MUFFINS, HOME RECIPE     1 MUFFIN        145       3      5          1.5         23          21       169
 BEEF HEART, BRAISED           3 OZ            150      24      5          1.2        164           0        54
 SNACK CAKES,SPONGE CREME FLLNGSM CAKE         155       1      5          2.3          7          27       155
 PUDDING, TAPIOCA, CANNED      5 OZ            160       3      5          4.8          0          28       252
 CHOCOLATE MILK, LOWFAT 2%     1 CUP           180       8      5          3.1         17          26       151
 ICE MILK, VANILLA,SOFTSERV 3% 1 CUP           225       8      5          2.9         13          38       163
 BREADCRUMBS, DRY, GRATED      1 CUP           390      13      5          1.5          5          73       736
 CORNMEAL,WHOLE-GRND,UNBOLT,DRY1 CUP           435      11      5          0.5          0          90         1
 WHIPPING CREAM, UNWHIPED,HEAVY1 TBSP           50       0      6          3.5         21           0         6
 1000 ISLAND, SALAD DRSNG,REGLR1 TBSP           60       0      6            1          4           2       112

 Description of food                      Energy   Protein   Fat  Saturated FatCholesterolCarbohydrate  Sodium
                                           (Calories(Grams) (Grams)   (Grams)   (Milligrams  (Grams)   (Milligram

 CHEDDAR CHEESE                1 CU IN          70       4      6          3.6         18           0       105
 FETA CHEESE                   1 OZ             75       4      6          4.2         25           1       316
 MOZZARELLA CHEESE, WHOLE MILK 1 OZ             80       6      6          3.7         22           1       106
 PASTERZD PROCES CHESE SPRED,AM1 OZ             80       5      6          3.8         16           2       381
 BROWNIES W/ NUTS,FRM HOME RECP1 BROWNE         95       1      6          1.4         18          11        51
 PORK, LUNCHEON MEAT,CKD HAM,RG2 SLICES        105      10      6          1.9         32           2       751
 DANISH PASTRY, PLAIN, NO NUTS 1 OZ            110       2      6          1.8         24          13       109
 MUSHROOM GRAVY, CANNED        1 CUP           120       3      6            1          0          13      1357
 FLOUNDER OR SOLE, BAKED, BUTTR3 OZ            120      16      6          3.2         68           0       145
 FLOUNDER OR SOLE, BAKED,MARGRN3 OZ            120      16      6          1.2         55           0       151
 BRAN MUFFINS, HOME RECIPE     1 MUFFIN        125       3      6          1.4         24          19       189
 100% NATURAL CEREAL           1 OZ            135       3      6          4.1          0          18        12
 LAMB,LEG,ROASTED, LEAN ONLY   2.6 OZ          140      20      6          2.4         65           0        50

 Description of food                      Energy   Protein   Fat  Saturated FatCholesterolCarbohydrate  Sodium
                                           (Calories(Grams) (Grams)   (Grams)   (Milligrams  (Grams)   (Milligram

 HALIBUT, BROILED, BUTTER,LEMJU3 OZ            140      20      6          3.3         62           0       103
 LAMB,CHOPS,LOIN,BROIL,LEAN    2.3 OZ          140      19      6          2.6         60           0        54
 CORN MUFFINS, FROM COMMERL MIX1 MUFFIN        145       3      6          1.7         42          22       291
 BEEF STEAK,SIRLOIN,BROIL,LEAN 2.5 OZ          150      22      6          2.6         64           0        48
 TOMATO SOUP WITH MILK, CANNED 1 CUP           160       6      6          2.9         17          22       932
 TURKEY, ROASTED, DARK MEAT    4 PIECES        160      24      6          2.1         72           0        67
 BEAN WITH BACON SOUP, CANNED  1 CUP           170       8      6          1.5          3          23       951
 ICE MILK, VANILLA, 4% FAT     1 CUP           185       5      6          3.5         18          29       105
 TOASTER PASTRIES              1 PASTRY        210       2      6          1.7          0          38       248
 SALAMI, DRY TYPE              2 SLICES         85       5      7          2.4         16           1       372
 EGGS, COOKED, FRIED           1 EGG            90       6      7          1.9        211           1       162
 PASTERZD PROCES CHEESE, SWISS 1 OZ             95       7      7          4.5         24           1       388
 PASTERZD PROCES CHESE FOOD,AMR1 OZ             95       6      7          4.4         18           2       337

 Description of food                      Energy   Protein   Fat  Saturated FatCholesterolCarbohydrate  Sodium
                                           (Calories(Grams) (Grams)   (Grams)   (Milligrams  (Grams)   (Milligram

 PORK, LUNCHEON MEAT,CHOPPD HAM2 SLICES         95       7      7          2.4         21           0       576
 EGGS, COOKED, SCRAMBLED/OMELET1 EGG           100       7      7          2.2        215           1       171
 POTATO CHIPS                  10 CHIPS        105       1      7          1.8          0          10        94
 CR OF CHICKEN SOUP W/ H20,CNND1 CUP           115       3      7          2.1         10           9       986
 CHICKEN, FRIED, FLOUR, DRMSTCK1.7 OZ          120      13      7          1.8         44           1        44
 LAMB, RIB, ROASTED, LEAN ONLY 2 OZ            130      15      7          3.2         50           0        46
 LAMB,CHOPS,ARM,BRAISED,LEAN   1.7 OZ          135      17      7          2.9         59           0        36
 MILK CHOCOLATE CANDY,W/ RICE C1 OZ            140       2      7          4.4          6          18        46
 YOGURT, W/ WHOLE MILK         8 OZ            140       8      7          4.8         29          11       105
 PORK, CURED, HAM, CANNED,ROAST3 OZ            140      18      7          2.4         35           0       908
 FRENCH TOAST, HOME RECIPE     1 SLICE         155       6      7          1.6        112          17       257
 FRUITCAKE,DARK, FROM HOMERECIP1 PIECE         165       2      7          1.5         20          25        67
 TUNA, CANND, DRND,OIL,CHK,LGHT3 OZ            165      24      7          1.4         55           0       303

 Description of food                      Energy   Protein   Fat  Saturated FatCholesterolCarbohydrate  Sodium
                                           (Calories(Grams) (Grams)   (Grams)   (Milligrams  (Grams)   (Milligram

 CLAM CHOWDER, NEW ENG, W/ MILK1 CUP           165       9      7            3         22          17       992
 BEEF LIVER, FRIED             3 OZ            185      23      7          2.5        410           7        90
 VANILLA WAFERS                10 COOKE        185       2      7          1.8         25          29       150
 COFFEECAKE, CRUMB, FROM MIX   1 PIECE         230       5      7            2         47          38       310
 TURKEY, ROASTED, LIGHT + DARK 1 CUP           240      41      7          2.3        106           0        98
 BEANS,DRY,CANNED,W/PORK+TOMSCE1 CUP           310      16      7          2.4         10          48      1181
 BUTTERMILK, DRIED             1 CUP           465      41      7          4.3         83          59       621
 VINEGAR AND OIL SALAD DRESSING1 TBSP           70       0      8          1.5          0           0         0
 BLUE CHEESE SALAD DRESSING    1 TBSP           75       1      8          1.5          3           1       164
 TARTAR SAUCE                  1 TBSP           75       0      8          1.2          4           1       182
 TAHINI                        1 TBSP           90       3      8          1.1          0           3         5
 PEANUT BUTTER                 1 TBSP           95       5      8          1.4          0           3        75
 PROVOLONE CHEESE              1 OZ            100       7      8          4.8         20           1       248

 Description of food                      Energy   Protein   Fat  Saturated FatCholesterolCarbohydrate  Sodium
                                           (Calories(Grams) (Grams)   (Grams)   (Milligrams  (Grams)   (Milligram

 BLUE CHEESE                   1 OZ            100       6      8          5.3         21           1       396
 SWISS CHEESE                  1 OZ            105       8      8            5         26           1        74
 SHORTBREAD COOKIE, HOME RECIPE2 COOKIE        145       2      8          1.3          0          17       125
 MILK, WHOLE, 3.3% FAT         1 CUP           150       8      8          5.1         33          11       120
 SALMON, SMOKED                3 OZ            150      18      8          2.6         51           0      1700
 SHORTBREAD COOKIE, COMMERCIAL 4 COOKIE        155       2      8          2.9         27          20       123
 PORK FRESH HAM, ROASTD, LEAN  2.5 OZ          160      20      8          2.7         68           0        46
 POTATOES,FRENCH-FRD,FRZN,FRIED10 STRIP        160       2      8          2.5          0          20       108
 PORK CHOP, LOIN, BROIL, LEAN  2.5 OZ          165      23      8          2.6         71           0        56
 PORK SHOULDER, BRAISD, LEAN   2.4 OZ          165      22      8          2.8         76           0        68
 BEEF, CKD,BTTM ROUND,LEAN ONLY2.8 OZ          175      25      8          2.7         75           0        40
 SANDWICH TYPE COOKIE          4 COOKIE        195       2      8            2          0          29       189
 WAFFLES, FROM MIX             1 WAFFLE        205       7      8          2.7         59          27       515

 Description of food                      Energy   Protein   Fat  Saturated FatCholesterolCarbohydrate  Sodium
                                           (Calories(Grams) (Grams)   (Grams)   (Milligrams  (Grams)   (Milligram

 CHOCOLATE MILK, REGULAR       1 CUP           210       8      8          5.3         31          26       149
 YELLOW CAKE W/ CHOC FRST,FRMIX1 PIECE         235       3      8            3         36          40       157
 DEVIL'S FOOD CAKE,CHOCFRST,FMX1 PIECE         235       3      8          3.5         37          40       181
 COTTAGE CHEESE,CREMD,W/FRUIT  1 CUP           280      22      8          4.9         25          30       915
 SHAKES, THICK, CHOCOLATE      10 OZ           335       9      8          4.8         30          60       314
 ROLLS, HOAGIE OR SUBMARINE    1 ROLL          400      11      8          1.8          0          72       683
 MARGARINE, SPREAD,HARD,60% FAT1 TBSP           75       0      9            2          0           0       139
 MARGARINE, SPREAD,SOFT,60% FAT1 TBSP           75       0      9          1.8          0           0       139
 ITALIAN SALAD DRESSING,REGULAR1 TBSP           80       0      9          1.3          0           1       162
 FRENCH SALAD DRESSING, REGULAR1 TBSP           85       0      9          1.4          0           1       188
 MUENSTER CHEESE               1 OZ            105       7      9          5.4         27           0       178
 PASTERZD PROCES CHEESE,AMERICN1 OZ            105       6      9          5.6         27           0       406
 PORK, CURED, BACON, REGUL,CKED3 SLICE         110       6      9          3.3         16           0       303

 Description of food                      Energy   Protein   Fat  Saturated FatCholesterolCarbohydrate  Sodium
                                           (Calories(Grams) (Grams)   (Grams)   (Milligrams  (Grams)   (Milligram

 CHEDDAR CHEESE                1 OZ            115       7      9            6         30           0       176
 CAMEMBERT CHEESE              1 WEDGE         115       8      9          5.8         27           0       320
 CHICKEN FRANKFURTER           1 FRANK         115       6      9          2.5         45           3       616
 PARMESAN CHEESE, GRATED       1 OZ            130      12      9          5.4         22           1       528
 CR OF MUSHROM SOUP W/ H2O,CNND1 CUP           130       2      9          2.4          2           9      1032
 MILK CHOCOLATE CANDY, PLAIN   1 OZ            145       2      9          5.4          6          16        23
 BEEF ROAST, RIB, LEAN ONLY    2.2 OZ          150      17      9          3.6         49           0        45
 CORN CHIPS                    1 OZ            155       2      9          1.4          0          16       233
 BEEF, CKD,CHUCK BLADE,LEANONLY2.2 OZ          170      19      9          3.9         66           0        44
 TROUT, BROILED, W/ BUTTR,LEMJU3 OZ            175      21      9          4.1         71           0       122
 HADDOCK, BREADED, FRIED       3 OZ            175      17      9          2.4         75           7       123
 SARDINES, ATLNTC,CNNED,OIL,DRN3 OZ            175      20      9          2.1         85           0       425
 CHOCOLATE CHIP COOKIES,COMMRCL4 COOKIE        180       2      9          2.9          5          28       140

 Description of food                      Energy   Protein   Fat  Saturated FatCholesterolCarbohydrate  Sodium
                                           (Calories(Grams) (Grams)   (Grams)   (Milligrams  (Grams)   (Milligram

 VEAL CUTLET, MED FAT,BRSD,BRLD3 OZ            185      23      9          4.1         86           0        56
 POTATOES, SCALLOPED, HOME RECP1 CUP           210       7      9          5.5         29          26       821
 COTTAGE CHEESE,CREMD,SMLL CURD1 CUP           215      26      9            6         31           6       850
 CHICKEN, FRIED, FLOUR, BREAST 3.5 OZ          220      31      9          2.4         87           2        74
 POTATOES, MASHED,RECPE,MLK+MAR1 CUP           225       4      9          2.2          4          35       620
 COCA PWDR W/O NOFAT DRYMLK,PRD1 SERVNG        225       9      9          5.4         33          30       176
 MALTED MILK,CHOCOLATE, PWDRPPD1 SERVNG        235       9      9          5.5         34          29       168
 CHICKEN, STEWED, LIGHT + DARK 1 CUP           250      38      9          2.6        116           0        98
 SPAGHETTI, TOM SAUCE CHEE,HMRP1 CUP           260       9      9            3          8          37       955
 WHITE CAKE W/ WHT FRSTNG,COMML1 PIECE         260       3      9          2.1          3          42       176
 PIZZA, CHEESE                 1 SLICE         290      15      9          4.1         56          39       699
 SHAKES, THICK, VANILLA        10 OZ           315      11      9          5.3         33          50       270
 CREAM CHEESE                  1 OZ            100       2     10          6.2         31           1        84

 Description of food                      Energy   Protein   Fat  Saturated FatCholesterolCarbohydrate  Sodium
                                           (Calories(Grams) (Grams)   (Grams)   (Milligrams  (Grams)   (Milligram

 MILK CHOCOLATE CANDY,W/ ALMOND1 OZ            150       3     10          4.8          5          15        23
 SWEET (DARK) CHOCOLATE        1 OZ            150       1     10          5.9          0          16         5
 IMITATN WHIPD TOPING,PWDRD,PRP1 CUP           150       3     10          8.5          8          13        53
 PORK FRESH RIB, ROASTD, LEAN  2.5 OZ          175      20     10          3.4         56           0        33
 BEEF, CANNED, CORNED          3 OZ            185      22     10          4.2         80           0       802
 SCALLOPS, BREADED, FRZN,REHEAT6 SCALOP        195      15     10          2.5         70          10       298
 SHRIMP, FRENCH FRIED          3 OZ            200      16     10          2.5        168          11       384
 PUDDING, VANILLA, CANNED      5 OZ            220       2     10          9.5          1          33       305
 MACARONI AND CHEESE, CANNED   1 CUP           230       9     10          4.7         24          26       730
 POTATOES, AU GRATIN, FROM MIX 1 CUP           230       6     10          6.3         12          31      1076
 SOYBEANS, DRY, COOKED, DRAINED1 CUP           235      20     10          1.3          0          19         4
 COTTAGE CHEESE,CREMD,LRGE CURD1 CUP           235      28     10          6.4         34           6       911
 MALTED MILK,NATURAL, PWDR PPRD1 SERVNG        235      11     10            6         37          27       215

 Description of food                      Energy   Protein   Fat  Saturated FatCholesterolCarbohydrate  Sodium
                                           (Calories(Grams) (Grams)   (Grams)   (Milligrams  (Grams)   (Milligram

 OATMEAL W/ RAISINS COOKIES    4 COOKIE        245       3     10          2.5          2          36       148
 CHICKEN CHOW MEIN, HOME RECIPE1 CUP           255      31     10          4.1         75          10       718
 SPAGHETTI,MEATBALLS,TOMSAC,CND1 CUP           260      12     10          2.4         23          29      1220
 MARGARINE, REGULR,SOFT,80% FAT1 TBSP          100       0     11          1.9          0           0       151
 BUTTER, UNSALTED              1 TBSP          100       0     11          7.1         31           0         2
 BUTTER, SALTED                1 TBSP          100       0     11          7.1         31           0       116
 MARGARINE, REGULR,HARD,80% FAT1 TBSP          100       0     11          2.2          0           0       132
 MAYONNAISE, REGULAR           1 TBSP          100       0     11          1.7          8           0        80
 SALAMI, COOKED TYPE           2 SLICES        145       8     11          4.6         37           1       607
 MILK CHOCOLATE CANDY,W/ PENUTS1 OZ            155       4     11          4.2          5          13        19
 PORK CHOP, LOIN,PANFRY, LEAN  2.4 OZ          180      19     11          3.7         72           0        57
 OCEAN PERCH, BREADED, FRIED   1 FILLET        185      16     11          2.6         66           7       138
 CHOCOLATE CHIP COOKIES,HME RCP4 COOKIE        185       2     11          3.9         18          26        82

 Description of food                      Energy   Protein   Fat  Saturated FatCholesterolCarbohydrate  Sodium
                                           (Calories(Grams) (Grams)   (Grams)   (Milligrams  (Grams)   (Milligram

 CR OF CHICKEN SOUP W/ MLK,CNND1 CUP           190       7     11          4.6         27          15      1047
 CHICKEN, FRIED, BATTER,DRMSTCK2.5 OZ          195      16     11            3         62           6       194
 TACO                          1 TACO          195       9     11          4.1         21          15       456
 PUDDING, CHOCOLATE,CANNED     5 OZ            205       3     11          9.5          1          30       285
 NOODLES, CHOW MEIN, CANNED    1 CUP           220       6     11          2.1          5          26       450
 BEEF AND VEGETABLE STEW,HM RCP1 CUP           220      16     11          4.4         71          15       292
 CHOCOLATE CHIP COOKIES,REFRIG 4 COOKIE        225       2     11            4         22          32       173
 POTATOES, SCALLOPED, FROM MIX 1 CUP           230       5     11          6.5         27          31       835
 CHICKEN, CANNED, BONELESS     5 OZ            235      31     11          3.1         88           0       714
 YELLOWCAKE W/ CHOCFRSTNG,COMML1 PIECE         245       2     11          5.7         38          39       192
 HAMBURGER, REGULAR            1 SANDWH        245      12     11          4.4         32          28       463
 TURKEY PATTIES, BRD,BATTD,FRID1 PATTY         180       9     12            3         40          10       512
 BEEF ROAST, EYE O RND,LEAN+FAT3 OZ            205      23     12          4.9         62           0        50

 Description of food                      Energy   Protein   Fat  Saturated FatCholesterolCarbohydrate  Sodium
                                           (Calories(Grams) (Grams)   (Grams)   (Milligrams  (Grams)   (Milligram

 DOUGHNUTS, CAKE TYPE, PLAIN   1 DONUT         210       3     12          2.8         20          24       192
 DANISH PASTRY, PLAIN, NO NUTS 1 PASTRY        220       4     12          3.6         49          26       218
 CROISSANTS                    1 CROSST        235       5     12          3.5         13          27       452
 SUGAR COOKIE, FROM REFRIG DOGH4 COOKIE        235       2     12          2.3         29          31       261
 POTATOES, MASHED,FRM DEHYDRTED1 CUP           235       4     12          7.2         29          32       697
 SHEETCAKE,W/O FRSTNG,HOMERECIP1 PIECE         315       4     12          3.3         61          48       258
 SPAGHETTI,MEATBALLS,TOMSA,HMRP1 CUP           330      19     12          3.9         89          39      1009
 BEANS,DRY,CANNED,W/PORK+SWTSCE1 CUP           385      16     12          4.3         10          54       969
 LARD                          1 TBSP          115       0     13          5.1         12           0         0
 FATS, COOKING/VEGETBL SHORTENG1 TBSP          115       0     13          3.3          0           0         0
 PORK, LUNCHEON MEAT,CANNED    2 SLICES        140       5     13          4.5         26           1       541
 FRANKFURTER, COOKED           1 FRANK         145       5     13          4.8         23           1       504
 WHIPPED TOPPING, PRESSURIZED  1 CUP           155       2     13          8.3         46           7        78

 Description of food                      Energy   Protein   Fat  Saturated FatCholesterolCarbohydrate  Sodium
                                           (Calories(Grams) (Grams)   (Grams)   (Milligrams  (Grams)   (Milligram

 PUMPKIN AND SQUASH KERNELS    1 OZ            155       7     13          2.5          0           5         5
 CASHEW NUTS, DRY ROASTD,SALTED1 OZ            165       4     13          2.6          0           9       181
 CASHEW NUTS, DRY ROASTD,UNSALT1 OZ            165       4     13          2.6          0           9         4
 HERRING, PICKLED              3 OZ            190      17     13          4.3         85           0       850
 LAMB,LEG,ROASTED, LEAN+ FAT   3 OZ            205      22     13          5.6         78           0        57
 BEEF, CKD,BTTM ROUND,LEAN+ FAT3 OZ            220      25     13          4.8         81           0        43
 DANISH PASTRY, FRUIT          1 PASTRY        235       4     13          3.9         56          28       233
 DOUGHNUTS, YEAST-LEAVEND,GLZED1 DONUT         235       4     13          5.2         21          26       222
 WHITE SAUCE W/ MILK FROM MIX  1 CUP           240      10     13          6.4         34          21       797
 WAFFLES, FROM HOME RECIPE     1 WAFFLE        245       7     13            4        102          26       445
 ROAST BEEF SANDWICH           1 SANDWH        345      22     13          3.5         55          34       757
 MISO                          1 CUP           470      29     13          1.8          0          65      8142
 OLIVE OIL                     1 TBSP          125       0     14          1.9          0           0         0

 Description of food                      Energy   Protein   Fat  Saturated FatCholesterolCarbohydrate  Sodium
                                           (Calories(Grams) (Grams)   (Grams)   (Milligrams  (Grams)   (Milligram

 SUNFLOWER OIL                 1 TBSP          125       0     14          1.4          0           0         0
 CORN OIL                      1 TBSP          125       0     14          1.8          0           0         0
 SAFFLOWER OIL                 1 TBSP          125       0     14          1.3          0           0         0
 PEANUT OIL                    1 TBSP          125       0     14          2.4          0           0         0
 SOYBEAN-COTTONSEED OIL, HYDRGN1 TBSP          125       0     14          2.5          0           0         0
 SOYBEAN OIL, HYDROGENATED     1 TBSP          125       0     14          2.1          0           0         0
 SUNFLOWER SEEDS               1 OZ            160       6     14          1.5          0           5         1
 CASHEW NUTS, OIL ROASTD,UNSALT1 OZ            165       5     14          2.7          0           8         5
 CASHEW NUTS, OIL ROASTD,SALTED1 OZ            165       5     14          2.7          0           8       177
 PEANUTS, OIL ROASTED, SALTED  1 OZ            165       8     14          1.9          0           5       122
 PISTACHIO NUTS                1 OZ            165       6     14          1.7          0           7         2
 PEANUTS, OIL ROASTED, UNSALTED1 OZ            165       8     14          1.9          0           5         4
 CHICKEN GRAVY, CANNED         1 CUP           190       5     14          3.4          5          13      1373

 Description of food                      Energy   Protein   Fat  Saturated FatCholesterolCarbohydrate  Sodium
                                           (Calories(Grams) (Grams)   (Grams)   (Milligrams  (Grams)   (Milligram

 CR OF MUSHROM SOUP W/ MLK,CNND1 CUP           205       6     14          5.1         20          15      1076
 PORK, CURED, HAM, ROSTED,LN+FT3 OZ            205      18     14          5.1         53           0      1009
 VEAL RIB, MED FAT, ROASTED    3 OZ            230      23     14            6        109           0        57
 PEANUT BUTTER COOKIE,HOME RECP4 COOKIE        245       4     14            4         22          28       142
 FRIED PIE, CHERRY             1 PIE           250       2     14          5.8         13          32       371
 FRIED PIE, APPLE              1 PIE           255       2     14          5.8         14          31       326
 ICE CREAM, VANLLA, REGULR 11% 1 CUP           270       5     14          8.9         59          32       116
 LEMON MERINGUE PIE            1 PIECE         355       5     14          4.3        143          53       395
 SHEETCAKE,W/ WHFRSTNG,HOMERCIP1 PIECE         445       4     14          4.6         70          77       275
 CHOCOLATE, BITTER OT BAKING   1 OZ            145       3     15            9          0           8         1
 COCONUT, RAW, PIECE           1 PIECE         160       1     15         13.4          0           7         9
 ALMONDS, WHOLE                1 OZ            165       6     15          1.4          0           6         3
 MIXED NUTS W/ PEANTS,DRY,UNSLT1 OZ            170       5     15            2          0           7         3

 Description of food                      Energy   Protein   Fat  Saturated FatCholesterolCarbohydrate  Sodium
                                           (Calories(Grams) (Grams)   (Grams)   (Milligrams  (Grams)   (Milligram

 MIXED NUTS W/ PEANTS,DRY,SALTD1 OZ            170       5     15            2          0           7       190
 LAMB,CHOPS,ARM,BRAISED,LEAN+FT2.2 OZ          220      20     15          6.9         77           0        46
 BEEF STEAK,SIRLOIN,BROIL,LN+FT3 OZ            240      23     15          6.4         77           0        53
 CHEESEBURGER, REGULAR         1 SANDWH        300      15     15          7.3         44          28       672
 CUSTARD, BAKED                1 CUP           305      14     15          6.8        278          29       209
 WALNUTS, BLACK, CHOPPED       1 OZ            170       7     16            1          0           3         0
 MIXED NUTS W/ PEANTS,OIL,UNSLT1 OZ            175       5     16          2.5          0           6         3
 MIXED NUTS W/ PEANTS,OIL,SALTD1 OZ            175       5     16          2.5          0           6       185
 BOLOGNA                       2 SLICES        180       7     16          6.1         31           2       581
 IMITATN WHIPD TOPING,PRESSRZD 1 CUP           185       1     16         13.2          0          11        43
 GROUND BEEF, BROILED, LEAN    3 OZ            230      21     16          6.2         74           0        65
 ENCHILADA                     1 ENCHLD        235      20     16          7.7         19          24      1332
 LAMB,CHOPS,LOIN,BROIL,LEAN+FAT2.8 OZ          235      22     16          7.3         78           0        62

 Description of food                      Energy   Protein   Fat  Saturated FatCholesterolCarbohydrate  Sodium
                                           (Calories(Grams) (Grams)   (Grams)   (Milligrams  (Grams)   (Milligram

 CHILI CON CARNE W/ BEANS, CNND1 CUP           340      19     16          5.8         28          31      1354
 PUMPERNICKEL BREAD            1 LOAF         1160      42     16          2.6          0         218      2461
 CRACKED-WHEAT BREAD           1 LOAF         1190      42     16          3.1          0         227      1966
 PINE NUTS                     1 OZ            160       3     17          2.7          0           5        20
 CHOP SUEY W/ BEEF + PORK,HMRCP1 CUP           300      26     17          4.3         68          13      1053
 CHEESE SAUCE W/ MILK, FRM MIX 1 CUP           305      16     17          9.3         53          23      1565
 PUMPKIN PIE                   1 PIECE         320       6     17          6.4        109          37       325
 CUSTARD PIE                   1 PIECE         330       9     17          5.6        169          36       436
 BLUEBERRY PIE                 1 PIECE         380       4     17          4.3          0          55       423
 PEACH PIE                     1 PIECE         405       4     17          4.1          0          60       423
 MIXED GRAIN BREAD             1 LOAF         1165      45     17          3.2          0         212      1870
 RYE BREAD, LIGHT              1 LOAF         1190      38     17          3.3          0         218      3164
 FILBERTS, (HAZELNUTS) CHOPPED 1 OZ            180       4     18          1.3          0           4         1

 Description of food                      Energy   Protein   Fat  Saturated FatCholesterolCarbohydrate  Sodium
                                           (Calories(Grams) (Grams)   (Grams)   (Milligrams  (Grams)   (Milligram

 WALNUTS, ENGLISH, PIECES      1 OZ            180       4     18          1.6          0           5         3
 BRAUNSCHWEIGER                2 SLICES        205       8     18          6.2         89           2       652
 SPINACH SOUFFLE               1 CUP           220      11     18          7.1        184           3       763
 GROUND BEEF, BROILED, REGULAR 3 OZ            245      20     18          6.9         76           0        70
 PORK FRESH HAM, ROASTD,LEAN+FT3 OZ            250      21     18          6.4         79           0        50
 CHEESECAKE                    1 PIECE         280       5     18          9.9        170          26       204
 POTATOES, HASHED BROWN,FR FRZN1 CUP           340       5     18            7          0          44        53
 ENG MUFFIN, EGG, CHEESE, BACON1 SANDWH        360      18     18            8        213          31       832
 CHICKEN AND NOODLES, HOME RECP1 CUP           365      22     18          5.1        103          26       600
 CHICKEN, FRIED, BATTER, BREAST4.9 OZ          365      35     18          4.9        119          13       385
 BEANS,DRY,CANNED,W/FRANKFURTER1 CUP           365      19     18          7.4         30          32      1374
 APPLE PIE                     1 PIECE         405       3     18          4.6          0          60       476
 CHERRY PIE                    1 PIECE         410       4     18          4.7          0          61       480

 Description of food                      Energy   Protein   Fat  Saturated FatCholesterolCarbohydrate  Sodium
                                           (Calories(Grams) (Grams)   (Grams)   (Milligrams  (Grams)   (Milligram

 WHITE BREAD                   1 LOAF         1210      38     18          5.6          0         222      2334
 RAISIN BREAD                  1 LOAF         1260      37     18          4.1          0         239      1657
 FRENCH OR VIENNA BREAD        1 LOAF         1270      43     18          3.8          0         230      2633
 BRAZIL NUTS                   1 OZ            185       4     19          4.6          0           4         1
 PECANS, HALVES                1 OZ            190       2     19          1.5          0           5         0
 IMITATION WHIPPED TOPPING,FRZN1 CUP           240       1     19         16.3          0          17        19
 PORK CHOP, LOIN, BROIL, LEN+FT3.1 OZ          275      24     19            7         84           0        61
 POTATOES, AU GRATIN, HOME RECP1 CUP           325      12     19         11.6         56          28      1061
 EVAPORATED MILK, WHOLE, CANNED1 CUP           340      17     19         11.6         74          25       267
 RICOTTA CHEESE, PART SKIM MILK1 CUP           340      28     19         12.1         76          13       307
 EGGNOG                        1 CUP           340      10     19         11.3        149          34       138
 TUNA SALAD                    1 CUP           375      33     19          3.3         80          19       877
 WHEAT BREAD                   1 LOAF         1160      43     19          3.9          0         213      2447

 Description of food                      Energy   Protein   Fat  Saturated FatCholesterolCarbohydrate  Sodium
                                           (Calories(Grams) (Grams)   (Grams)   (Milligrams  (Grams)   (Milligram

 HOLLANDAISE SCE, W/ H2O,FRM MX1 CUP           240       5     20         11.6         52          14      1564
 PORK FRESH RIB, ROASTD,LEAN+FT3 OZ            270      21     20          7.2         69           0        37
 WHOLE-WHEAT BREAD             1 LOAF         1110      44     20          5.8          0         206      2887
 OATMEAL BREAD                 1 LOAF         1145      38     20          3.7          0         212      2231
 POTATO SALAD MADE W/ MAYONNAIS1 CUP           360       7     21          3.6        170          28      1323
 CARROT CAKE,CREMCHESE FRST,REC1 PIECE         385       4     21          4.1         74          48       279
 HAMBURGER, 4OZ PATTY          1 SANDWH        445      25     21          7.1         71          38       763
 MACADAMIA NUTS, OILRSTD,SALTED1 OZ            205       2     22          3.2          0           4        74
 MACADAMIA NUTS, OILRSTD,UNSALT1 OZ            205       2     22          3.2          0           4         2
 PORK SHOULDER, BRAISD,LEAN+FAT3 OZ            295      23     22          7.9         93           0        75
 MACARONI AND CHEESE, HOME RCPE1 CUP           430      17     22          9.8         44          40      1086
 ICE CREAM, VANLLA, SOFT SERVE 1 CUP           375       7     23         13.5        153          38       153
 FISH SANDWICH, REG, W/ CHEESE 1 SANDWH        420      16     23          6.3         56          39       667

 Description of food                      Energy   Protein   Fat  Saturated FatCholesterolCarbohydrate  Sodium
                                           (Calories(Grams) (Grams)   (Grams)   (Milligrams  (Grams)   (Milligram

 CREME PIE                     1 PIECE         455       3     23           15          8          59       369
 ICE CREAM, VANLLA, RICH 16% FT1 CUP           350       4     24         14.7         88          32       108
 DUCK, ROASTED, FLESH ONLY     1/2 DUCK        445      52     25          9.2        197           0       144
 BEEF ROAST, RIB, LEAN + FAT   3 OZ            315      19     26         10.8         72           0        54
 LAMB, RIB, ROASTED, LEAN + FAT3 OZ            315      18     26         12.1         77           0        60
 BEEF, CKD,CHUCK BLADE,LEAN+FAT3 OZ            325      22     26         10.8         87           0        53
 BREAD STUFFING,FROM MX,MOIST  1 CUP           420       9     26          5.3         67          40      1023
 COCONUT, RAW, SHREDDED        1 CUP           285       3     27         23.8          0          12        16
 PORK CHOP, LOIN,PANFRY,LEAN+FT3.1 OZ          335      21     27          9.8         92           0        64
 AVOCADOS, FLORIDA             1 AVOCDO        340       5     27          5.3          0          27        15
 FISH SANDWICH, LGE, W/O CHEESE1 SANDWH        470      18     27          6.3         91          41       621
 SWEETENED CONDENSED MILK CNND 1 CUP           980      24     27         16.8        104         166       389
 HALF AND HALF, CREAM          1 CUP           315       7     28         17.3         89          10        98

 Description of food                      Energy   Protein   Fat  Saturated FatCholesterolCarbohydrate  Sodium
                                           (Calories(Grams) (Grams)   (Grams)   (Milligrams  (Grams)   (Milligram

 AVOCADOS, CALIFORNIA          1 AVOCDO        305       4     30          4.5          0          12        21
 WHITE SAUCE, MEDIUM, HOME RECP1 CUP           395      10     30          9.1         32          24       888
 PARMESAN CHEESE, GRATED       1 CUP           455      42     30         19.1         79           4      1861
 BEEF POTPIE, HOME RECIPE      1 PIECE         515      21     30          7.9         42          39       596
 BREAD STUFFING,FROM MX,DRYTYPE1 CUP           500       9     31          6.1          0          50      1254
 CHEESEBURGER, 4OZ PATTY       1 SANDWH        525      30     31         15.1        104          40      1224
 CHICKEN POTPIE, HOME RECIPE   1 PIECE         545      23     31         10.3         56          42       594
 SHERBET, 2% FAT               1/2 GAL        2160      17     31           19        113         469       706
 RICOTTA CHEESE, WHOLE MILK    1 CUP           430      28     32         20.4        124           7       207
 PECAN PIE                     1 PIECE         575       7     32          4.7         95          71       305
 COCONUT, DRIED, SWEETND,SHREDD1 CUP           470       3     33         29.3          0          44       244
 CHICKEN A LA KING, HOME RECIPE1 CUP           470      27     34         12.9        221          12       760
 CHEDDDAR CHEESE, SHREDDED     1 CUP           455      28     37         23.8        119           1       701

 Description of food                      Energy   Protein   Fat  Saturated FatCholesterolCarbohydrate  Sodium
                                           (Calories(Grams) (Grams)   (Grams)   (Milligrams  (Grams)   (Milligram

 IMITATN SOUR DRESSING         1 CUP           415       8     39         31.2         13          11       113
 GINGERBREAD CAKE, FROM MIX    1 CAKE         1575      18     39          9.6          6         291      1733
 COFFEECAKE, CRUMB, FROM MIX   1 CAKE         1385      27     41         11.8        279         225      1853
 ICE MILK, VANILLA, 4% FAT     1/2 GAL        1470      41     45         28.1        146         232       836
 LIGHT, COFFEE OR TABLE CREAM  1 CUP           470       6     46         28.8        159           9        95
 SOUR CREAM                    1 CUP           495       7     48           30        102          10       123
 QUICHE LORRAINE               1 SLICE         600      13     48         23.2        285          29       653
 PIECRUST,FROM HOME RECIPE     1 SHELL         900      11     60         14.8          0          79      1100
 SEMISWEET CHOCOLATE           1 CUP           860       7     61         36.2          0          97        24
 CASHEW NUTS, OIL ROASTD,SALTED1 CUP           750      21     63         12.4          0          37       814
 CASHEW NUTS, OIL ROASTD,UNSALT1 CUP           750      21     63         12.4          0          37        22
 CASHEW NUTS, DRY ROASTED,SALTD1 CUP           785      21     63         12.5          0          45       877
 CASHEW NUTS, DRY ROASTD,UNSALT1 CUP           785      21     63         12.5          0          45        21

 Description of food                      Energy   Protein   Fat  Saturated FatCholesterolCarbohydrate  Sodium
                                           (Calories(Grams) (Grams)   (Grams)   (Milligrams  (Grams)   (Milligram

 MARGARINE, SPREAD,HARD,60% FAT1/2 CUP         610       1     69         15.9          0           0      1123
 ALMONDS, SLIVERED             1 CUP           795      27     70          6.7          0          28        15
 WALNUTS, BLACK, CHOPPED       1 CUP           760      30     71          4.5          0          15         1
 PEANUTS, OIL ROASTED, SALTED  1 CUP           840      39     71          9.9          0          27       626
 PEANUTS, OIL ROASTED, UNSALTED1 CUP           840      39     71          9.9          0          27        22
 DANISH PASTRY, PLAIN, NO NUTS 1 RING         1305      21     71         21.8        292         152      1302
 FILBERTS, (HAZELNUTS) CHOPPED 1 CUP           725      15     72          5.3          0          18         3
 PECANS, HALVES                1 CUP           720       8     73          5.9          0          20         1
 WHIPPING CREAM, UNWHIPED,LIGHT1 CUP           700       5     74         46.2        265           7        82
 WALNUTS, ENGLISH, PIECES      1 CUP           770      17     74          6.7          0          22        12
 LEMON MERINGUE PIE            1 PIE          2140      31     86           26        857         317      2369
 MARGARINE, IMITATION 40% FAT  8 OZ            785       1     88         17.5          0           1      2178
 WHIPPING CREAM, UNWHIPED,HEAVY1 CUP           820       5     88         54.8        326           7        89

 Description of food                      Energy   Protein   Fat  Saturated FatCholesterolCarbohydrate  Sodium
                                           (Calories(Grams) (Grams)   (Grams)   (Milligrams  (Grams)   (Milligram

 MARGARINE, REGULR,HARD,80% FAT1/2 CUP         810       1     91         17.9          0           1      1066
 BUTTER, UNSALTED              1/2 CUP         810       1     92         57.1        247           0        12
 BUTTER, SALTED                1/2 CUP         810       1     92         57.1        247           0       933
 PIECRUST, FROM MIX            2 CRUST        1485      20     93         22.7          0         141      2602
 POUND CAKE, COMMERCIAL        1 LOAF         1935      26     94           52       1100         257      1857
 POUND CAKE, FROM HOME RECIPE  1 LOAF         2025      33     94         21.1        555         265      1645
 CUSTARD PIE                   1 PIE          1985      56    101         33.7       1010         213      2612
 PEACH PIE                     1 PIE          2410      24    101         24.6          0         361      2533
 PUMPKIN PIE                   1 PIE          1920      36    102         38.2        655         223      1947
 BLUEBERRY PIE                 1 PIE          2285      23    102         25.5          0         330      2533
 MACADAMIA NUTS, OILRSTD,SALTED1 CUP           960      10    103         15.4          0          17       348
 MACADAMIA NUTS, OILRSTD,UNSALT1 CUP           960      10    103         15.4          0          17         9
 APPLE PIE                     1 PIE          2420      21    105         27.4          0         360      2844

 Description of food                      Energy   Protein   Fat  Saturated FatCholesterolCarbohydrate  Sodium
                                           (Calories(Grams) (Grams)   (Grams)   (Milligrams  (Grams)   (Milligram

 CHERRY PIE                    1 PIE          2465      25    107         28.4          0         363      2873
 SHEETCAKE W/O FRSTNG,HOMERECIP1 CAKE         2830      35    108         29.5        552         434      2331
 ICE CREAM, VANLLA, REGULR 11% 1/2 GALN       2155      38    115         71.3        476         254       929
 YELLOW CAKE W/ CHOC FRST,FRMIX1 CAKE         3735      45    125         47.8        576         638      2515
 SHEETCAKE,W/ WHFRSTNG,HOMERCIP1 CAKE         4020      37    129         41.6        636         694      2488
 DEVIL'S FOOD CAKE,CHOCFRST,FMX1 CAKE         3755      49    136         55.6        598         645      2900
 MARGARINE, SPREAD,SOFT,60% FAT8 OZ           1225       1    138         29.1          0           0      2256
 CREME PIE                     1 PIE          2710      20    139         90.1         46         351      2207
 WHITE CAKE W/ WHT FRSTNG,COMML1 CAKE         4170      43    148         33.1         46         670      2827
 YELLOWCAKE W/ CHOCFRSTNG,COMML1 CAKE         3895      40    175           92        609         620      3080
 MARGARINE, REGULR,SOFT,80% FAT8 OZ           1625       2    183         31.3          0           1      2449
 PECAN PIE                     1 PIE          3450      42    189         28.1        569         423      1823
 ICE CREAM, VANLLA, RICH 16% FT1/2 GAL        2805      33    190        118.3        703         256       868

 Description of food                      Energy   Protein   Fat  Saturated FatCholesterolCarbohydrate  Sodium
                                           (Calories(Grams) (Grams)   (Grams)   (Milligrams  (Grams)   (Milligram

 FATS, COOKING/VEGETBL SHORTENG1 CUP          1810       0    205         51.3          0           0         0
 LARD                          1 CUP          1850       0    205         80.4        195           0         0
 CHEESECAKE                    1 CAKE         3350      60    213        119.9       2053         317      2464
 OLIVE OIL                     1 CUP          1910       0    216         29.2          0           0         0
 PEANUT OIL                    1 CUP          1910       0    216         36.5          0           0         0
 SOYBEAN-COTTONSEED OIL, HYDRGN1 CUP          1925       0    218         39.2          0           0         0
 SAFFLOWER OIL                 1 CUP          1925       0    218         19.8          0           0         0
 SOYBEAN OIL, HYDROGENATED     1 CUP          1925       0    218         32.5          0           0         0
 SUNFLOWER OIL                 1 CUP          1925       0    218         22.5          0           0         0
 CORN OIL                      1 CUP          1925       0    218         27.7          0           0         0
 FRUITCAKE,DARK, FROM HOMERECIP1 CAKE         5185      74    228         47.6        640         783      2123
 CARROT CAKE,CREMCHESE FRST,REC1 CAKE         6175      63    328           66       1183         775      4470
 





SORTED BY FOOD NAME



Description of food                         Fat  Food Energy Carbohydrate Protein Cholesterol Weight Saturated Fat
                                          (Grams) (calories)   (Grams)   (Grams) (Milligrams) (Grams)  (Grams)
 
1000 ISLAND, SALAD DRSNG,LOCAL1 TBSP         2        25           2         0        2       15       0.2
1000 ISLAND, SALAD DRSNG,REGLR1 TBSP         6        60           2         0        4       16        1
100% NATURAL CEREAL           1 OZ           6       135          18         3        0      28.35     4.1
40% BRAN FLAKES, KELLOGG'S    1 OZ           1        90          22         4        0      28.35     0.1
40% BRAN FLAKES, POST         1 OZ           0        90          22         3        0      28.35     0.1
ALFALFA SEEDS, SPROUTED, RAW  1 CUP          0        10           1         1        0       33        0
ALL-BRAN CEREAL               1 OZ           1        70          21         4        0      28.35     0.1
ALMONDS, SLIVERED             1 CUP         70       795          28        27        0       135      6.7
ALMONDS, WHOLE                1 OZ          15       165           6         6        0      28.35     1.4
ANGELFOOD CAKE, FROM MIX      1 CAKE         2       1510         342       38        0       635      0.4
ANGELFOOD CAKE, FROM MIX      1 PIECE        0       125          29         3        0       53        0
APPLE JUICE, CANNED           1 CUP          0       115          29         0        0       248       0
APPLE PIE                     1 PIE         105      2420         360       21        0       945      27.4

Description of food                         Fat  Food Energy Carbohydrate Protein Cholesterol Weight Saturated Fat
                                          (Grams) (calories)   (Grams)   (Grams) (Milligrams) (Grams)  (Grams)

APPLE PIE                     1 PIECE       18       405          60         3        0       158      4.6




APPLESAUCE, CANNED, SWEETENED 1 CUP          0       195          51         0        0       255      0.1
APPLESAUCE, CANNED,UNSWEETENED1 CUP          0       105          28         0        0       244       0
APPLES, DRIED, SULFURED       10 RINGS       0       155          42         1        0       64        0
APPLES, RAW, PEELED, SLICED   1 CUP          0        65          16         0        0       110      0.1
APPLES, RAW, UNPEELED,2 PER LB1 APPLE        1       125          32         0        0       212      0.1
APPLES, RAW, UNPEELED,3 PER LB1 APPLE        0        80          21         0        0       138      0.1
APRICOT NECTAR, NO ADDED VIT C1 CUP          0       140          36         1        0       251       0
APRICOTS, CANNED, JUICE PACK  1 CUP          0       120          31         2        0       248       0
APRICOTS, CANNED, JUICE PACK  3 HALVES       0        40          10         1        0       84        0
APRICOTS, DRIED, COOKED,UNSWTN1 CUP          0       210          55         3        0       250       0
APRICOTS, DRIED, UNCOOKED     1 CUP          1       310          80         5        0       130       0
APRICOTS, RAW                 3 APRCOT       0        50          12         1        0       106       0

Description of food                         Fat  Food Energy Carbohydrate Protein Cholesterol Weight Saturated Fat
                                          (Grams) (calories)   (Grams)   (Grams) (Milligrams) (Grams)  (Grams)

APRICOT, CANNED, HEAVY SYRUP  1 CUP          0       215          55         1        0       258       0
APRICOT, CANNED, HEAVY SYRUP  3 HALVES       0        70          18         0        0       85        0
ARTICHOKES, GLOBE, COOKED, DRN1 ARTCHK       0        55          12         3        0       120       0
ASPARAGUS, CKD FRM FRZ,DRN,CUT1 CUP          1        50           9         5        0       180      0.2
ASPARAGUS, CKD FRM FRZ,DR,SPER4 SPEARS       0        15           3         2        0       60       0.1
ASPARAGUS, CKD FRM RAW, DR,CUT1 CUP          1        45           8         5        0       180      0.1
ASPARAGUS, CKD FRM RAW,DR,SPER4 SPEARS       0        15           3         2        0       60        0
ASPARAGUS,CANNED,SPEARS,NOSALT4 SPEARS       0        10           2         1        0       80        0
ASPARAGUS,CANNED,SPEARS,W/SALT4 SPEARS       0        10           2         1        0       80        0
AVOCADOS, CALIFORNIA          1 AVOCDO      30       305          12         4        0       173      4.5
AVOCADOS, FLORIDA             1 AVOCDO      27       340          27         5        0       304      5.3
BAGELS, EGG                   1 BAGEL        2       200          38         7       44       68       0.3
BAGELS, PLAIN                 1 BAGEL        2       200          38         7        0       68       0.3

Description of food                         Fat  Food Energy Carbohydrate Protein Cholesterol Weight Saturated Fat
                                          (Grams) (calories)   (Grams)   (Grams) (Milligrams) (Grams)  (Grams)

BAKING POWDER, LOW SODIUM     1 TSP          0        5            1         0        0       4.3       0
BAKING POWDER, STRGHT PHOSPHAT1 TSP          0        5            1         0        0       3.8       0
BAKING POWDER,SAS, CA PO4     1 TSP          0        5            1         0        0        3        0
BAKING POWDER,SAS,CAPO4+CASO4 1 TSP          0        5            1         0        0       2.9       0
BAKING PWDR BISCUITS,FROM MIX 1 BISCUT       3        95          14         2        0       28       0.8
BAKING PWDR BISCUITS,HOMERECPE1 BISCUT       5       100          13         2        0       28       1.2
BAKING PWDR BISCUITS,REFRGDOGH1 BISCUT       2        65          10         1        1       20       0.6
BAMBOO SHOOTS, CANNED, DRAINED1 CUP          1        25           4         2        0       131      0.1
BANANAS                       1 BANANA       1       105          27         1        0       114      0.2
BANANAS, SLICED               1 CUP          1       140          35         2        0       150      0.3
BARBECUE SAUCE                1 TBSP         0        10           2         0        0       16        0
BARLEY, PEARLED,LIGHT, UNCOOKD1 CUP          2       700          158       16        0       200      0.3
BEAN SPROUTS, MUNG, COOKD,DRAN1 CUP          0        25           5         3        0       124       0

Description of food                         Fat  Food Energy Carbohydrate Protein Cholesterol Weight Saturated Fat
                                          (Grams) (calories)   (Grams)   (Grams) (Milligrams) (Grams)  (Grams)

BEAN SPROUTS, MUNG, RAW       1 CUP          0        30           6         3        0       104       0
BEAN WITH BACON SOUP, CANNED  1 CUP          6       170          23         8        3       253      1.5
BEANS,DRY,CANNED,W/FRANKFURTER1 CUP         18       365          32        19       30       255      7.4
BEANS,DRY,CANNED,W/PORK+SWTSCE1 CUP         12       385          54        16       10       255      4.3
BEANS,DRY,CANNED,W/PORK+TOMSCE1 CUP          7       310          48        16       10       255      2.4
BEEF AND VEGETABLE STEW,HM RCP1 CUP         11       220          15        16       71       245      4.4
BEEF BROTH, BOULLN, CONSM,CNND1 CUP          1        15           0         3        0       240      0.3
BEEF GRAVY, CANNED            1 CUP          5       125          11         9        7       233      2.7
BEEF HEART, BRAISED           3 OZ           5       150           0        24       164      85       1.2
BEEF LIVER, FRIED             3 OZ           7       185           7        23       410      85       2.5
BEEF NOODLE SOUP, CANNED      1 CUP          3        85           9         5        5       244      1.1
BEEF POTPIE, HOME RECIPE      1 PIECE       30       515          39        21       42       210      7.9
BEEF ROAST, EYE O RND, LEAN   2.6 OZ         5       135           0        22       52       75       1.9

Description of food                         Fat  Food Energy Carbohydrate Protein Cholesterol Weight Saturated Fat
                                          (Grams) (calories)   (Grams)   (Grams) (Milligrams) (Grams)  (Grams)

BEEF ROAST, EYE O RND,LEAN+FAT3 OZ          12       205           0        23       62       85       4.9
BEEF ROAST, RIB, LEAN ONLY    2.2 OZ         9       150           0        17       49       61       3.6
BEEF ROAST, RIB, LEAN + FAT   3 OZ          26       315           0        19       72       85       10.8
BEEF STEAK,SIRLOIN,BROIL,LEAN 2.5 OZ         6       150           0        22       64       72       2.6
BEEF STEAK,SIRLOIN,BROIL,LN+FT3 OZ          15       240           0        23       77       85       6.4
BEEF, CANNED, CORNED          3 OZ          10       185           0        22       80       85       4.2
BEEF, CKD,BTTM ROUND,LEAN ONLY2.8 OZ         8       175           0        25       75       78       2.7
BEEF, CKD,BTTM ROUND,LEAN+ FAT3 OZ          13       220           0        25       81       85       4.8
BEEF, CKD,CHUCK BLADE,LEANONLY2.2 OZ         9       170           0        19       66       62       3.9
BEEF, CKD,CHUCK BLADE,LEAN+FAT3 OZ          26       325           0        22       87       85       10.8
BEEF, DRIED, CHIPPED          2.5 OZ         4       145           0        24       46       72       1.8
BEER, LIGHT                   12 FL OZ       0        95           5         1        0       355       0
BEER, REGULAR                 12 FL OZ       0       150          13         1        0       360       0

Description of food                         Fat  Food Energy Carbohydrate Protein Cholesterol Weight Saturated Fat
                                          (Grams) (calories)   (Grams)   (Grams) (Milligrams) (Grams)  (Grams)

BEET GREENS, COOKED, DRAINED  1 CUP          0        40           8         4        0       144       0
BEETS, CANNED, DRAINED,NO SALT1 CUP          0        55          12         2        0       170       0
BEETS, CANNED, DRAINED,W/ SALT1 CUP          0        55          12         2        0       170       0
BEETS, COOKED, DRAINED, DICED 1 CUP          0        55          11         2        0       170       0
BEETS, COOKED, DRAINED, WHOLE 2 BEETS        0        30           7         1        0       100       0
BLACK-EYED PEAS, DRY, COOKED  1 CUP          1       190          35        13        0       250      0.2
BLACK BEANS, DRY, COOKED,DRAND1 CUP          1       225          41        15        0       171      0.1
BLACKBERRIES, RAW             1 CUP          1        75          18         1        0       144      0.2
BLACKEYE PEAS, IMMATR,RAW,CKED1 CUP          1       180          30        13        0       165      0.3
BLACKEYE PEAS,IMMTR,FRZN,CKED 1 CUP          1       225          40        14        0       170      0.3
BLUE CHEESE                   1 OZ           8       100           1         6       21      28.35     5.3
BLUE CHEESE SALAD DRESSING    1 TBSP         8        75           1         1        3       15       1.5
BLUEBERRIES, FROZEN, SWEETENED1 CUP          0       185          50         1        0       230       0

Description of food                         Fat  Food Energy Carbohydrate Protein Cholesterol Weight Saturated Fat
                                          (Grams) (calories)   (Grams)   (Grams) (Milligrams) (Grams)  (Grams)

BLUEBERRIES, FROZEN, SWEETENED10 OZ          0       230          62         1        0       284       0
BLUEBERRIES, RAW              1 CUP          1        80          20         1        0       145       0
BLUEBERRY MUFFINS, HOME RECIPE1 MUFFIN       5       135          20         3       19       45       1.5
BLUEBERRY MUFFINS,FROM COM MIX1 MUFFIN       5       140          22         3       45       45       1.4
BLUEBERRY PIE                 1 PIE         102      2285         330       23        0       945      25.5
BLUEBERRY PIE                 1 PIECE       17       380          55         4        0       158      4.3
BOLOGNA                       2 SLICES      16       180           2         7       31       57       6.1
BOSTON BROWN BREAD,W/WHTECRNM 1 SLICE        1        95          21         2        3       45       0.3
BOSTON BROWN BREAD,W/YLLWCRNML1 SLICE        1        95          21         2        3       45       0.3
BOUILLON, DEHYDRTD, UNPREPARED1 PKT          1        15           1         1        1        6       0.3
BRAN MUFFINS, FROM COMMERL MIX1 MUFFIN       4       140          24         3       28       45       1.3
BRAN MUFFINS, HOME RECIPE     1 MUFFIN       6       125          19         3       24       45       1.4
BRAUNSCHWEIGER                2 SLICES      18       205           2         8       89       57       6.2

Description of food                         Fat  Food Energy Carbohydrate Protein Cholesterol Weight Saturated Fat
                                          (Grams) (calories)   (Grams)   (Grams) (Milligrams) (Grams)  (Grams)

BRAZIL NUTS                   1 OZ          19       185           4         4        0      28.35     4.6
BREAD STUFFING,FROM MX,DRYTYPE1 CUP         31       500          50         9        0       140      6.1
BREAD STUFFING,FROM MX,MOIST  1 CUP         26       420          40         9       67       203      5.3
BREADCRUMBS, DRY, GRATED      1 CUP          5       390          73        13        5       100      1.5
BROCCOLI, FRZN, COOKED, DRANED1 CUP          0        50          10         6        0       185       0
BROCCOLI, FRZN, COOKED, DRANED1 PIECE        0        10           2         1        0       30        0
BROCCOLI, RAW                 1 SPEAR        1        40           8         4        0       151      0.1
BROCCOLI, RAW, COOKED, DRAINED1 CUP          0        45           9         5        0       155      0.1
BROCCOLI, RAW, COOKED, DRAINED1 SPEAR        1        50          10         5        0       180      0.1
BROWN AND SERVE SAUSAGE,BRWND 1 LINK         5        50           0         2        9       13       1.7
BROWN GRAVY FROM DRY MIX      1 CUP          2        80          14         3        2       261      0.9
BROWNIES W/ NUTS,FRM HOME RECP1 BROWNE       6        95          11         1       18       20       1.4
BROWNIES W/ NUTS,FRSTNG,CMMRCL1 BROWNE       4       100          16         1       14       25       1.6

Description of food                         Fat  Food Energy Carbohydrate Protein Cholesterol Weight Saturated Fat
                                          (Grams) (calories)   (Grams)   (Grams) (Milligrams) (Grams)  (Grams)

BRUSSELS SPROUTS, FRZN, COOKED1 CUP          1        65          13         6        0       155      0.1
BRUSSELS SPROUTS, RAW, COOKED 1 CUP          1        60          13         4        0       155      0.2
BUCKWHEAT FLOUR, LIGHT, SIFTED1 CUP          1       340          78         6        0       98       0.2
BULGUR, UNCOOKED              1 CUP          3       600          129       19        0       170      1.2
BUTTERMILK, DRIED             1 CUP          7       465          59        41       83       120      4.3
BUTTERMILK, FLUID             1 CUP          2       100          12         8        9       245      1.3
BUTTER, SALTED                1 PAT          4        35           0         0       11        5       2.5
BUTTER, SALTED                1 TBSP        11       100           0         0       31       14       7.1
BUTTER, SALTED                1/2 CUP       92       810           0         1       247      113      57.1
BUTTER, UNSALTED              1 PAT          4        35           0         0       11        5       2.5
BUTTER, UNSALTED              1 TBSP        11       100           0         0       31       14       7.1
BUTTER, UNSALTED              1/2 CUP       92       810           0         1       247      113      57.1
CABBAGE, CHINESE, PAK-CHOI,CKD1 CUP          0        20           3         3        0       170       0

Description of food                         Fat  Food Energy Carbohydrate Protein Cholesterol Weight Saturated Fat
                                          (Grams) (calories)   (Grams)   (Grams) (Milligrams) (Grams)  (Grams)

CABBAGE, CHINESE,PE-TSAI, RAW 1 CUP          0        10           2         1        0       76        0
CABBAGE, COMMON, COOKED, DRNED1 CUP          0        30           7         1        0       150       0
CABBAGE, COMMON, RAW          1 CUP          0        15           4         1        0       70        0
CABBAGE, RED, RAW             1 CUP          0        20           4         1        0       70        0
CABBAGE, SAVOY, RAW           1 CUP          0        20           4         1        0       70        0
CAKE OR PASTRY FLOUR, SIFTED  1 CUP          1       350          76         7        0       96       0.1
CAMEMBERT CHEESE              1 WEDGE        9       115           0         8       27       38       5.8
CANTALOUP, RAW                1/2 MELN       1        95          22         2        0       267      0.1
CAP'N CRUNCH CEREAL           1 OZ           3       120          23         1        0      28.35     1.7
CARAMELS, PLAIN OR CHOCOLATE  1 OZ           3       115          22         1        1      28.35     2.2
CAROB FLOUR                   1 CUP          0       255          126        6        0       140       0
CARROT CAKE,CREMCHESE FRST,REC1 CAKE        328      6175         775       63      1183     1536       66
CARROT CAKE,CREMCHESE FRST,REC1 PIECE       21       385          48         4       74       96       4.1

Description of food                         Fat  Food Energy Carbohydrate Protein Cholesterol Weight Saturated Fat
                                          (Grams) (calories)   (Grams)   (Grams) (Milligrams) (Grams)  (Grams)

CARROTS, CANNED, DRN, W/ SALT 1 CUP          0        35           8         1        0       146      0.1
CARROTS, CANNED,DRND, W/O SALT1 CUP          0        35           8         1        0       146      0.1
CARROTS, COOKED FROM FROZEN   1 CUP          0        55          12         2        0       146       0
CARROTS, COOKED FROM RAW      1 CUP          0        70          16         2        0       156      0.1
CARROTS, RAW, GRATED          1 CUP          0        45          11         1        0       110       0
CARROTS, RAW, WHOLE           1 CARROT       0        30           7         1        0       72        0
CASHEW NUTS, DRY ROASTD,SALTED1 OZ          13       165           9         4        0      28.35     2.6
CASHEW NUTS, DRY ROASTD,UNSALT1 CUP         63       785          45        21        0       137      12.5
CASHEW NUTS, DRY ROASTD,UNSALT1 OZ          13       165           9         4        0      28.35     2.6
CASHEW NUTS, DRY ROASTED,SALTD1 CUP         63       785          45        21        0       137      12.5
CASHEW NUTS, OIL ROASTD,SALTED1 CUP         63       750          37        21        0       130      12.4
CASHEW NUTS, OIL ROASTD,SALTED1 OZ          14       165           8         5        0      28.35     2.7
CASHEW NUTS, OIL ROASTD,UNSALT1 CUP         63       750          37        21        0       130      12.4

Description of food                         Fat  Food Energy Carbohydrate Protein Cholesterol Weight Saturated Fat
                                          (Grams) (calories)   (Grams)   (Grams) (Milligrams) (Grams)  (Grams)

CASHEW NUTS, OIL ROASTD,UNSALT1 OZ          14       165           8         5        0      28.35     2.7
CATSUP                        1 CUP          1       290          69         5        0       273      0.2
CATSUP                        1 TBSP         0        15           4         0        0       15        0
CAULIFLOWER, COOKED FROM FROZN1 CUP          0        35           7         3        0       180      0.1
CAULIFLOWER, COOKED FROM RAW  1 CUP          0        30           6         2        0       125       0
CAULIFLOWER, RAW              1 CUP          0        25           5         2        0       100       0
CELERY SEED                   1 TSP          1        10           1         0        0        2        0
CELERY, PASCAL TYPE, RAW,PIECE1 CUP          0        20           4         1        0       120       0
CELERY, PASCAL TYPE, RAW,STALK1 STALK        0        5            1         0        0       40        0
CHEDDAR CHEESE                1 CU IN        6        70           0         4       18       17       3.6
CHEDDAR CHEESE                1 OZ           9       115           0         7       30      28.35      6
CHEDDDAR CHEESE, SHREDDED     1 CUP         37       455           1        28       119      113      23.8
CHEERIOS CEREAL               1 OZ           2       110          20         4        0      28.35     0.3

Description of food                         Fat  Food Energy Carbohydrate Protein Cholesterol Weight Saturated Fat
                                          (Grams) (calories)   (Grams)   (Grams) (Milligrams) (Grams)  (Grams)

CHEESE CRACKERS, PLAIN        10 CRACK       3        50           6         1        6       10       0.9
CHEESE CRACKERS, SANDWCH,PEANT1 SANDWH       2        40           5         1        1        8       0.4
CHEESE SAUCE W/ MILK, FRM MIX 1 CUP         17       305          23        16       53       279      9.3
CHEESEBURGER, 4OZ PATTY       1 SANDWH      31       525          40        30       104      194      15.1
CHEESEBURGER, REGULAR         1 SANDWH      15       300          28        15       44       112      7.3
CHEESECAKE                    1 CAKE        213      3350         317       60      2053     1110     119.9
CHEESECAKE                    1 PIECE       18       280          26         5       170      92       9.9
CHERRIES, SOUR,RED,CANND,WATER1 CUP          0        90          22         2        0       244      0.1
CHERRIES, SWEET, RAW          10 CHERY       1        50          11         1        0       68       0.1
CHERRY PIE                    1 PIE         107      2465         363       25        0       945      28.4
CHERRY PIE                    1 PIECE       18       410          61         4        0       158      4.7
CHESTNUTS, EUROPEAN, ROASTED  1 CUP          3       350          76         5        0       143      0.6
CHICKEN A LA KING, HOME RECIPE1 CUP         34       470          12        27       221      245      12.9

Description of food                         Fat  Food Energy Carbohydrate Protein Cholesterol Weight Saturated Fat
                                          (Grams) (calories)   (Grams)   (Grams) (Milligrams) (Grams)  (Grams)

CHICKEN AND NOODLES, HOME RECP1 CUP         18       365          26        22       103      240      5.1
CHICKEN CHOW MEIN, CANNED     1 CUP          0        95          18         7        8       250      0.1
CHICKEN CHOW MEIN, HOME RECIPE1 CUP         10       255          10        31       75       250      4.1
CHICKEN FRANKFURTER           1 FRANK        9       115           3         6       45       45       2.5
CHICKEN GRAVY FROM DRY MIX    1 CUP          2        85          14         3        3       260      0.5
CHICKEN GRAVY, CANNED         1 CUP         14       190          13         5        5       238      3.4
CHICKEN LIVER, COOKED         1 LIVER        1        30           0         5       126      20       0.4
CHICKEN NOODLE SOUP, CANNED   1 CUP          2        75           9         4        7       241      0.7
CHICKEN NOODLE SOUP,DEHYD,PRPD1 PKT          1        40           6         2        2       188      0.2
CHICKEN POTPIE, HOME RECIPE   1 PIECE       31       545          42        23       56       232      10.3
CHICKEN RICE SOUP, CANNED     1 CUP          2        60           7         4        7       241      0.5
CHICKEN ROLL, LIGHT           2 SLICES       4        90           1        11       28       57       1.1
CHICKEN, CANNED, BONELESS     5 OZ          11       235           0        31       88       142      3.1

Description of food                         Fat  Food Energy Carbohydrate Protein Cholesterol Weight Saturated Fat
                                          (Grams) (calories)   (Grams)   (Grams) (Milligrams) (Grams)  (Grams)

CHICKEN, FRIED, BATTER, BREAST4.9 OZ        18       365          13        35       119      140      4.9
CHICKEN, FRIED, BATTER,DRMSTCK2.5 OZ        11       195           6        16       62       72        3
CHICKEN, FRIED, FLOUR, BREAST 3.5 OZ         9       220           2        31       87       98       2.4
CHICKEN, FRIED, FLOUR, DRMSTCK1.7 OZ         7       120           1        13       44       49       1.8
CHICKEN, ROASTED, BREAST      3.0 OZ         3       140           0        27       73       86       0.9
CHICKEN, ROASTED, DRUMSTICK   1.6 OZ         2        75           0        12       41       44       0.7
CHICKEN, STEWED, LIGHT + DARK 1 CUP          9       250           0        38       116      140      2.6
CHICKPEAS, COOKED, DRAINED    1 CUP          4       270          45        15        0       163      0.4
CHILI CON CARNE W/ BEANS, CNND1 CUP         16       340          31        19       28       255      5.8
CHILI POWDER                  1 TSP          0        10           1         0        0       2.6      0.1
CHOCOLATE CHIP COOKIES,COMMRCL4 COOKIE       9       180          28         2        5       42       2.9
CHOCOLATE CHIP COOKIES,HME RCP4 COOKIE      11       185          26         2       18       40       3.9
CHOCOLATE CHIP COOKIES,REFRIG 4 COOKIE      11       225          32         2       22       48        4

Description of food                         Fat  Food Energy Carbohydrate Protein Cholesterol Weight Saturated Fat
                                          (Grams) (calories)   (Grams)   (Grams) (Milligrams) (Grams)  (Grams)

CHOCOLATE MILK, LOWFAT 1%     1 CUP          3       160          26         8        7       250      1.5
CHOCOLATE MILK, LOWFAT 2%     1 CUP          5       180          26         8       17       250      3.1
CHOCOLATE MILK, REGULAR       1 CUP          8       210          26         8       31       250      5.3
CHOCOLATE, BITTER OT BAKING   1 OZ          15       145           8         3        0      28.35      9
CHOP SUEY W/ BEEF + PORK,HMRCP1 CUP         17       300          13        26       68       250      4.3
CINNAMON                      1 TSP          0        5            2         0        0       2.3       0
CLAM CHOWDER, MANHATTAN, CANND1 CUP          2        80          12         4        2       244      0.4
CLAM CHOWDER, NEW ENG, W/ MILK1 CUP          7       165          17         9       22       248       3
CLAMS, CANNED, DRAINED        3 OZ           2        85           2        13       54       85       0.5
CLAMS, RAW                    3 OZ           1        65           2        11       43       85       0.3
CLUB SODA                     12 FL OZ       0        0            0         0        0       355       0
COCA PWDR W/O NOFAT DRYMLK,PRD1 SERVNG       9       225          30         9       33       265      5.4
COCA PWDR W/O NONFAT DRY MILK 3/4 OZ         1        75          19         1        0       21       0.3

Description of food                         Fat  Food Energy Carbohydrate Protein Cholesterol Weight Saturated Fat
                                          (Grams) (calories)   (Grams)   (Grams) (Milligrams) (Grams)  (Grams)

COCOA PWDR WITH NONFAT DRYMILK1 OZ           1       100          22         3        1      28.35     0.6
COCOA PWDR W/ NOFAT DRMLK,PRPD1 SERVNG       1       100          22         3        1       206      0.6
COCONUT, DRIED, SWEETND,SHREDD1 CUP         33       470          44         3        0       93       29.3
COCONUT, RAW, PIECE           1 PIECE       15       160           7         1        0       45       13.4
COCONUT, RAW, SHREDDED        1 CUP         27       285          12         3        0       80       23.8
COFFEECAKE, CRUMB, FROM MIX   1 CAKE        41       1385         225       27       279      430      11.8
COFFEECAKE, CRUMB, FROM MIX   1 PIECE        7       230          38         5       47       72        2
COFFEE, BREWED                6 FL OZ        0        0            0         0        0       180       0
COFFEE, INSTANT, PREPARED     6 FL OZ        0        0            1         0        0       182       0
COLA, DIET, ASPARTAME ONLY    12 FL OZ       0        0            0         0        0       355       0
COLA, DIET, ASPRTAME + SACCHRN12 FL OZ       0        0            0         0        0       355       0
COLA, DIET, SACCHARIN ONLY    12 FL OZ       0        0            0         0        0       355       0
COLA, REGULAR                 12 FL OZ       0       160          41         0        0       369       0

Description of food                         Fat  Food Energy Carbohydrate Protein Cholesterol Weight Saturated Fat
                                          (Grams) (calories)   (Grams)   (Grams) (Milligrams) (Grams)  (Grams)

COLLARDS, COOKED FROM FROZEN  1 CUP          1        60          12         5        0       170      0.1
COLLARDS, COOKED FROM RAW     1 CUP          0        25           5         2        0       190      0.1
COOKED SALAD DRSSING, HOME RCP1 TBSP         2        25           2         1        9       16       0.5
CORN CHIPS                    1 OZ           9       155          16         2        0      28.35     1.4
CORN FLAKES, KELLOGG'S        1 OZ           0       110          24         2        0      28.35      0
CORN FLAKES, TOASTIES         1 OZ           0       110          24         2        0      28.35      0
CORN GRITS, COOKED, INSTANT   1 PKT          0        80          18         2        0       137       0
CORN GRITS,CKD,REG,WHTE,NOSALT1 CUP          0       145          31         3        0       242       0
CORN GRITS,CKD,REG,WHTE,W/SALT1 CUP          0       145          31         3        0       242       0
CORN GRITS,CKD,REG,YLLW,NOSALT1 CUP          0       145          31         3        0       242       0
CORN GRITS,CKD,REG,YLLW,W/SALT1 CUP          0       145          31         3        0       242       0
CORN MUFFINS, FROM COMMERL MIX1 MUFFIN       6       145          22         3       42       45       1.7
CORN MUFFINS, HOME RECIPE     1 MUFFIN       5       145          21         3       23       45       1.5

Description of food                         Fat  Food Energy Carbohydrate Protein Cholesterol Weight Saturated Fat
                                          (Grams) (calories)   (Grams)   (Grams) (Milligrams) (Grams)  (Grams)

CORN OIL                      1 CUP         218      1925          0         0        0       218      27.7
CORN OIL                      1 TBSP        14       125           0         0        0       14       1.8
CORNMEAL,BOLTED,DRY FORM      1 CUP          4       440          91        11        0       122      0.5
CORNMEAL,DEGERMED,ENRCHED,COOK1 CUP          0       120          26         3        0       240       0
CORNMEAL,DEGERMED,ENRICHED,DRY1 CUP          2       500          108       11        0       138      0.2
CORNMEAL,WHOLE-GRND,UNBOLT,DRY1 CUP          5       435          90        11        0       122      0.5
CORN, CNND,CRM STL,WHIT,NO SAL1 CUP          1       185          46         4        0       256      0.2
CORN, CNND,CRM STL,WHIT,W/SALT1 CUP          1       185          46         4        0       256      0.2
CORN, CNND,CRM STL,YLLW,NO SAL1 CUP          1       185          46         4        0       256      0.2
CORN, CNND,CRM STL,YLLW,W/SALT1 CUP          1       185          46         4        0       256      0.2
CORN, COOKED FRM FROZN, WHITE 1 CUP          0       135          34         5        0       165       0
CORN, COOKED FRM FROZN, WHITE 1 EAR          0        60          14         2        0       63       0.1
CORN, COOKED FRM FROZN, YELLOW1 CUP          0       135          34         5        0       165       0

Description of food                         Fat  Food Energy Carbohydrate Protein Cholesterol Weight Saturated Fat
                                          (Grams) (calories)   (Grams)   (Grams) (Milligrams) (Grams)  (Grams)

CORN, COOKED FRM FROZN, YELLOW1 EAR          0        60          14         2        0       63       0.1
CORN, COOKED FROM RAW, WHITE  1 EAR          1        85          19         3        0       77       0.2
CORN, COOKED FROM RAW, YELLOW 1 EAR          1        85          19         3        0       77       0.2
CORN,CNND,WHL KRNL,WHTE,NO SAL1 CUP          1       165          41         5        0       210      0.2
CORN,CNND,WHL KRNL,WHTE,W/SALT1 CUP          1       165          41         5        0       210      0.2
CORN,CNND,WHL KRNL,YLLW,NO SAL1 CUP          1       165          41         5        0       210      0.2
CORN,CNND,WHL KRNL,YLLW,W/SALT1 CUP          1       165          41         5        0       210      0.2
COTTAGE CHEESE,CREMD,LRGE CURD1 CUP         10       235           6        28       34       225      6.4
COTTAGE CHEESE,CREMD,SMLL CURD1 CUP          9       215           6        26       31       210       6
COTTAGE CHEESE,CREMD,W/FRUIT  1 CUP          8       280          30        22       25       226      4.9
COTTAGE CHEESE,LOWFAT 2%      1 CUP          4       205           8        31       19       226      2.8
COTTAGE CHEESE,UNCREAMED      1 CUP          1       125           3        25       10       145      0.4
CR OF CHICKEN SOUP W/ H20,CNND1 CUP          7       115           9         3       10       244      2.1

Description of food                         Fat  Food Energy Carbohydrate Protein Cholesterol Weight Saturated Fat
                                          (Grams) (calories)   (Grams)   (Grams) (Milligrams) (Grams)  (Grams)

CR OF CHICKEN SOUP W/ MLK,CNND1 CUP         11       190          15         7       27       248      4.6
CR OF MUSHROM SOUP W/ H2O,CNND1 CUP          9       130           9         2        2       244      2.4
CR OF MUSHROM SOUP W/ MLK,CNND1 CUP         14       205          15         6       20       248      5.1
CRABMEAT, CANNED              1 CUP          3       135           1        23       135      135      0.5
CRACKED-WHEAT BREAD           1 LOAF        16       1190         227       42        0       454      3.1
CRACKED-WHEAT BREAD           1 SLICE        1        65          12         2        0       25       0.2
CRACKED-WHEAT BREAD, TOASTED  1 SLICE        1        65          12         2        0       21       0.2
CRANBERRY JUICE COCKTAL W/VITC1 CUP          0       145          38         0        0       253       0
CRANBERRY SAUCE, CANNED,SWTND 1 CUP          0       420          108        1        0       277       0
CREAM CHEESE                  1 OZ          10       100           1         2       31      28.35     6.2
CREAM OF WHEAT,CKD,MIX N EAT  1 PKT          0       100          21         3        0       142       0
CREME PIE                     1 PIE         139      2710         351       20       46       910      90.1
CREME PIE                     1 PIECE       23       455          59         3        8       152       15

Description of food                         Fat  Food Energy Carbohydrate Protein Cholesterol Weight Saturated Fat
                                          (Grams) (calories)   (Grams)   (Grams) (Milligrams) (Grams)  (Grams)

CRM WHEAT,CKD, QUICK, NO SALT 1 CUP          0       140          29         4        0       244      0.1
CRM WHEAT,CKD,QUICK, W/  SALT 1 CUP          0       140          29         4        0       244      0.1
CRM WHEAT,CKD,REG,INST,NO SALT1 CUP          0       140          29         4        0       244      0.1
CRM WHEAT,CKD,REG,INST,W/SALT 1 CUP          0       140          29         4        0       244      0.1
CROISSANTS                    1 CROSST      12       235          27         5       13       57       3.5
CUCUMBER, W/ PEEL             6 SLICES       0        5            1         0        0       28        0
CURRY POWDER                  1 TSP          0        5            1         0        0        2        0
CUSTARD PIE                   1 PIE         101      1985         213       56      1010      910      33.7
CUSTARD PIE                   1 PIECE       17       330          36         9       169      152      5.6
CUSTARD, BAKED                1 CUP         15       305          29        14       278      265      6.8
DANDELION GREENS, COOKED, DRND1 CUP          1        35           7         2        0       105      0.1
DANISH PASTRY, FRUIT          1 PASTRY      13       235          28         4       56       65       3.9
DANISH PASTRY, PLAIN, NO NUTS 1 OZ           6       110          13         2       24      28.35     1.8

Description of food                         Fat  Food Energy Carbohydrate Protein Cholesterol Weight Saturated Fat
                                          (Grams) (calories)   (Grams)   (Grams) (Milligrams) (Grams)  (Grams)

DANISH PASTRY, PLAIN, NO NUTS 1 PASTRY      12       220          26         4       49       57       3.6
DANISH PASTRY, PLAIN, NO NUTS 1 RING        71       1305         152       21       292      340      21.8
DATES                         10 DATES       0       230          61         2        0       83       0.1
DATES, CHOPPED                1 CUP          1       490          131        4        0       178      0.3
DEVIL'S FOOD CAKE,CHOCFRST,FMX1 CAKE        136      3755         645       49       598     1107      55.6
DEVIL'S FOOD CAKE,CHOCFRST,FMX1 CUPCAK       4       120          20         2       19       35       1.8
DEVIL'S FOOD CAKE,CHOCFRST,FMX1 PIECE        8       235          40         3       37       69       3.5
DOUGHNUTS, CAKE TYPE, PLAIN   1 DONUT       12       210          24         3       20       50       2.8
DOUGHNUTS, YEAST-LEAVEND,GLZED1 DONUT       13       235          26         4       21       60       5.2
DUCK, ROASTED, FLESH ONLY     1/2 DUCK      25       445           0        52       197      221      9.2
EGGNOG                        1 CUP         19       340          34        10       149      254      11.3
EGGPLANT, COOKED, STEAMED     1 CUP          0        25           6         1        0       96        0
EGGS, COOKED, FRIED           1 EGG          7        90           1         6       211      46       1.9

Description of food                         Fat  Food Energy Carbohydrate Protein Cholesterol Weight Saturated Fat
                                          (Grams) (calories)   (Grams)   (Grams) (Milligrams) (Grams)  (Grams)

EGGS, COOKED, HARD-COOKED     1 EGG          5        75           1         6       213      50       1.6
EGGS, COOKED, POACHED         1 EGG          5        75           1         6       212      50       1.5
EGGS, COOKED, SCRAMBLED/OMELET1 EGG          7       100           1         7       215      61       2.2
EGGS, RAW, WHITE              1 WHITE        0        15           0         4        0       33        0
EGGS, RAW, WHOLE              1 EGG          5        75           1         6       213      50       1.6
EGGS, RAW, YOLK               1 YOLK         5        60           0         3       213      17       1.6
ENCHILADA                     1 ENCHLD      16       235          24        20       19       230      7.7
ENDIVE, CURLY, RAW            1 CUP          0        10           2         1        0       50        0
ENG MUFFIN, EGG, CHEESE, BACON1 SANDWH      18       360          31        18       213      138       8
ENGLISH MUFFINS, PLAIN        1 MUFFIN       1       140          27         5        0       57       0.3
ENGLISH MUFFINS, PLAIN, TOASTD1 MUFFIN       1       140          27         5        0       50       0.3
EVAPORATED MILK, SKIM, CANNED 1 CUP          1       200          29        19        9       255      0.3
EVAPORATED MILK, WHOLE, CANNED1 CUP         19       340          25        17       74       252      11.6

Description of food                         Fat  Food Energy Carbohydrate Protein Cholesterol Weight Saturated Fat
                                          (Grams) (calories)   (Grams)   (Grams) (Milligrams) (Grams)  (Grams)

FATS, COOKING/VEGETBL SHORTENG1 CUP         205      1810          0         0        0       205      51.3
FATS, COOKING/VEGETBL SHORTENG1 TBSP        13       115           0         0        0       13       3.3
FETA CHEESE                   1 OZ           6        75           1         4       25      28.35     4.2
FIG BARS                      4 COOKIE       4       210          42         2       27       56        1
FIGS, DRIED                   10 FIGS        2       475          122        6        0       187      0.4
FILBERTS, (HAZELNUTS) CHOPPED 1 CUP         72       725          18        15        0       115      5.3
FILBERTS, (HAZELNUTS) CHOPPED 1 OZ          18       180           4         4        0      28.35     1.3
FISH SANDWICH, LGE, W/O CHEESE1 SANDWH      27       470          41        18       91       170      6.3
FISH SANDWICH, REG, W/ CHEESE 1 SANDWH      23       420          39        16       56       140      6.3
FISH STICKS, FROZEN, REHEATED 1 STICK        3        70           4         6       26       28       0.8
FLOUNDER OR SOLE, BAKED, BUTTR3 OZ           6       120           0        16       68       85       3.2
FLOUNDER OR SOLE, BAKED,MARGRN3 OZ           6       120           0        16       55       85       1.2
FLOUNDER OR SOLE, BAKED,W/OFAT3 OZ           1        80           0        17       59       85       0.3

Description of food                         Fat  Food Energy Carbohydrate Protein Cholesterol Weight Saturated Fat
                                          (Grams) (calories)   (Grams)   (Grams) (Milligrams) (Grams)  (Grams)

FONDANT, UNCOATED             1 OZ           0       105          27         0        0      28.35      0
FRANKFURTER, COOKED           1 FRANK       13       145           1         5       23       45       4.8
FRENCH BREAD                  1 SLICE        1       100          18         3        0       35       0.3
FRENCH OR VIENNA BREAD        1 LOAF        18       1270         230       43        0       454      3.8
FRENCH SALAD DRESSING, LOCALOR1 TBSP         2        25           2         0        0       16       0.2
FRENCH SALAD DRESSING, REGULAR1 TBSP         9        85           1         0        0       16       1.4
FRENCH TOAST, HOME RECIPE     1 SLICE        7       155          17         6       112      65       1.6
FRIED PIE, APPLE              1 PIE         14       255          31         2       14       85       5.8
FRIED PIE, CHERRY             1 PIE         14       250          32         2       13       85       5.8
FROOT LOOPS CEREAL            1 OZ           1       110          25         2        0      28.35     0.2
FRUIT COCKTAIL,CNND,HEAVYSYRUP1 CUP          0       185          48         1        0       255       0
FRUIT COCKTAIL,CNND,JUICE PACK1 CUP          0       115          29         1        0       248       0
FRUIT PUNCH DRINK, CANNED     6 FL OZ        0        85          22         0        0       190       0

Description of food                         Fat  Food Energy Carbohydrate Protein Cholesterol Weight Saturated Fat
                                          (Grams) (calories)   (Grams)   (Grams) (Milligrams) (Grams)  (Grams)

FRUITCAKE,DARK, FROM HOMERECIP1 CAKE        228      5185         783       74       640     1361      47.6
FRUITCAKE,DARK, FROM HOMERECIP1 PIECE        7       165          25         2       20       43       1.5
FUDGE, CHOCOLATE, PLAIN       1 OZ           3       115          21         1        1      28.35     2.1
GARLIC POWDER                 1 TSP          0        10           2         0        0       2.8       0
GELATIN DESSERT, PREPARED     1/2 CUP        0        70          17         2        0       120       0
GELATIN, DRY                  1 ENVELP       0        25           0         6        0        7        0
GINGER ALE                    12 FL OZ       0       125          32         0        0       366       0
GINGERBREAD CAKE, FROM MIX    1 CAKE        39       1575         291       18        6       570      9.6
GINGERBREAD CAKE, FROM MIX    1 PIECE        4       175          32         2        1       63       1.1
GIN,RUM,VODKA,WHISKY 80-PROOF 1.5 F OZ       0        95           0         0        0       42        0
GIN,RUM,VODKA,WHISKY 86-PROOF 1.5 F OZ       0       105           0         0        0       42        0
GIN,RUM,VODKA,WHISKY 90-PROOF 1.5 F OZ       0       110           0         0        0       42        0
GOLDEN GRAHAMS CEREAL         1 OZ           1       110          24         2        0      28.35     0.7

Description of food                         Fat  Food Energy Carbohydrate Protein Cholesterol Weight Saturated Fat
                                          (Grams) (calories)   (Grams)   (Grams) (Milligrams) (Grams)  (Grams)

GRAHAM CRACKER, PLAIN         2 CRACKR       1        60          11         1        0       14       0.4
GRAPE-NUTS CEREAL             1 OZ           0       100          23         3        0      28.35      0
GRAPE DRINK, CANNED           6 FL OZ        0       100          26         0        0       187       0
GRAPE JUICE, CANNED           1 CUP          0       155          38         1        0       253      0.1
GRAPE SODA                    12 FL OZ       0       180          46         0        0       372       0
GRAPEFRT JCE,FRZN,CNCN,UNSWTEN6 FL OZ        1       300          72         4        0       207      0.1
GRAPEFRT JCE,FRZN,DLTD,UNSWTEN1 CUP          0       100          24         1        0       247       0
GRAPEFRUIT JUICE, CANNED,SWTND1 CUP          0       115          28         1        0       250       0
GRAPEFRUIT JUICE, CANNED,UNSWT1 CUP          0        95          22         1        0       247       0
GRAPEFRUIT JUICE, RAW         1 CUP          0        95          23         1        0       247       0
GRAPEFRUIT, CANNED, SYRUP PACK1 CUP          0       150          39         1        0       254       0
GRAPEFRUIT, RAW, PINK         1/2 FRUT       0        40          10         1        0       120       0
GRAPEFRUIT, RAW, WHITE        1/2 FRUT       0        40          10         1        0       120       0

Description of food                         Fat  Food Energy Carbohydrate Protein Cholesterol Weight Saturated Fat
                                          (Grams) (calories)   (Grams)   (Grams) (Milligrams) (Grams)  (Grams)

GRAPEJCE,FRZN,CONCEN,SWTND,W/C6 FL OZ        1       385          96         1        0       216      0.2
GRAPEJCE,FRZN,DILUTD,SWTND,W/C1 CUP          0       125          32         0        0       250      0.1
GRAPES, EUROPEAN, RAW, THOMPSN10 GRAPE       0        35           9         0        0       50       0.1
GRAPES, EUROPEAN, RAW, TOKAY  10 GRAPE       0        40          10         0        0       57       0.1
GRAVY AND TURKEY, FROZEN      5 OZ           4        95           7         8       26       142      1.2
GREAT NORTHN BEANS,DRY,CKD,DRN1 CUP          1       210          38        14        0       180      0.1
GROUND BEEF, BROILED, LEAN    3 OZ          16       230           0        21       74       85       6.2
GROUND BEEF, BROILED, REGULAR 3 OZ          18       245           0        20       76       85       6.9
GUM DROPS                     1 OZ           0       100          25         0        0      28.35      0
HADDOCK, BREADED, FRIED       3 OZ           9       175           7        17       75       85       2.4
HALF AND HALF, CREAM          1 CUP         28       315          10         7       89       242      17.3
HALF AND HALF, CREAM          1 TBSP         2        20           1         0        6       15       1.1
HALIBUT, BROILED, BUTTER,LEMJU3 OZ           6       140           0        20       62       85       3.3

Description of food                         Fat  Food Energy Carbohydrate Protein Cholesterol Weight Saturated Fat
                                          (Grams) (calories)   (Grams)   (Grams) (Milligrams) (Grams)  (Grams)

HAMBURGER, 4OZ PATTY          1 SANDWH      21       445          38        25       71       174      7.1
HAMBURGER, REGULAR            1 SANDWH      11       245          28        12       32       98       4.4
HARD CANDY                    1 OZ           0       110          28         0        0      28.35      0
HERRING, PICKLED              3 OZ          13       190           0        17       85       85       4.3
HOLLANDAISE SCE, W/ H2O,FRM MX1 CUP         20       240          14         5       52       259      11.6
HONEY                         1 CUP          0       1030         279        1        0       339       0
HONEY                         1 TBSP         0        65          17         0        0       21        0
HONEY NUT CHEERIOS CEREAL     1 OZ           1       105          23         3        0      28.35     0.1
HONEYDEW MELON, RAW           1/10 MEL       0        45          12         1        0       129       0
ICE CREAM, VANLLA, REGULR 11% 1 CUP         14       270          32         5       59       133      8.9
ICE CREAM, VANLLA, REGULR 11% 1/2 GALN      115      2155         254       38       476     1064      71.3
ICE CREAM, VANLLA, REGULR 11% 3 FL OZ        5       100          12         2       22       50       3.4
ICE CREAM, VANLLA, RICH 16% FT1 CUP         24       350          32         4       88       148      14.7

Description of food                         Fat  Food Energy Carbohydrate Protein Cholesterol Weight Saturated Fat
                                          (Grams) (calories)   (Grams)   (Grams) (Milligrams) (Grams)  (Grams)

ICE CREAM, VANLLA, RICH 16% FT1/2 GAL       190      2805         256       33       703     1188     118.3
ICE CREAM, VANLLA, SOFT SERVE 1 CUP         23       375          38         7       153      173      13.5
ICE MILK, VANILLA, 4% FAT     1 CUP          6       185          29         5       18       131      3.5
ICE MILK, VANILLA, 4% FAT     1/2 GAL       45       1470         232       41       146     1048      28.1
ICE MILK, VANILLA,SOFTSERV 3% 1 CUP          5       225          38         8       13       175      2.9
IMITATION CREAMERS, LIQUID FRZ1 TBSP         1        20           2         0        0       15       1.4
IMITATION CREAMERS, POWDERED  1 TSP          1        10           1         0        0        2       0.7
IMITATION WHIPPED TOPPING,FRZN1 CUP         19       240          17         1        0       75       16.3
IMITATION WHIPPED TOPPING,FRZN1 TBSP         1        15           1         0        0        4       0.9
IMITATN SOUR DRESSING         1 CUP         39       415          11         8       13       235      31.2
IMITATN SOUR DRESSING         1 TBSP         2        20           1         0        1       12       1.6
IMITATN WHIPD TOPING,PRESSRZD 1 CUP         16       185          11         1        0       70       13.2
IMITATN WHIPD TOPING,PRESSRZD 1 TBSP         1        10           1         0        0        4       0.8

Description of food                         Fat  Food Energy Carbohydrate Protein Cholesterol Weight Saturated Fat
                                          (Grams) (calories)   (Grams)   (Grams) (Milligrams) (Grams)  (Grams)

IMITATN WHIPD TOPING,PWDRD,PRP1 CUP         10       150          13         3        8       80       8.5
IMITATN WHIPD TOPING,PWDRD,PRP1 TBSP         0        10           1         0        0        4       0.4
ITALIAN BREAD                 1 LOAF         4       1255         256       41        0       454      0.6
ITALIAN BREAD                 1 SLICE        0        85          17         3        0       30        0
ITALIAN SALAD DRESSING,LOCALOR1 TBSP         0        5            2         0        0       15        0
ITALIAN SALAD DRESSING,REGULAR1 TBSP         9        80           1         0        0       15       1.3
JAMS AND PRESERVES            1 PKT          0        40          10         0        0       14        0
JAMS AND PRESERVES            1 TBSP         0        55          14         0        0       20        0
JELLIES                       1 PKT          0        40          10         0        0       14        0
JELLIES                       1 TBSP         0        50          13         0        0       18        0
JELLY BEANS                   1 OZ           0       105          26         0        0      28.35      0
JERUSALEM-ARTICHOKE, RAW      1 CUP          0       115          26         3        0       150       0
KALE, COOKED FROM FROZEN      1 CUP          1        40           7         4        0       130      0.1

Description of food                         Fat  Food Energy Carbohydrate Protein Cholesterol Weight Saturated Fat
                                          (Grams) (calories)   (Grams)   (Grams) (Milligrams) (Grams)  (Grams)

KALE, COOKED FROM RAW         1 CUP          1        40           7         2        0       130      0.1
KIWIFRUIT, RAW                1 KIWI         0        45          11         1        0       76        0
KOHLRABI, COOKED, DRAINED     1 CUP          0        50          11         3        0       165       0
LAMB, RIB, ROASTED, LEAN ONLY 2 OZ           7       130           0        15       50       57       3.2
LAMB, RIB, ROASTED, LEAN + FAT3 OZ          26       315           0        18       77       85       12.1
LAMB,CHOPS,ARM,BRAISED,LEAN   1.7 OZ         7       135           0        17       59       48       2.9
LAMB,CHOPS,ARM,BRAISED,LEAN+FT2.2 OZ        15       220           0        20       77       63       6.9
LAMB,CHOPS,LOIN,BROIL,LEAN    2.3 OZ         6       140           0        19       60       64       2.6
LAMB,CHOPS,LOIN,BROIL,LEAN+FAT2.8 OZ        16       235           0        22       78       80       7.3
LAMB,LEG,ROASTED, LEAN ONLY   2.6 OZ         6       140           0        20       65       73       2.4
LAMB,LEG,ROASTED, LEAN+ FAT   3 OZ          13       205           0        22       78       85       5.6
LARD                          1 CUP         205      1850          0         0       195      205      80.4
LARD                          1 TBSP        13       115           0         0       12       13       5.1

Description of food                         Fat  Food Energy Carbohydrate Protein Cholesterol Weight Saturated Fat
                                          (Grams) (calories)   (Grams)   (Grams) (Milligrams) (Grams)  (Grams)

LEMON-LIME SODA               12 FL OZ       0       155          39         0        0       372       0
LEMON JUICE, CANNED           1 CUP          1        50          16         1        0       244      0.1
LEMON JUICE, CANNED           1 TBSP         0        5            1         0        0       15        0
LEMON JUICE, RAW              1 CUP          0        60          21         1        0       244       0
LEMON JUICE,FRZN,SINGLE-STRNGH6 FL OZ        1        55          16         1        0       244      0.1
LEMON MERINGUE PIE            1 PIE         86       2140         317       31       857      840       26
LEMON MERINGUE PIE            1 PIECE       14       355          53         5       143      140      4.3
LEMONADE,CONCENTRATE,FRZ,UNDIL6 FL OZ        0       425          112        0        0       219       0
LEMONADE,CONCEN,FRZEN,DILUTED 6 FL OZ        0        80          21         0        0       185       0
LEMONS, RAW                   1 LEMON        0        15           5         1        0       58        0
LENTILS, DRY, COOKED          1 CUP          1       215          38        16        0       200      0.1
LETTUCE, BUTTERHEAD, RAW,HEAD 1 HEAD         0        20           4         2        0       163       0
LETTUCE, BUTTERHEAD, RAW,LEAVE1 LEAF         0        0            0         0        0       15        0

Description of food                         Fat  Food Energy Carbohydrate Protein Cholesterol Weight Saturated Fat
                                          (Grams) (calories)   (Grams)   (Grams) (Milligrams) (Grams)  (Grams)

LETTUCE, CRISPHEAD, RAW, HEAD 1 HEAD         1        70          11         5        0       539      0.1
LETTUCE, CRISPHEAD, RAW,PIECES1 CUP          0        5            1         1        0       55        0
LETTUCE, CRISPHEAD, RAW,WEDGE 1 WEDGE        0        20           3         1        0       135       0
LETTUCE, LOOSELEAF            1 CUP          0        10           2         1        0       56        0
LIGHT, COFFEE OR TABLE CREAM  1 CUP         46       470           9         6       159      240      28.8
LIGHT, COFFEE OR TABLE CREAM  1 TBSP         3        30           1         0       10       15       1.8
LIMA BEANS, DRY, COOKED,DRANED1 CUP          1       260          49        16        0       190      0.2
LIMA BEANS,BABY, FRZN,CKED,DRN1 CUP          1       190          35        12        0       180      0.1
LIMA BEANS,THICK SEED,FRZN,CKD1 CUP          1       170          32        10        0       170      0.1
LIME JUICE, RAW               1 CUP          0        65          22         1        0       246       0
LIME JUICE,CANNED             1 CUP          1        50          16         1        0       246      0.1
LIMEADE,CONCENTRATE,FRZN,UNDIL6 FL OZ        0       410          108        0        0       218       0
LIMEADE,CONCEN,FROZEN,DILUTED 6 FL OZ        0        75          20         0        0       185       0

Description of food                         Fat  Food Energy Carbohydrate Protein Cholesterol Weight Saturated Fat
                                          (Grams) (calories)   (Grams)   (Grams) (Milligrams) (Grams)  (Grams)

LUCKY CHARMS CEREAL           1 OZ           1       110          23         3        0      28.35     0.2
MACADAMIA NUTS, OILRSTD,SALTED1 CUP         103      960          17        10        0       134      15.4
MACADAMIA NUTS, OILRSTD,SALTED1 OZ          22       205           4         2        0      28.35     3.2
MACADAMIA NUTS, OILRSTD,UNSALT1 CUP         103      960          17        10        0       134      15.4
MACADAMIA NUTS, OILRSTD,UNSALT1 OZ          22       205           4         2        0      28.35     3.2
MACARONI AND CHEESE, CANNED   1 CUP         10       230          26         9       24       240      4.7
MACARONI AND CHEESE, HOME RCPE1 CUP         22       430          40        17       44       200      9.8
MACARONI, COOKED, FIRM        1 CUP          1       190          39         7        0       130      0.1
MACARONI, COOKED, TENDER, HOT 1 CUP          1       155          32         5        0       140      0.1
MACARONI, COOKED, TENDER,COLD 1 CUP          0       115          24         4        0       105      0.1
MALT-O-MEAL, WITH SALT        1 CUP          0       120          26         4        0       240       0
MALT-O-MEAL, W/O SALT         1 CUP          0       120          26         4        0       240       0
MALTED MILK, CHOCOLATE, POWDER3/4 OZ         1        85          18         1        1       21       0.5

Description of food                         Fat  Food Energy Carbohydrate Protein Cholesterol Weight Saturated Fat
                                          (Grams) (calories)   (Grams)   (Grams) (Milligrams) (Grams)  (Grams)

MALTED MILK,CHOCOLATE, PWDRPPD1 SERVNG       9       235          29         9       34       265      5.5
MALTED MILK,NATURAL, POWDER   3/4 OZ         2        85          15         3        4       21       0.9
MALTED MILK,NATURAL, PWDR PPRD1 SERVNG      10       235          27        11       37       265       6
MANGOS, RAW                   1 MANGO        1       135          35         1        0       207      0.1
MARGARINE, IMITATION 40% FAT  1 TBSP         5        50           0         0        0       14       1.1
MARGARINE, IMITATION 40% FAT  8 OZ          88       785           1         1        0       227      17.5
MARGARINE, REGULR,HARD,80% FAT1 PAT          4        35           0         0        0        5       0.8
MARGARINE, REGULR,HARD,80% FAT1 TBSP        11       100           0         0        0       14       2.2
MARGARINE, REGULR,HARD,80% FAT1/2 CUP       91       810           1         1        0       113      17.9
MARGARINE, REGULR,SOFT,80% FAT1 TBSP        11       100           0         0        0       14       1.9
MARGARINE, REGULR,SOFT,80% FAT8 OZ          183      1625          1         2        0       227      31.3
MARGARINE, SPREAD,HARD,60% FAT1 PAT          3        25           0         0        0        5       0.7
MARGARINE, SPREAD,HARD,60% FAT1 TBSP         9        75           0         0        0       14        2

Description of food                         Fat  Food Energy Carbohydrate Protein Cholesterol Weight Saturated Fat
                                          (Grams) (calories)   (Grams)   (Grams) (Milligrams) (Grams)  (Grams)

MARGARINE, SPREAD,HARD,60% FAT1/2 CUP       69       610           0         1        0       113      15.9
MARGARINE, SPREAD,SOFT,60% FAT1 TBSP         9        75           0         0        0       14       1.8
MARGARINE, SPREAD,SOFT,60% FAT8 OZ          138      1225          0         1        0       227      29.1
MARSHMALLOWS                  1 OZ           0        90          23         1        0      28.35      0
MAYONNAISE TYPE SALAD DRESSING1 TBSP         5        60           4         0        4       15       0.7
MAYONNAISE, IMITATION         1 TBSP         3        35           2         0        4       15       0.5
MAYONNAISE, REGULAR           1 TBSP        11       100           0         0        8       14       1.7
MELBA TOAST, PLAIN            1 PIECE        0        20           4         1        0        5       0.1
MILK CHOCOLATE CANDY, PLAIN   1 OZ           9       145          16         2        6      28.35     5.4
MILK CHOCOLATE CANDY,W/ ALMOND1 OZ          10       150          15         3        5      28.35     4.8
MILK CHOCOLATE CANDY,W/ PENUTS1 OZ          11       155          13         4        5      28.35     4.2
MILK CHOCOLATE CANDY,W/ RICE C1 OZ           7       140          18         2        6      28.35     4.4
MILK, LOFAT, 1%, ADDED SOLIDS 1 CUP          2       105          12         9       10       245      1.5

Description of food                         Fat  Food Energy Carbohydrate Protein Cholesterol Weight Saturated Fat
                                          (Grams) (calories)   (Grams)   (Grams) (Milligrams) (Grams)  (Grams)

MILK, LOFAT, 1%, NO ADDEDSOLID1 CUP          3       100          12         8       10       244      1.6
MILK, LOFAT, 2%, ADDED SOLIDS 1 CUP          5       125          12         9       18       245      2.9
MILK, LOFAT, 2%, NO ADDEDSOLID1 CUP          5       120          12         8       18       244      2.9
MILK, SKIM, ADDED MILK SOLIDS 1 CUP          1        90          12         9        5       245      0.4
MILK, SKIM, NO ADDED MILKSOLID1 CUP          0        85          12         8        4       245      0.3
MILK, WHOLE, 3.3% FAT         1 CUP          8       150          11         8       33       244      5.1
MINESTRONE SOUP, CANNED       1 CUP          3        80          11         4        2       241      0.6
MISO                          1 CUP         13       470          65        29        0       276      1.8
MIXED GRAIN BREAD             1 LOAF        17       1165         212       45        0       454      3.2
MIXED GRAIN BREAD             1 SLICE        1        65          12         2        0       25       0.2
MIXED GRAIN BREAD, TOASTED    1 SLICE        1        65          12         2        0       23       0.2
MIXED NUTS W/ PEANTS,DRY,SALTD1 OZ          15       170           7         5        0      28.35      2
MIXED NUTS W/ PEANTS,DRY,UNSLT1 OZ          15       170           7         5        0      28.35      2

Description of food                         Fat  Food Energy Carbohydrate Protein Cholesterol Weight Saturated Fat
                                          (Grams) (calories)   (Grams)   (Grams) (Milligrams) (Grams)  (Grams)

MIXED NUTS W/ PEANTS,OIL,SALTD1 OZ          16       175           6         5        0      28.35     2.5
MIXED NUTS W/ PEANTS,OIL,UNSLT1 OZ          16       175           6         5        0      28.35     2.5
MOLASSES, CANE, BLACKSTRAP    2 TBSP         0        85          22         0        0       40        0
MOZZARELLA CHEESE, WHOLE MILK 1 OZ           6        80           1         6       22      28.35     3.7
MOZZARELLA CHESE,SKIM, LOMOIST1 OZ           5        80           1         8       15      28.35     3.1
MUENSTER CHEESE               1 OZ           9       105           0         7       27      28.35     5.4
MUSHROOM GRAVY, CANNED        1 CUP          6       120          13         3        0       238       1
MUSHROOMS, CANNED, DRND,W/SALT1 CUP          0        35           8         3        0       156      0.1
MUSHROOMS, COOKED, DRAINED    1 CUP          1        40           8         3        0       156      0.1
MUSHROOMS, RAW                1 CUP          0        20           3         1        0       70        0
MUSTARD GREENS, COOKED, DRANED1 CUP          0        20           3         3        0       140       0
MUSTARD, PREPARED, YELLOW     1 TSP          0        5            0         0        0        5        0
NATURE VALLEY GRANOLA CEREAL  1 OZ           5       125          19         3        0      28.35     3.3

Description of food                         Fat  Food Energy Carbohydrate Protein Cholesterol Weight Saturated Fat
                                          (Grams) (calories)   (Grams)   (Grams) (Milligrams) (Grams)  (Grams)

NECTARINES, RAW               1 NECTRN       1        65          16         1        0       136      0.1
NONFAT DRY MILK, INSTANTIZED  1 CUP          0       245          35        24       12       68       0.3
NONFAT DRY MILK, INSTANTIZED  1 ENVLPE       1       325          47        32       17       91       0.4
NOODLES, CHOW MEIN, CANNED    1 CUP         11       220          26         6        5       45       2.1
NOODLES, EGG, COOKED          1 CUP          2       200          37         7       50       160      0.5
OATMEAL BREAD                 1 LOAF        20       1145         212       38        0       454      3.7
OATMEAL BREAD                 1 SLICE        1        65          12         2        0       25       0.2
OATMEAL BREAD, TOASTED        1 SLICE        1        65          12         2        0       23       0.2
OATMEAL W/ RAISINS COOKIES    4 COOKIE      10       245          36         3        2       52       2.5
OATMEAL,CKD,INSTNT,FLVRD,FORTF1 PKT          2       160          31         5        0       164      0.3
OATMEAL,CKD,INSTNT,PLAIN,FORTF1 PKT          2       105          18         4        0       177      0.3
OATMEAL,CKD,RG,QCK,INST,W/OSAL1 CUP          2       145          25         6        0       234      0.4
OATMEAL,CKD,RG,QCK,INST,W/SALT1 CUP          2       145          25         6        0       234      0.4

Description of food                         Fat  Food Energy Carbohydrate Protein Cholesterol Weight Saturated Fat
                                          (Grams) (calories)   (Grams)   (Grams) (Milligrams) (Grams)  (Grams)

OCEAN PERCH, BREADED, FRIED   1 FILLET      11       185           7        16       66       85       2.6
OKRA PODS, COOKED             8 PODS         0        25           6         2        0       85        0
OLIVE OIL                     1 CUP         216      1910          0         0        0       216      29.2
OLIVE OIL                     1 TBSP        14       125           0         0        0       14       1.9
OLIVES, CANNED, GREEN         4 MEDIUM       2        15           0         0        0       13       0.2
OLIVES, CANNED, RIPE, MISSION 3 SMALL        2        15           0         0        0        9       0.3
ONION POWDER                  1 TSP          0        5            2         0        0       2.1       0
ONION RINGS, BREADED,FRZN,PRPD2 RINGS        5        80           8         1        0       20       1.7
ONION SOUP, DEHYDRATD, PREPRED1 PKT          0        20           4         1        0       184      0.1
ONION SOUP, DEHYDRTD, UNPRPRED1 PKT          0        20           4         1        0        7       0.1
ONIONS, RAW, CHOPPED          1 CUP          0        55          12         2        0       160      0.1
ONIONS, RAW, COOKED, DRAINED  1 CUP          0        60          13         2        0       210      0.1
ONIONS, RAW, SLICED           1 CUP          0        40           8         1        0       115      0.1

Description of food                         Fat  Food Energy Carbohydrate Protein Cholesterol Weight Saturated Fat
                                          (Grams) (calories)   (Grams)   (Grams) (Milligrams) (Grams)  (Grams)

ONIONS, SPRING, RAW           6 ONION        0        10           2         1        0       30        0
ORANGE JUICE, CANNED          1 CUP          0       105          25         1        0       249       0
ORANGE JUICE, CHILLED         1 CUP          1       110          25         2        0       249      0.1
ORANGE JUICE, RAW             1 CUP          0       110          26         2        0       248      0.1
ORANGE JUICE,FROZEN CONCENTRTE6 FL OZ        0       340          81         5        0       213      0.1
ORANGE JUICE,FRZN,CNCN,DILUTED1 CUP          0       110          27         2        0       249       0
ORANGE SODA                   12 FL OZ       0       180          46         0        0       372       0
ORANGE + GRAPEFRUIT JUCE,CANND1 CUP          0       105          25         1        0       247       0
ORANGES, RAW                  1 ORANGE       0        60          15         1        0       131       0
ORANGES, RAW, SECTIONS        1 CUP          0        85          21         2        0       180       0
OREGANO                       1 TSP          0        5            1         0        0       1.5       0
OYSTERS, BREADED, FRIED       1 OYSTER       5        90           5         5       35       45       1.4
OYSTERS, RAW                  1 CUP          4       160           8        20       120      240      1.4

Description of food                         Fat  Food Energy Carbohydrate Protein Cholesterol Weight Saturated Fat
                                          (Grams) (calories)   (Grams)   (Grams) (Milligrams) (Grams)  (Grams)

PANCAKES, BUCKWHEAT, FROM MIX 1 PANCAK       2        55           6         2       20       27       0.9
PANCAKES, PLAIN, FROM MIX     1 PANCAK       2        60           8         2       16       27       0.5
PANCAKES, PLAIN, HOME RECIPE  1 PANCAK       2        60           9         2       16       27       0.5
PAPAYAS, RAW                  1 CUP          0        65          17         1        0       140      0.1
PAPRIKA                       1 TSP          0        5            1         0        0       2.1       0
PARMESAN CHEESE, GRATED       1 CUP         30       455           4        42       79       100      19.1
PARMESAN CHEESE, GRATED       1 OZ           9       130           1        12       22      28.35     5.4
PARMESAN CHEESE, GRATED       1 TBSP         2        25           0         2        4        5        1
PARSLEY, FREEZE-DRIED         1 TBSP         0        0            0         0        0       0.4       0
PARSLEY, RAW                  10 SPRIG       0        5            1         0        0       10        0
PARSNIPS, COOKED, DRAINED     1 CUP          0       125          30         2        0       156      0.1
PASTERZD PROCES CHEESE, SWISS 1 OZ           7        95           1         7       24      28.35     4.5
PASTERZD PROCES CHEESE,AMERICN1 OZ           9       105           0         6       27      28.35     5.6

Description of food                         Fat  Food Energy Carbohydrate Protein Cholesterol Weight Saturated Fat
                                          (Grams) (calories)   (Grams)   (Grams) (Milligrams) (Grams)  (Grams)

PASTERZD PROCES CHESE FOOD,AMR1 OZ           7        95           2         6       18      28.35     4.4
PASTERZD PROCES CHESE SPRED,AM1 OZ           6        80           2         5       16      28.35     3.8
PEA BEANS, DRY, COOKED,DRAINED1 CUP          1       225          40        15        0       190      0.1
PEACH PIE                     1 PIE         101      2410         361       24        0       945      24.6
PEACH PIE                     1 PIECE       17       405          60         4        0       158      4.1
PEACHES, CANNED, HEAVY SYRUP  1 CUP          0       190          51         1        0       256       0
PEACHES, CANNED, HEAVY SYRUP  1 HALF         0        60          16         0        0       81        0
PEACHES, CANNED, JUICE PACK   1 CUP          0       110          29         2        0       248       0
PEACHES, CANNED, JUICE PACK   1 HALF         0        35           9         0        0       77        0
PEACHES, DRIED                1 CUP          1       380          98         6        0       160      0.1
PEACHES, DRIED,COOKED,UNSWETND1 CUP          1       200          51         3        0       258      0.1
PEACHES, FROZEN,SWETNED,W/VITC1 CUP          0       235          60         2        0       250       0
PEACHES, FROZEN,SWETNED,W/VITC10 OZ          0       265          68         2        0       284       0

Description of food                         Fat  Food Energy Carbohydrate Protein Cholesterol Weight Saturated Fat
                                          (Grams) (calories)   (Grams)   (Grams) (Milligrams) (Grams)  (Grams)

PEACHES, RAW                  1 PEACH        0        35          10         1        0       87        0
PEACHES, RAW, SLICED          1 CUP          0        75          19         1        0       170       0
PEANUT BUTTER                 1 TBSP         8        95           3         5        0       16       1.4
PEANUT BUTTER COOKIE,HOME RECP4 COOKIE      14       245          28         4       22       48        4
PEANUT OIL                    1 CUP         216      1910          0         0        0       216      36.5
PEANUT OIL                    1 TBSP        14       125           0         0        0       14       2.4
PEANUTS, OIL ROASTED, SALTED  1 CUP         71       840          27        39        0       145      9.9
PEANUTS, OIL ROASTED, SALTED  1 OZ          14       165           5         8        0      28.35     1.9
PEANUTS, OIL ROASTED, UNSALTED1 CUP         71       840          27        39        0       145      9.9
PEANUTS, OIL ROASTED, UNSALTED1 OZ          14       165           5         8        0      28.35     1.9
PEARS, CANNED, HEAVY SYRUP    1 CUP          0       190          49         1        0       255       0
PEARS, CANNED, HEAVY SYRUP    1 HALF         0        60          15         0        0       79        0
PEARS, CANNED, JUICE PACK     1 CUP          0       125          32         1        0       248       0

Description of food                         Fat  Food Energy Carbohydrate Protein Cholesterol Weight Saturated Fat
                                          (Grams) (calories)   (Grams)   (Grams) (Milligrams) (Grams)  (Grams)

PEARS, CANNED, JUICE PACK     1 HALF         0        40          10         0        0       77        0
PEARS, RAW, BARTLETT          1 PEAR         1       100          25         1        0       166       0
PEARS, RAW, BOSC              1 PEAR         1        85          21         1        0       141       0
PEARS, RAW, D'ANJOU           1 PEAR         1       120          30         1        0       200       0
PEAS, EDIBLE POD, COOKED,DRNED1 CUP          0        65          11         5        0       160      0.1
PEAS, GREEN,CNND,DRND, W/ SALT1 CUP          1       115          21         8        0       170      0.1
PEAS, GREEN,CNND,DRND,W/O SALT1 CUP          1       115          21         8        0       170      0.1
PEAS, SPLIT, DRY, COOKED      1 CUP          1       230          42        16        0       200      0.1
PEAS,GRN, FROZEN COOKED,DRANED1 CUP          0       125          23         8        0       160      0.1
PEA, GREEN, SOUP, CANNED      1 CUP          3       165          27         9        0       250      1.4
PECAN PIE                     1 PIE         189      3450         423       42       569      825      28.1
PECAN PIE                     1 PIECE       32       575          71         7       95       138      4.7
PECANS, HALVES                1 CUP         73       720          20         8        0       108      5.9

Description of food                         Fat  Food Energy Carbohydrate Protein Cholesterol Weight Saturated Fat
                                          (Grams) (calories)   (Grams)   (Grams) (Milligrams) (Grams)  (Grams)

PECANS, HALVES                1 OZ          19       190           5         2        0      28.35     1.5
PEPPER-TYPE SODA              12 FL OZ       0       160          41         0        0       369       0
PEPPERS, HOT CHILI, RAW, GREEN1 PEPPER       0        20           4         1        0       45        0
PEPPERS, HOT CHILI, RAW, RED  1 PEPPER       0        20           4         1        0       45        0
PEPPERS, SWEET, COOKED, GREEN 1 PEPPER       0        15           3         0        0       73        0
PEPPERS, SWEET, COOKED, RED   1 PEPPER       0        15           3         0        0       73        0
PEPPERS, SWEET, RAW, GREEN    1 PEPPER       0        20           4         1        0       74        0
PEPPERS, SWEET, RAW, RED      1 PEPPER       0        20           4         1        0       74        0
PEPPER, BLACK                 1 TSP          0        5            1         0        0       2.1       0
PICKLES, CUCUMBER, DILL       1 PICKLE       0        5            1         0        0       65        0
PICKLES, CUCUMBER, FRESH PACK 2 SLICES       0        10           3         0        0       15        0
PICKLES, CUCUMBER, SWT GHERKIN1 PICKLE       0        20           5         0        0       15        0
PIECRUST, FROM MIX            2 CRUST       93       1485         141       20        0       320      22.7

Description of food                         Fat  Food Energy Carbohydrate Protein Cholesterol Weight Saturated Fat
                                          (Grams) (calories)   (Grams)   (Grams) (Milligrams) (Grams)  (Grams)

PIECRUST,FROM HOME RECIPE     1 SHELL       60       900          79        11        0       180      14.8
PINE NUTS                     1 OZ          17       160           5         3        0      28.35     2.7
PINEAPPLE-GRAPEFRUIT JUICEDRNK6 FL OZ        0        90          23         0        0       187       0
PINEAPPLE JUICE, CANNED,UNSWTN1 CUP          0       140          34         1        0       250       0
PINEAPPLE, CANNED, HEAVY SYRUP1 CUP          0       200          52         1        0       255       0
PINEAPPLE, CANNED, HEAVY SYRUP1 SLICE        0        45          12         0        0       58        0
PINEAPPLE, CANNED, JUICE PACK 1 CUP          0       150          39         1        0       250       0
PINEAPPLE, CANNED, JUICE PACK 1 SLICE        0        35           9         0        0       58        0
PINEAPPLE, RAW, DICED         1 CUP          1        75          19         1        0       155       0
PINTO BEANS,DRY,COOKED,DRAINED1 CUP          1       265          49        15        0       180      0.1
PISTACHIO NUTS                1 OZ          14       165           7         6        0      28.35     1.7
PITA BREAD                    1 PITA         1       165          33         6        0       60       0.1
PIZZA, CHEESE                 1 SLICE        9       290          39        15       56       120      4.1

Description of food                         Fat  Food Energy Carbohydrate Protein Cholesterol Weight Saturated Fat
                                          (Grams) (calories)   (Grams)   (Grams) (Milligrams) (Grams)  (Grams)

PLANTAINS, COOKED             1 CUP          0       180          48         1        0       154      0.1
PLANTAINS, RAW                1 PLANTN       1       220          57         2        0       179      0.3
PLUMS, CANNED, HEAVY SYRUP    1 CUP          0       230          60         1        0       258       0
PLUMS, CANNED, HEAVY SYRUP    3 PLUMS        0       120          31         0        0       133       0
PLUMS, CANNED, JUICE PACK     1 CUP          0       145          38         1        0       252       0
PLUMS, CANNED, JUICE PACK     3 PLUMS        0        55          14         0        0       95        0
PLUMS, RAW, 1-1/2-IN DIAM     1 PLUM         0        15           4         0        0       28        0
PLUMS, RAW, 2-1/8-IN DIAM     1 PLUM         0        35           9         1        0       66        0
POPCORN, AIR-POPPED, UNSALTED 1 CUP          0        30           6         1        0        8        0
POPCORN, POPPED, VEG OIL,SALTD1 CUP          3        55           6         1        0       11       0.5
POPCORN, SUGAR SYRUP COATED   1 CUP          1       135          30         2        0       35       0.1
POPSICLE                      1 POPCLE       0        70          18         0        0       95        0
PORK CHOP, LOIN, BROIL, LEAN  2.5 OZ         8       165           0        23       71       72       2.6

Description of food                         Fat  Food Energy Carbohydrate Protein Cholesterol Weight Saturated Fat
                                          (Grams) (calories)   (Grams)   (Grams) (Milligrams) (Grams)  (Grams)

PORK CHOP, LOIN, BROIL, LEN+FT3.1 OZ        19       275           0        24       84       87        7
PORK CHOP, LOIN,PANFRY, LEAN  2.4 OZ        11       180           0        19       72       67       3.7
PORK CHOP, LOIN,PANFRY,LEAN+FT3.1 OZ        27       335           0        21       92       89       9.8
PORK FRESH HAM, ROASTD, LEAN  2.5 OZ         8       160           0        20       68       72       2.7
PORK FRESH HAM, ROASTD,LEAN+FT3 OZ          18       250           0        21       79       85       6.4
PORK FRESH RIB, ROASTD, LEAN  2.5 OZ        10       175           0        20       56       71       3.4
PORK FRESH RIB, ROASTD,LEAN+FT3 OZ          20       270           0        21       69       85       7.2
PORK SHOULDER, BRAISD, LEAN   2.4 OZ         8       165           0        22       76       67       2.8
PORK SHOULDER, BRAISD,LEAN+FAT3 OZ          22       295           0        23       93       85       7.9
PORK, CURED, BACON, REGUL,CKED3 SLICE        9       110           0         6       16       19       3.3
PORK, CURED, BACON,CANADN,CKED2 SLICE        4        85           1        11       27       46       1.3
PORK, CURED, HAM, CANNED,ROAST3 OZ           7       140           0        18       35       85       2.4
PORK, CURED, HAM, ROSTED,LEAN 2.4 OZ         4       105           0        17       37       68       1.3

Description of food                         Fat  Food Energy Carbohydrate Protein Cholesterol Weight Saturated Fat
                                          (Grams) (calories)   (Grams)   (Grams) (Milligrams) (Grams)  (Grams)

PORK, CURED, HAM, ROSTED,LN+FT3 OZ          14       205           0        18       53       85       5.1
PORK, LINK, COOKED            1 LINK         4        50           0         3       11       13       1.4
PORK, LUNCHEON MEAT,CANNED    2 SLICES      13       140           1         5       26       42       4.5
PORK, LUNCHEON MEAT,CHOPPD HAM2 SLICES       7        95           0         7       21       42       2.4
PORK, LUNCHEON MEAT,CKD HAM,LN2 SLICES       3        75           1        11       27       57       0.9
PORK, LUNCHEON MEAT,CKD HAM,RG2 SLICES       6       105           2        10       32       57       1.9
POTATO CHIPS                  10 CHIPS       7       105          10         1        0       20       1.8
POTATO SALAD MADE W/ MAYONNAIS1 CUP         21       360          28         7       170      250      3.6
POTATOES, AU GRATIN, FROM MIX 1 CUP         10       230          31         6       12       245      6.3
POTATOES, AU GRATIN, HOME RECP1 CUP         19       325          28        12       56       245      11.6
POTATOES, BAKED FLESH ONLY    1 POTATO       0       145          34         3        0       156       0
POTATOES, BAKED WITH SKIN     1 POTATO       0       220          51         5        0       202      0.1
POTATOES, BOILED, PEELED AFTER1 POTATO       0       120          27         3        0       136       0

Description of food                         Fat  Food Energy Carbohydrate Protein Cholesterol Weight Saturated Fat
                                          (Grams) (calories)   (Grams)   (Grams) (Milligrams) (Grams)  (Grams)

POTATOES, BOILED, PEELED BEFOR1 POTATO       0       115          27         2        0       135       0
POTATOES, HASHED BROWN,FR FRZN1 CUP         18       340          44         5        0       156       7
POTATOES, MASHED,FRM DEHYDRTED1 CUP         12       235          32         4       29       210      7.2
POTATOES, MASHED,RECPE,MLK+MAR1 CUP          9       225          35         4        4       210      2.2
POTATOES, MASHED,RECPE,W/ MILK1 CUP          1       160          37         4        4       210      0.7
POTATOES, SCALLOPED, FROM MIX 1 CUP         11       230          31         5       27       245      6.5
POTATOES, SCALLOPED, HOME RECP1 CUP          9       210          26         7       29       245      5.5
POTATOES,FRENCH-FRD,FRZN,FRIED10 STRIP       8       160          20         2        0       50       2.5
POTATOES,FRENCH-FRD,FRZN,OVEN 10 STRIP       4       110          17         2        0       50       2.1
POUND CAKE, COMMERCIAL        1 LOAF        94       1935         257       26      1100      500       52
POUND CAKE, COMMERCIAL        1 SLICE        5       110          15         2       64       29        3
POUND CAKE, FROM HOME RECIPE  1 LOAF        94       2025         265       33       555      514      21.1
POUND CAKE, FROM HOME RECIPE  1 SLICE        5       120          15         2       32       30       1.2

Description of food                         Fat  Food Energy Carbohydrate Protein Cholesterol Weight Saturated Fat
                                          (Grams) (calories)   (Grams)   (Grams) (Milligrams) (Grams)  (Grams)

PRETZELS, STICK               10 PRETZ       0        10           2         0        0        3        0
PRETZELS, TWISTED, DUTCH      1 PRETZ        1        65          13         2        0       16       0.1
PRETZELS, TWISTED, THIN       10 PRETZ       2       240          48         6        0       60       0.4
PRODUCT 19 CEREAL             1 OZ           0       110          24         3        0      28.35      0
PROVOLONE CHEESE              1 OZ           8       100           1         7       20      28.35     4.8
PRUNE JUICE, CANNED           1 CUP          0       180          45         2        0       256       0
PRUNES, DRIED                 5 LARGE        0       115          31         1        0       49        0
PRUNES, DRIED, COOKED,UNSWTNED1 CUP          0       225          60         2        0       212       0
PUDDING, CHOCOLATE,CANNED     5 OZ          11       205          30         3        1       142      9.5
PUDDING, CHOC, COOKED FROM MIX1/2 CUP        4       150          25         4       15       130      2.4
PUDDING, CHOC, INSTANT, FR MIX1/2 CUP        4       155          27         4       14       130      2.3
PUDDING, RICE, FROM MIX       1/2 CUP        4       155          27         4       15       132      2.3
PUDDING, TAPIOCA, CANNED      5 OZ           5       160          28         3        0       142      4.8

Description of food                         Fat  Food Energy Carbohydrate Protein Cholesterol Weight Saturated Fat
                                          (Grams) (calories)   (Grams)   (Grams) (Milligrams) (Grams)  (Grams)

PUDDING, TAPIOCA, FROM MIX    1/2 CUP        4       145          25         4       15       130      2.3
PUDDING, VANILLA, CANNED      5 OZ          10       220          33         2        1       142      9.5
PUDDING, VNLLA,COOKED FROM MIX1/2 CUP        4       145          25         4       15       130      2.3
PUDDING, VNLLA,INSTANT FRM MIX1/2 CUP        4       150          27         4       15       130      2.2
PUMPERNICKEL BREAD            1 LOAF        16       1160         218       42        0       454      2.6
PUMPERNICKEL BREAD            1 SLICE        1        80          16         3        0       32       0.2
PUMPERNICKEL BREAD, TOASTED   1 SLICE        1        80          16         3        0       29       0.2
PUMPKIN AND SQUASH KERNELS    1 OZ          13       155           5         7        0      28.35     2.5
PUMPKIN PIE                   1 PIE         102      1920         223       36       655      910      38.2
PUMPKIN PIE                   1 PIECE       17       320          37         6       109      152      6.4
PUMPKIN, CANNED               1 CUP          1        85          20         3        0       245      0.4
PUMPKIN, COOKED FROM RAW      1 CUP          0        50          12         2        0       245      0.1
QUICHE LORRAINE               1 SLICE       48       600          29        13       285      176      23.2

Description of food                         Fat  Food Energy Carbohydrate Protein Cholesterol Weight Saturated Fat
                                          (Grams) (calories)   (Grams)   (Grams) (Milligrams) (Grams)  (Grams)

RADISHES, RAW                 4 RADISH       0        5            1         0        0       18        0
RAISIN BRAN, KELLOGG'S        1 OZ           1        90          21         3        0      28.35     0.1
RAISIN BRAN, POST             1 OZ           1        85          21         3        0      28.35     0.1
RAISIN BREAD                  1 LOAF        18       1260         239       37        0       454      4.1
RAISIN BREAD                  1 SLICE        1        65          13         2        0       25       0.2
RAISIN BREAD, TOASTED         1 SLICE        1        65          13         2        0       21       0.2
RAISINS                       1 CUP          1       435          115        5        0       145      0.2
RAISINS                       1 PACKET       0        40          11         0        0       14        0
RASPBERRIES, FROZEN, SWEETENED1 CUP          0       255          65         2        0       250       0
RASPBERRIES, FROZEN, SWEETENED10 OZ          0       295          74         2        0       284       0
RASPBERRIES, RAW              1 CUP          1        60          14         1        0       123       0
RED KIDNEY BEANS, DRY, CANNED 1 CUP          1       230          42        15        0       255      0.1
REFRIED BEANS, CANNED         1 CUP          3       295          51        18        0       290      0.4
RELISH, SWEET                 1 TBSP         0        20           5         0        0       15        0

Description of food                         Fat  Food Energy Carbohydrate Protein Cholesterol Weight Saturated Fat
                                          (Grams) (calories)   (Grams)   (Grams) (Milligrams) (Grams)  (Grams)

RHUBARB, COOKED, ADDED SUGAR  1 CUP          0       280          75         1        0       240       0
RICE KRISPIES CEREAL          1 OZ           0       110          25         2        0      28.35      0
RICE, BROWN, COOKED           1 CUP          1       230          50         5        0       195      0.3
RICE, WHITE, COOKED           1 CUP          0       225          50         4        0       205      0.1
RICE, WHITE, INSTANT, COOKED  1 CUP          0       180          40         4        0       165      0.1
RICE, WHITE, PARBOILED, COOKED1 CUP          0       185          41         4        0       175       0
RICE, WHITE, PARBOILED, RAW   1 CUP          1       685          150       14        0       185      0.1
RICE, WHITE, RAW              1 CUP          1       670          149       12        0       185      0.2
RICOTTA CHEESE, PART SKIM MILK1 CUP         19       340          13        28       76       246      12.1
RICOTTA CHEESE, WHOLE MILK    1 CUP         32       430           7        28       124      246      20.4
ROAST BEEF SANDWICH           1 SANDWH      13       345          34        22       55       150      3.5
ROLLS, DINNER, COMMERCIAL     1 ROLL         2        85          14         2        0       28       0.5
ROLLS, DINNER, HOME RECIPE    1 ROLL         3       120          20         3       12       35       0.8

Description of food                         Fat  Food Energy Carbohydrate Protein Cholesterol Weight Saturated Fat
                                          (Grams) (calories)   (Grams)   (Grams) (Milligrams) (Grams)  (Grams)

ROLLS, FRANKFURTER + HAMBURGER1 ROLL         2       115          20         3        0       40       0.5
ROLLS, HARD                   1 ROLL         2       155          30         5        0       50       0.4
ROLLS, HOAGIE OR SUBMARINE    1 ROLL         8       400          72        11        0       135      1.8
ROOT BEER                     12 FL OZ       0       165          42         0        0       370       0
RYE BREAD, LIGHT              1 LOAF        17       1190         218       38        0       454      3.3
RYE BREAD, LIGHT              1 SLICE        1        65          12         2        0       25       0.2
RYE BREAD, LIGHT, TOASTED     1 SLICE        1        65          12         2        0       22       0.2
RYE WAFERS, WHOLE-GRAIN       2 WAFERS       1        55          10         1        0       14       0.3
SAFFLOWER OIL                 1 CUP         218      1925          0         0        0       218      19.8
SAFFLOWER OIL                 1 TBSP        14       125           0         0        0       14       1.3
SALAMI, COOKED TYPE           2 SLICES      11       145           1         8       37       57       4.6
SALAMI, DRY TYPE              2 SLICES       7        85           1         5       16       20       2.4
SALMON, BAKED, RED            3 OZ           5       140           0        21       60       85       1.2

Description of food                         Fat  Food Energy Carbohydrate Protein Cholesterol Weight Saturated Fat
                                          (Grams) (calories)   (Grams)   (Grams) (Milligrams) (Grams)  (Grams)

SALMON, CANNED, PINK, W/ BONES3 OZ           5       120           0        17       34       85       0.9
SALMON, SMOKED                3 OZ           8       150           0        18       51       85       2.6
SALT                          1 TSP          0        0            0         0        0       5.5       0
SALTINES                      4 CRACKR       1        50           9         1        4       12       0.5
SANDWICH SPREAD, PORK, BEEF   1 TBSP         3        35           2         1        6       15       0.9
SANDWICH TYPE COOKIE          4 COOKIE       8       195          29         2        0       40        2
SARDINES, ATLNTC,CNNED,OIL,DRN3 OZ           9       175           0        20       85       85       2.1
SAUERKRAUT, CANNED            1 CUP          0        45          10         2        0       236      0.1
SCALLOPS, BREADED, FRZN,REHEAT6 SCALOP      10       195          10        15       70       90       2.5
SEAWEED, KELP, RAW            1 OZ           0        10           3         0        0      28.35     0.1
SEAWEED, SPIRULINA, DRIED     1 OZ           2        80           7        16        0      28.35     0.8
SELF-RISING FLOUR, UNSIFTED   1 CUP          1       440          93        12        0       125      0.2
SEMISWEET CHOCOLATE           1 CUP         61       860          97         7        0       170      36.2

Description of food                         Fat  Food Energy Carbohydrate Protein Cholesterol Weight Saturated Fat
                                          (Grams) (calories)   (Grams)   (Grams) (Milligrams) (Grams)  (Grams)

SESAME SEEDS                  1 TBSP         4        45           1         2        0        8       0.6
SHAKES, THICK, CHOCOLATE      10 OZ          8       335          60         9       30       283      4.8
SHAKES, THICK, VANILLA        10 OZ          9       315          50        11       33       283      5.3
SHEETCAKE W/O FRSTNG,HOMERECIP1 CAKE        108      2830         434       35       552      777      29.5
SHEETCAKE,W/ WHFRSTNG,HOMERCIP1 CAKE        129      4020         694       37       636     1096      41.6
SHEETCAKE,W/ WHFRSTNG,HOMERCIP1 PIECE       14       445          77         4       70       121      4.6
SHEETCAKE,W/O FRSTNG,HOMERECIP1 PIECE       12       315          48         4       61       86       3.3
SHERBET, 2% FAT               1 CUP          4       270          59         2       14       193      2.4
SHERBET, 2% FAT               1/2 GAL       31       2160         469       17       113     1542       19
SHORTBREAD COOKIE, COMMERCIAL 4 COOKIE       8       155          20         2       27       32       2.9
SHORTBREAD COOKIE, HOME RECIPE2 COOKIE       8       145          17         2        0       28       1.3
SHREDDED WHEAT CEREAL         1 OZ           1       100          23         3        0      28.35     0.1
SHRIMP, CANNED, DRAINED       3 OZ           1       100           1        21       128      85       0.2

Description of food                         Fat  Food Energy Carbohydrate Protein Cholesterol Weight Saturated Fat
                                          (Grams) (calories)   (Grams)   (Grams) (Milligrams) (Grams)  (Grams)

SHRIMP, FRENCH FRIED          3 OZ          10       200          11        16       168      85       2.5
SNACK CAKES,DEVILS FOOD,CREMFLSM CAKE        4       105          17         1       15       28       1.7
SNACK CAKES,SPONGE CREME FLLNGSM CAKE        5       155          27         1        7       42       2.3
SNACK TYPE CRACKERS           1 CRACKR       1        15           2         0        0        3       0.2
SNAP BEAN,CNND,DRND,GREEN,SALT1 CUP          0        25           6         2        0       135       0
SNAP BEAN,CNND,DRND,GRN,NOSALT1 CUP          0        25           6         2        0       135       0
SNAP BEAN,CNND,DRND,YLLW, SALT1 CUP          0        25           6         2        0       135       0
SNAP BEAN,CNND,DRND,YLLW,NOSAL1 CUP          0        25           6         2        0       135       0
SNAP BEAN,FRZ,CKD,DRND,GREEN  1 CUP          0        35           8         2        0       135       0
SNAP BEAN,FRZ,CKD,DRND,YELLOW 1 CUP          0        35           8         2        0       135       0
SNAP BEAN,RAW,CKD,DRND,GREEN  1 CUP          0        45          10         2        0       125      0.1
SNAP BEAN,RAW,CKD,DRND,YELLOW 1 CUP          0        45          10         2        0       125      0.1
SOUR CREAM                    1 CUP         48       495          10         7       102      230       30

Description of food                         Fat  Food Energy Carbohydrate Protein Cholesterol Weight Saturated Fat
                                          (Grams) (calories)   (Grams)   (Grams) (Milligrams) (Grams)  (Grams)

SOUR CREAM                    1 TBSP         3        25           1         0        5       12       1.6
SOY SAUCE                     1 TBSP         0        10           2         2        0       18        0
SOYBEAN-COTTONSEED OIL, HYDRGN1 CUP         218      1925          0         0        0       218      39.2
SOYBEAN-COTTONSEED OIL, HYDRGN1 TBSP        14       125           0         0        0       14       2.5
SOYBEAN OIL, HYDROGENATED     1 CUP         218      1925          0         0        0       218      32.5
SOYBEAN OIL, HYDROGENATED     1 TBSP        14       125           0         0        0       14       2.1
SOYBEANS, DRY, COOKED, DRAINED1 CUP         10       235          19        20        0       180      1.3
SPAGHETTI, COOKED, FIRM       1 CUP          1       190          39         7        0       130      0.1
SPAGHETTI, COOKED, TENDER     1 CUP          1       155          32         5        0       140      0.1
SPAGHETTI, TOM SAUCE CHEES,CND1 CUP          2       190          39         6        3       250      0.4
SPAGHETTI, TOM SAUCE CHEE,HMRP1 CUP          9       260          37         9        8       250       3
SPAGHETTI,MEATBALLS,TOMSAC,CND1 CUP         10       260          29        12       23       250      2.4
SPAGHETTI,MEATBALLS,TOMSA,HMRP1 CUP         12       330          39        19       89       248      3.9

Description of food                         Fat  Food Energy Carbohydrate Protein Cholesterol Weight Saturated Fat
                                          (Grams) (calories)   (Grams)   (Grams) (Milligrams) (Grams)  (Grams)

SPECIAL K CEREAL              1 OZ           0       110          21         6        0      28.35      0
SPINACH SOUFFLE               1 CUP         18       220           3        11       184      136      7.1
SPINACH, CANNED, DRND,W/ SALT 1 CUP          1        50           7         6        0       214      0.2
SPINACH, CANNED, DRND,W/O SALT1 CUP          1        50           7         6        0       214      0.2
SPINACH, COOKED FR FRZEN, DRND1 CUP          0        55          10         6        0       190      0.1
SPINACH, COOKED FROM RAW, DRND1 CUP          0        40           7         5        0       180      0.1
SPINACH, RAW                  1 CUP          0        10           2         2        0       55        0
SQUASH, SUMMER, COOKED, DRAIND1 CUP          1        35           8         2        0       180      0.1
SQUASH, WINTER, BAKED         1 CUP          1        80          18         2        0       205      0.3
STRAWBERRIES, FROZEN, SWEETEND1 CUP          0       245          66         1        0       255       0
STRAWBERRIES, FROZEN, SWEETEND10 OZ          0       275          74         2        0       284       0
STRAWBERRIES, RAW             1 CUP          1        45          10         1        0       149       0
SUGAR COOKIE, FROM REFRIG DOGH4 COOKIE      12       235          31         2       29       48       2.3

Description of food                         Fat  Food Energy Carbohydrate Protein Cholesterol Weight Saturated Fat
                                          (Grams) (calories)   (Grams)   (Grams) (Milligrams) (Grams)  (Grams)

SUGAR FROSTED FLAKES, KELLOGG 1 OZ           0       110          26         1        0      28.35      0
SUGAR SMACKS CEREAL           1 OZ           1       105          25         2        0      28.35     0.1
SUGAR, BROWN, PRESSED DOWN    1 CUP          0       820          212        0        0       220       0
SUGAR, POWDERED, SIFTED       1 CUP          0       385          100        0        0       100       0
SUGAR, WHITE, GRANULATED      1 CUP          0       770          199        0        0       200       0
SUGAR, WHITE, GRANULATED      1 PKT          0        25           6         0        0        6        0
SUGAR, WHITE, GRANULATED      1 TBSP         0        45          12         0        0       12        0
SUNFLOWER OIL                 1 CUP         218      1925          0         0        0       218      22.5
SUNFLOWER OIL                 1 TBSP        14       125           0         0        0       14       1.4
SUNFLOWER SEEDS               1 OZ          14       160           5         6        0      28.35     1.5
SUPER SUGAR CRISP CEREAL      1 OZ           0       105          26         2        0      28.35      0
SWEET (DARK) CHOCOLATE        1 OZ          10       150          16         1        0      28.35     5.9
SWEETENED CONDENSED MILK CNND 1 CUP         27       980          166       24       104      306      16.8

Description of food                         Fat  Food Energy Carbohydrate Protein Cholesterol Weight Saturated Fat
                                          (Grams) (calories)   (Grams)   (Grams) (Milligrams) (Grams)  (Grams)

SWEETPOTATOES, BAKED, PEELED  1 POTATO       0       115          28         2        0       114       0
SWEETPOTATOES, BOILED W/O PEEL1 POTATO       0       160          37         2        0       151      0.1
SWEETPOTATOES, CANDIED        1 PIECE        3       145          29         1        8       105      1.4
SWEETPOTATOES, CANNED, MASHED 1 CUP          1       260          59         5        0       255      0.1
SWEETPOTATOES, CNNED, VAC PACK1 PIECE        0        35           8         1        0       40        0
SWISS CHEESE                  1 OZ           8       105           1         8       26      28.35      5
SYRUP, CHOCOLATE FLAVORED THIN2 TBSP         0        85          22         1        0       38       0.2
SYRUP, CHOCOLATE FLVRED, FUDGE2 TBSP         5       125          21         2        0       38       3.1
TABLE SYRUP (CORN AND MAPLE)  2 TBSP         0       122          32         0        0       42        0
TACO                          1 TACO        11       195          15         9       21       81       4.1
TAHINI                        1 TBSP         8        90           3         3        0       15       1.1
TANGERINE JUICE, CANNED,SWTNED1 CUP          0       125          30         1        0       249       0
TANGERINES, CANNED, LIGHT SYRP1 CUP          0       155          41         1        0       252       0

Description of food                         Fat  Food Energy Carbohydrate Protein Cholesterol Weight Saturated Fat
                                          (Grams) (calories)   (Grams)   (Grams) (Milligrams) (Grams)  (Grams)

TANGERINES, RAW               1 TANGRN       0        35           9         1        0       84        0
TARTAR SAUCE                  1 TBSP         8        75           1         0        4       14       1.2
TEA, BREWED                   8 FL OZ        0        0            0         0        0       240       0
TEA, INSTANT,PREPRD,UNSWEETEND8 FL OZ        0        0            1         0        0       241       0
TEA,INSTANT,PREPARD,SWEETENED 8 FL OZ        0        85          22         0        0       262       0
TOASTER PASTRIES              1 PASTRY       6       210          38         2        0       54       1.7
TOFU                          1 PIECE        5        85           3         9        0       120      0.7
TOMATO JUICE, CANNED WITH SALT1 CUP          0        40          10         2        0       244       0
TOMATO JUICE, CANNED W/O SALT 1 CUP          0        40          10         2        0       244       0
TOMATO PASTE, CANNED WITH SALT1 CUP          2       220          49        10        0       262      0.3
TOMATO PASTE, CANNED W/O SALT 1 CUP          2       220          49        10        0       262      0.3
TOMATO PUREE, CANNED WITH SALT1 CUP          0       105          25         4        0       250       0
TOMATO PUREE, CANNED W/O SALT 1 CUP          0       105          25         4        0       250       0
TOMATO SAUCE, CANNED WITH SALT1 CUP          0        75          18         3        0       245      0.1

Description of food                         Fat  Food Energy Carbohydrate Protein Cholesterol Weight Saturated Fat
                                          (Grams) (calories)   (Grams)   (Grams) (Milligrams) (Grams)  (Grams)

TOMATO SOUP WITH MILK, CANNED 1 CUP          6       160          22         6       17       248      2.9
TOMATO SOUP W/ WATER, CANNED  1 CUP          2        85          17         2        0       244      0.4
TOMATO VEG SOUP, DEHYD,PREPRED1 PKT          1        40           8         1        0       189      0.3
TOMATOES, CANNED, S+L, W/ SALT1 CUP          1        50          10         2        0       240      0.1
TOMATOES, CANNED, S+L,W/O SALT1 CUP          1        50          10         2        0       240      0.1
TOMATOES, RAW                 1 TOMATO       0        25           5         1        0       123       0
TORTILLAS, CORN               1 TORTLA       1        65          13         2        0       30       0.1
TOTAL CEREAL                  1 OZ           1       100          22         3        0      28.35     0.1
TRIX CEREAL                   1 OZ           0       110          25         2        0      28.35     0.2
TROUT, BROILED, W/ BUTTR,LEMJU3 OZ           9       175           0        21       71       85       4.1
TUNA SALAD                    1 CUP         19       375          19        33       80       205      3.3
TUNA, CANND, DRND,OIL,CHK,LGHT3 OZ           7       165           0        24       55       85       1.4
TUNA, CANND, DRND,WATR, WHITE 3 OZ           1       135           0        30       48       85       0.3

Description of food                         Fat  Food Energy Carbohydrate Protein Cholesterol Weight Saturated Fat
                                          (Grams) (calories)   (Grams)   (Grams) (Milligrams) (Grams)  (Grams)

TURKEY HAM, CURED TURKEY THIGH2 SLICES       3        75           0        11       32       57        1
TURKEY LOAF, BREAST MEAT W/O C2 SLICES       1        45           0        10       17       42       0.2
TURKEY LOAF, BREAST MEAT, W/ C2 SLICES       1        45           0        10       17       42       0.2
TURKEY PATTIES, BRD,BATTD,FRID1 PATTY       12       180          10         9       40       64        3
TURKEY ROAST, FRZN,LGHT+DRK,CK3 OZ           5       130           3        18       45       85       1.6
TURKEY, ROASTED, DARK MEAT    4 PIECES       6       160           0        24       72       85       2.1
TURKEY, ROASTED, LIGHT MEAT   2 PIECES       3       135           0        25       59       85       0.9
TURKEY, ROASTED, LIGHT + DARK 1 CUP          7       240           0        41       106      140      2.3
TURKEY, ROASTED, LIGHT + DARK 3 PIECES       4       145           0        25       65       85       1.4
TURNIP GREENS, CKED FRM FROZEN1 CUP          1        50           8         5        0       164      0.2
TURNIP GREENS, COOKED FROM RAW1 CUP          0        30           6         2        0       144      0.1
TURNIPS, COOKED, DICED        1 CUP          0        30           8         1        0       156       0
VANILLA WAFERS                10 COOKE       7       185          29         2       25       40       1.8

Description of food                         Fat  Food Energy Carbohydrate Protein Cholesterol Weight Saturated Fat
                                          (Grams) (calories)   (Grams)   (Grams) (Milligrams) (Grams)  (Grams)

VEAL CUTLET, MED FAT,BRSD,BRLD3 OZ           9       185           0        23       86       85       4.1
VEAL RIB, MED FAT, ROASTED    3 OZ          14       230           0        23       109      85        6
VEGETABLE BEEF SOUP, CANNED   1 CUP          2        80          10         6        5       244      0.9
VEGETABLE JUICE COCKTAIL, CNND1 CUP          0        45          11         2        0       242       0
VEGETABLES, MIXED, CANNED     1 CUP          0        75          15         4        0       163      0.1
VEGETABLES, MIXED, CKED FR FRZ1 CUP          0       105          24         5        0       182      0.1
VEGETARIAN SOUP, CANNED       1 CUP          2        70          12         2        0       241      0.3
VIENNA BREAD                  1 SLICE        1        70          13         2        0       25       0.2
VIENNA SAUSAGE                1 SAUSAG       4        45           0         2        8       16       1.5
VINEGAR AND OIL SALAD DRESSING1 TBSP         8        70           0         0        0       16       1.5
VINEGAR, CIDER                1 TBSP         0        0            1         0        0       15        0
WAFFLES, FROM HOME RECIPE     1 WAFFLE      13       245          26         7       102      75        4
WAFFLES, FROM MIX             1 WAFFLE       8       205          27         7       59       75       2.7

Description of food                         Fat  Food Energy Carbohydrate Protein Cholesterol Weight Saturated Fat
                                          (Grams) (calories)   (Grams)   (Grams) (Milligrams) (Grams)  (Grams)

WALNUTS, BLACK, CHOPPED       1 CUP         71       760          15        30        0       125      4.5
WALNUTS, BLACK, CHOPPED       1 OZ          16       170           3         7        0      28.35      1
WALNUTS, ENGLISH, PIECES      1 CUP         74       770          22        17        0       120      6.7
WALNUTS, ENGLISH, PIECES      1 OZ          18       180           5         4        0      28.35     1.6
WATER CHESTNUTS, CANNED       1 CUP          0        70          17         1        0       140       0
WATERMELON, RAW               1 PIECE        2       155          35         3        0       482      0.3
WATERMELON, RAW, DICED        1 CUP          1        50          11         1        0       160      0.1
WHEAT BREAD                   1 LOAF        19       1160         213       43        0       454      3.9
WHEAT BREAD                   1 SLICE        1        65          12         2        0       25       0.2
WHEAT BREAD, TOASTED          1 SLICE        1        65          12         3        0       23       0.2
WHEAT FLOUR, ALL-PURPOSE,SIFTD1 CUP          1       420          88        12        0       115      0.2
WHEAT FLOUR, ALL-PURPOSE,UNSIF1 CUP          1       455          95        13        0       125      0.2
WHEATIES CEREAL               1 OZ           0       100          23         3        0      28.35     0.1

Description of food                         Fat  Food Energy Carbohydrate Protein Cholesterol Weight Saturated Fat
                                          (Grams) (calories)   (Grams)   (Grams) (Milligrams) (Grams)  (Grams)

WHEAT, THIN CRACKERS          4 CRACKR       1        35           5         1        0        8       0.5
WHIPPED TOPPING, PRESSURIZED  1 CUP         13       155           7         2       46       60       8.3
WHIPPED TOPPING, PRESSURIZED  1 TBSP         1        10           0         0        2        3       0.4
WHIPPING CREAM, UNWHIPED,HEAVY1 CUP         88       820           7         5       326      238      54.8
WHIPPING CREAM, UNWHIPED,HEAVY1 TBSP         6        50           0         0       21       15       3.5
WHIPPING CREAM, UNWHIPED,LIGHT1 CUP         74       700           7         5       265      239      46.2
WHIPPING CREAM, UNWHIPED,LIGHT1 TBSP         5        45           0         0       17       15       2.9
WHITE BREAD                   1 LOAF        18       1210         222       38        0       454      5.6
WHITE BREAD CRUMBS, SOFT      1 CUP          2       120          22         4        0       45       0.6
WHITE BREAD CUBES             1 CUP          1        80          15         2        0       30       0.4
WHITE BREAD, SLICE 18 PER LOAF1 SLICE        1        65          12         2        0       25       0.3
WHITE BREAD, SLICE 22 PER LOAF1 SLICE        1        55          10         2        0       20       0.2
WHITE BREAD, TOASTED 18 PER   1 SLICE        1        65          12         2        0       22       0.3

Description of food                         Fat  Food Energy Carbohydrate Protein Cholesterol Weight Saturated Fat
                                          (Grams) (calories)   (Grams)   (Grams) (Milligrams) (Grams)  (Grams)

WHITE BREAD, TOASTED 22 PER   1 SLICE        1        55          10         2        0       17       0.2
WHITE CAKE W/ WHT FRSTNG,COMML1 CAKE        148      4170         670       43       46      1140      33.1
WHITE CAKE W/ WHT FRSTNG,COMML1 PIECE        9       260          42         3        3       71       2.1
WHITE SAUCE W/ MILK FROM MIX  1 CUP         13       240          21        10       34       264      6.4
WHITE SAUCE, MEDIUM, HOME RECP1 CUP         30       395          24        10       32       250      9.1
WHOLE-WHEAT BREAD             1 LOAF        20       1110         206       44        0       454      5.8
WHOLE-WHEAT BREAD             1 SLICE        1        70          13         3        0       28       0.4
WHOLE-WHEAT BREAD, TOASTED    1 SLICE        1        70          13         3        0       25       0.4
WHOLE-WHEAT FLOUR,HRD WHT,STIR1 CUP          2       400          85        16        0       120      0.3
WHOLE-WHEAT WAFERS, CRACKERS  2 CRACKR       2        35           5         1        0        8       0.5
WINE, DESSERT                 3.5 F OZ       0       140           8         0        0       103       0
WINE, TABLE, RED              3.5 F OZ       0        75           3         0        0       102       0
WINE, TABLE, WHITE            3.5 F OZ       0        80           3         0        0       102       0

Description of food                         Fat  Food Energy Carbohydrate Protein Cholesterol Weight Saturated Fat
                                          (Grams) (calories)   (Grams)   (Grams) (Milligrams) (Grams)  (Grams)

YEAST, BAKERS, DRY, ACTIVE    1 PKG          0        20           3         3        0        7        0
YEAST, BREWERS, DRY           1 TBSP         0        25           3         3        0        8        0
YELLOW CAKE W/ CHOC FRST,FRMIX1 CAKE        125      3735         638       45       576     1108      47.8
YELLOW CAKE W/ CHOC FRST,FRMIX1 PIECE        8       235          40         3       36       69        3
YELLOWCAKE W/ CHOCFRSTNG,COMML1 CAKE        175      3895         620       40       609     1108       92
YELLOWCAKE W/ CHOCFRSTNG,COMML1 PIECE       11       245          39         2       38       69       5.7
YOGURT, W/ LOFAT MILK, PLAIN  8 OZ           4       145          16        12       14       227      2.3
YOGURT, W/ LOFAT MILK,FRUITFLV8 OZ           2       230          43        10       10       227      1.6
YOGURT, W/ NONFAT MILK        8 OZ           0       125          17        13        4       227      0.3
YOGURT, W/ WHOLE MILK         8 OZ           7       140          11         8       29       227      4.8