Pyroterrorism in California: A Sad State of Affairs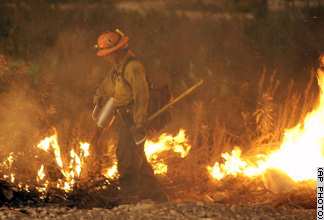 A firefighter deliberately setting fire to a small area in an attempt to create a curtain of ash where the fire has already burned, that way it can be put out easier and the fire will not spread beyond that curtain.
Written by Suzanne MacNevin
---
New Fires in October 2007
I am monitoring the new fires in California. Several of the fires look to be the work of an arsonist, possibly a pyroterrorist or group of pyroterrorists.
2005 Wildfires
Ten different wildfires killed 18 people in California in 2005. These fires are believed to have been started by either an arsonist or a pyroterrorist.
Over 500,000 people were evacuated from 17,000 acres. 3000 firefighters tried to contain the blazes but new blazes were started, suggesting an arsonist or pyroterrorist at work. The fires ended up destroying 2000 homes and caused $200 billion dollars (US) in damages. It was one of the largest fires in US history.
At the time George W. Bush went on the record saying he would try to solve the problem of forest fires by simply cutting down the forests or "thinning" them out. But thinner forests don't prevent wildfires, because grass fires spread faster and are harder to control.
And it certainly doesn't stop a pyroterrorist intent on damaging the American economy.
Resident: 'I thought I was in the middle of hell'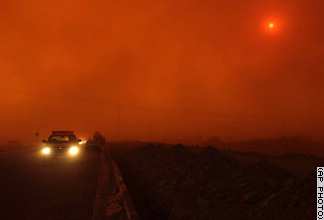 The ash is so thick, you can barely see the sun. It looks like a surreal version of Hell.
2003 Wildfires
Take a look at this news excerpt from Saturday October 25th 2003.
RANCHO CUCAMONGA, California (CNN) -- Thousands of suburban residents east of Los Angeles left their homes in the hands of firefighters Saturday, fleeing two wildfires racing through tinder-dry brush and forests.
One blaze that officials suspect started Tuesday as the result of arson had consumed more than 27,000 acres in the San Bernardino National Forest and the communities surrounding Rancho Cucamonga by Saturday evening.
Driven by hot, dry Santa Ana winds gusting up to 50 mph, the fire crowned dozens of rooftops with orange flames and glowed dully against the premature dusk brought on by thick, black smoke.
The official count (as of Saturday the 25th) was 15 homes destroyed, but views from news helicopters showed dozens of houses ablaze. Fire officials say at least 8,400 structures are threatened. The fire is 23 percent contained.
The fire also threatened the electrical lines that provide power for up to 1 million customers in the Los Angeles basin, forced the closing of several roads, and spewed flaming ash and heavy smoke across the region.
Meanwhile, 10 miles east of Rancho Cucamonga, a second fire that began Saturday morning raced through neighborhoods in the Waterman Canyon area of the San Bernardino Mountains, consuming more than 10,000 acres by early evening, The Associated Press report authorities as saying.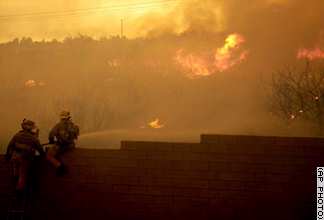 Suburbia on fire. Houses and trees in L.A.'s suburbia are on fire.
More than 200 homes had been destroyed and at least 7,000 were threatened.
Capt. Dennis Cross of the Los Angeles County Fire Department said no containment was in sight.
"It just gives you an indication of the kinds of winds we are experiencing ... the dry fuel and the bad brush season," Cross said.
He said steady winds were funneling down the canyon at about 30-40 mph, with gusts up to 50-60 mph.
As many as 12,000 homes in the region were under "some form of evacuation," with residents having already left or preparing to do so, Forest Service information officer Martin Esparza said.
More than 2,200 firefighters battled the Rancho Cucamonga blaze. Officials reported 11 injuries, none serious, mostly to firefighters.
Firefighters not involved in directly fighting the fire concentrated their efforts on safeguarding homes that were dangerously close to the front lines.
Evacuations were lifted east of Day Creek and north of Interstate 15, which had reopened after being closed for part of Friday. I-210 and several smaller roads remained closed.
The latest residents told to leave their homes were from San Antonio Heights, Euclid Heights, Mount Baldy, Snow Drop Road, the Alta Loma Woods neighborhood and the area north of Almond. Thousands of homes and other structures were threatened.
Officials weren't sure how many other structures had been destroyed because flames were still engulfing evacuated areas.
Late Friday, fire crews took advantage of a lull in the Santa Ana winds and sent fixed-wing aircraft to dump flame retardant on the rapidly swelling blaze. But higher winds kept the planes grounded Saturday.
The blaze whipped into a frenzy late Thursday when the Santa Ana winds swept down Day Canyon faster than expected. Steep, rugged terrain hampered firefighters trying to get close.
Esparza said authorities had ruled out natural or regional causes, leading them to suspect arson.
The fact that there is TWO separate fires (with possibly more to come) also means arson. Since California is the wealthiest State in the US, it is a logical target for pyroterrorism because it will do the most economic damage.
---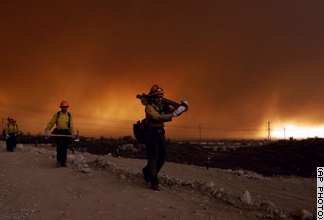 Firefighters carrying poor equipment. Bush's cuts have hurt firefighters across the Nation. Helicopters equipped to fight forest fires are extremely rare.
Pyroterrorism
is the willful destruction of a Nation's forests, farms and cities, through the use of FIRE. It is the oldest method of war. To raze another country is a symbolic means of destroying their economy. It turns their country into a wasteland of ash and dust. A desert.
Northern Africa used to be a prosperous land of fertility. Until the Romans had their wars with Hannibal and the Romans burnt the land to the ground (a war time practice known as razing) and sowed the land with salt so nothing would grow.
I have been warning people since 2000 that the United States would be a likely target for Pyroterrorism. I have been trying to warn people that this could happen which includes this quote below. But this is just one website and politicians are hardly worried about preventing pyroterrorism or catching the elusive terrorists.
During the summer of 2002, 140 thousand acres of forest and homes were destroyed by a blaze apparently caused by a small campfire. Another 2 million acres were destroyed in Alaska during August 2002, due to similar causes. Also in August 2002, Oregon had over half a million acres destroyed in 7 different fires.
In the last few years arson/pyroterrorism has happened in Greece, Portugal and in Australia, and now it has comes to the United States. Whether its just regular arson or deliberate politically motivated pyroterrorism, we will never know unless the arsonist/pyroterrorist is caught.
I hate to be the prophet of bad news, but I fear it will only get worse. I predict this is just the beginning of the razing of the United States.
The United States is not equipped to deal with massive forest fires. Once started, they are extremely hard to put out and George Bush has actually been cutting funding to fight such fires. He has NOT been taking the threat of pyroterrorism seriously.
And now that pyroterrorism is happening in America what will Americans do about it? As usual they will likely debate the issue rather than try to actually prevent the next time it happens. Whether this is a common arsonist or a pyroterrorist has not yet been proven, and it may never be proven unless America starts taking the threat seriously.
Please send California Governor Arnold Schwarzenegger an email and tell him you believe that America is facing a new threat: Pyroterrorism. He might be the only politician in America that will take the threat seriously.
http://gov.ca.gov/interact#contact
Phone: 916-445-2841
Fax: 916-445-4633