November 2007 - Ex-Premier Benazir Bhutto returns to Pakistan, seeking democratic reform.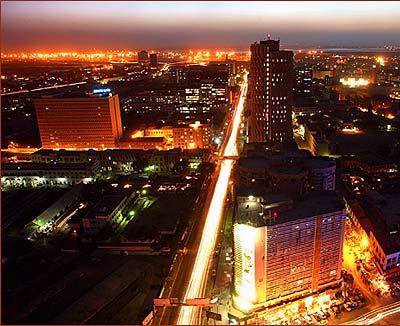 Economic Boom
Manufacturing has shot up 28% in the last seven years and wheat production 2005 surpassed all of Africa with 21.6 million metric tons of wheat, and with the recent high prices for wheat that means even the farmers are sharing in the economic growth.
As a result Pakistan's poverty levels have dropped 10% in the last 6 years, their population has grown to 162 million, they own 64 million cell phones, have 6 major cellphone companies and 24 million residents have internet in their homes.
The use of internet search engines and instant messaging services is also booming. Pakistanis are some of the most ardent chatters on the Internet, communicating with users all over the world. Recent years have seen a huge increase in the use of online marriage services, for example, leading to a major re-alignment of the tradition of arranged marriages.
This economic boom has not come with out a price however. President Musharraf has been bankrupting the country with extremely low taxes and overspending on military expenditures (to help the USA win the war against terrorism).
Crime is still a problem in Pakistan where farmers still produce 4 metric tons of pure heroin every year and is a crossroads for heroin leaving Afghanistan and terrorist armaments going in. Pakistan shares 2430 kilometers of border with Afghanistan and restricting the flow of goods and people across that border is almost impossible due to the rough terrain.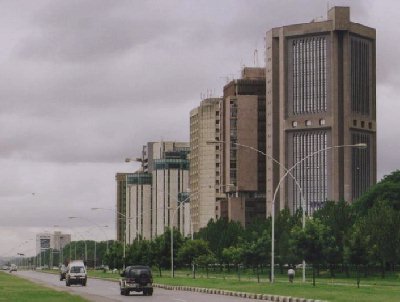 Cultural Change
Pakistan has a rich and unique culture that has preserved established traditions throughout 5000 years of history. Many of these cultural practices, foods, monuments, and shrines were inherited from the rule of Muslim Mughal and Afghan emperors.
The national dress of shalwar qamiz (below right) is originally of Central Asian origin derived from Turko-Iranian nomadic invaders and is today worn in all parts of Pakistan. Women wear brightly coloured shalwar qamiz, while men often wear solid-coloured ones. In cities western dress is also popular among the youth, lawyers and the business sector.
The variety of Pakistani music ranges from diverse provincial folk music and traditional styles such as Qawwali and Ghazal Gayaki to modern forms fusing traditional and western music (including rap, reggae and funk music), such as the synchronisation of Qawwali and western music by the world renowned Nusrat Fateh Ali Khan. In addition Pakistan is home to many famous folk singers such as the late Alam Lohar, who is also well known in India. The arrival of Afghan refugees in the western provinces has rekindled Pashto and Persian music and established Peshawar as a hub for Afghan musicians and a distribution centre for Afghan music abroad.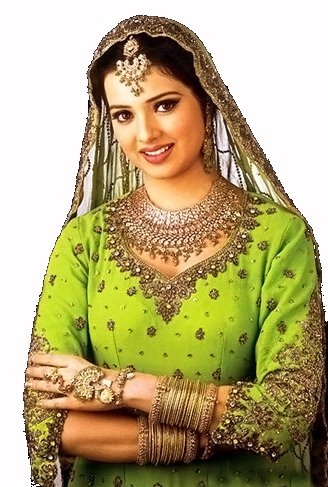 Until the 1990s, the state-owned Pakistan Television Corporation (PTV) and Pakistan Broadcasting Corporation were the dominant media outlets, but there are now numerous private television channels. Various American, European, Indian and Asian television channels and movies are available to the majority of the Pakistani population via private Television Networks, cable, and satellite television. There are also small indigenous movie industries based in Lahore and Peshawar (often referred to as Lollywood).
Although Bollywood movies are banned from being displayed in public cinemas since 1965, Indian film stars are still generally popular in Pakistan due to the fact that Pakistanis are easily able to buy Bollywood movies from local shops for private home viewing.
Pakistani society is largely multilingual and predominantly Muslim, with high regard for traditional family values, although urban families have grown into a nuclear family system due to the socio-economic constraints imposed by the traditional joint family system. Recent decades have seen the emergence of a middle class in cities like Karachi, Lahore, Rawalpindi, Hyderabad, Faisalabad, and Peshawar that wish to move in a more liberal direction, as opposed to the northwestern regions bordering Afghanistan that remain highly conservative and dominated by centuries-old regional tribal customs.
Increasing globalization has increased the influence of "Western culture" with Pakistan ranking 46th on the Kearney/FP Globalization Index. There are an approximated four million Pakistanis living abroad, with close to a half-million expatriates living in the United States and around a million living in Saudi Arabia. As well as nearly one million people of Pakistani descent in the United Kingdom, there are burgeoning cultural connections.
Potential for Political Change
The return of Ex-Premier Benazir Bhutto in 2007 has brought around a dramatic shift in Pakistani public opinion. Musharraf won the last election with overwhelming support, but Pakistanis are sometimes fickle when it comes to politicians. Bhutto's return has started mass pro-democracy protests in favour of having another election in 2008 to determine Pakistan's future.
Whatever the outcome we can be certain that Pakistan's economy will continue to grow and their culture will flourish. Ten years from now we can expect Lollywood movies to be making themselves popular overseas.