Wayne "The Great One" Gretzky and the Death of Hockey
THE GREAT ONE:
Wayne "The Great One" Gretzky was born on January 26, 1961 in the town of Brantford, Ontario, Canada. He learned to play hockey in a backyard rink with his father Walter Gretzky and got his values thanks to his mother Phyllis Gretzky. Even at the young age of eleven, Wayne Gretzky raised many eyebrows on the ice by collecting 517 points in a season.
As a seventeen year old in 1978, he led team Canada to a bronze medal in the World Junior championship, topping the tournament with 17 points in six games. Wayne Gretzky began his professional career with the Indianapolis Racers of the World Hockey Association (WHA) in 1978. He was traded to the Edmonton Oilers in 1978-79 and began his National Hockey League (NHL) career when the Edmonton Oilers moved from the WHA to the National Hockey League in the 1979-80 season.
Gretzky scintilated fans in his first year, scoring 137 points but missed the Art Ross Trophy as Marcel Dionne had one more goal. But the eighteen year old was awarded the Hart Memorial trophy as the most valuable player in the NHL.
Gretzky would go on to win seven straight Art Ross Trophies, and ten in total. He broke and set records for most goals in a season (92), assists (163) and points (215). He also led the Edmonton Oilers to four Stanley Cup Championships (1984, 1985, 1987, 1988), notching two Conn Smythe trophies as playoff MVP, along the way.
Gretzky is also remembered for his play in the 1987 Canada Cup final that landed Team Canada the gold medal. His pass to a streaking Mario Lemieux led to the game winning goal, late in the third period. Wayne's career in Edmonton came to an end in 1988 when he was traded to the Los Angles Kings. The oilers might have had little choice due to their financial woes, but hockey fans in Canada were in a state of shock.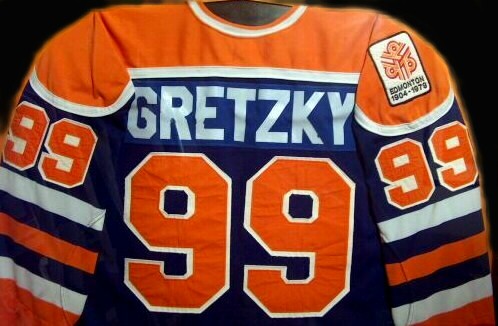 Wayne Gretzky went to Los Angles along with Mike Krushelnyski and Marty McSorley for Jummy Carson, Martin Gelinas, three first round draft picks and cash. Edmonton's loss was certainly LA's gain as Gretzky ushered in a new era for hockey in Southern California. He surpassed Gordie Howe's records of all-time goals and points leader and had a very successful seven year stint in LA.
In 1993 he led the Kings team all the way to the Stanley Cup final, where they lost to the Montreal Canadiens.
In 1994 Gretzky went on to break Gordie Howe's record of most goals scored when he notched his 802nd NHL regular season goal. At the trade deadline in 1996 he was traded to the St. Louis Blues for Craig Johnson, Roman Vopat, Patrice Tardiff and two draft picks. Wayne Gretzky would only be a Blue for the remainder of the 1996-97 season as he signed on with the New York Rangers as an unrestricted free agent and retired in 1999.
Wayne had been involved in hockey since his retirement, most notably with Hockey Canada and as a minority owner with the Phoenix Coyotes. In 2005, Gretzky made his return to the NHL, not as a player but as head coach of the Coyotes. To this day, Gretzky inspires many to pick up street hockey sticks from Hockey Monkey in the hopes of making it big on the ice someday.
Here is a summary of Wayne Gretzky's NHL accomplishments;

Year    Team                 GP   G   A   Pts   Pim
1979-80 Edmonton Oilers      79  51   86   137   21 
1980-81 Edmonton Oilers      80  55  109   164   28 
1981-82 Edmonton Oilers      80  92  120   212   26 
1982-83 Edmonton Oilers      80  71  125   196   59 
1983-84 Edmonton Oilers      74  87  118   205   39 
1984-85 Edmonton Oilers      80  73  135   208   52 
1985-86 Edmonton Oilers      80  52  163   215   46 
1986-87 Edmonton Oilers      79  62  121   183   28 
1987-88 Edmonton Oilers      64  40  109   149   24 
1988-89 Los Angeles Kings    78  54  114   168   26 
1989-90 Los Angeles Kings    73  40  102   142   42 
1990-91 Los Angeles Kings    78  41  122   163   16 
1991-92 Los Angeles Kings    74  31   90   121   34 
1992-93 Los Angeles Kings    45  16   49    65    6 
1993-94 Los Angeles Kings    81  38   92   130   20 
1994-95 Los Angeles Kings    48  11   37    48    6
1995-96 Los Angeles Kings    62  15   66    81   32
1995-96 St. Louis Blues      18   8   13    21    2
1996-97 New York Rangers     82  25   72    97   28 
1997-98 New York Rangers     82  23   67    90   28 
1998-99 New York Rangers     70  9    53    62   14
NHL Totals                  1487 894 1963 2857  577

Trophies
Art Ross Trophy - 10 (1981, 1982, 1983, 1984, 1985, 1986, 1987, 1990, 1991, 1994)
Hart Memorial - 9 (1980, 1981, 1982, 1983, 1984, 1985, 1986, 1987, 1989)
Conn Smythe Trophy - 2 (1985, 1988)
Lester B. Pearson Trophy - 5 (1982, 1983, 1984, 1985, 1987)
Lady Byng Memorial - 5 (1980, 1991, 1992, 1994, 1999)

Championships
Stanley Cup - 4 (1984, 1985, 1987, 1988)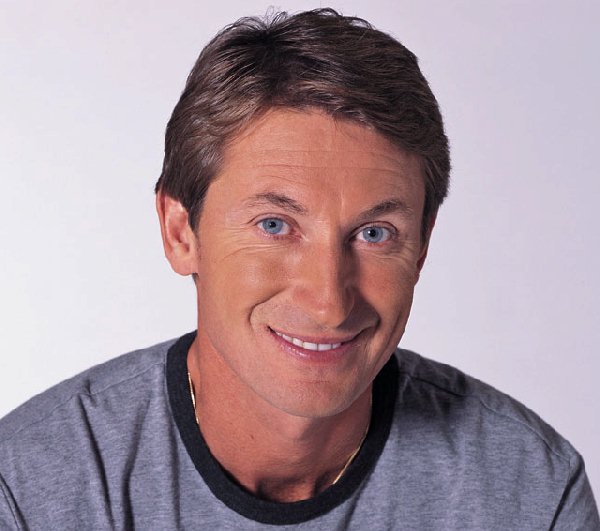 ---
"People don't care about hockey in the USA because its too expensive for your kid to play, too expensive to watch, the games are rarely televised and the season is way too long." - Scott Ferrall, American Radio Personality.
Not all Americans dislike hockey. Hockey is a regional sport and is most popular in the north east of the US and in Canada. Northeasterners in general like hockey. But hockey players and lovers are definitely the minority in the USA. Why?
1. Hockey in America is a white, upper-middle class sport. Unlike in Canada, youth hockey leagues in America are scarce and only occur in affluent areas where parents drive there kids to midnight practices because thats the only time the few rinks in the area will allow kids to skate without charging very high rates. Even so, hockey rinks are few and far between. Youth hockey is non-existant outside of the upper-middle class, white, anglo-saxon population base. The conclusion: Unlike basketball, which is played in every urban community, often for free, and attracts a broad ethnic range, and unlike baseball and football which are played from the age of 6 onward through high school in every town and state -- hockey is not part of a young boy's or a teenager's life growing up and playing sports, thus their interest in the sport when they become adults is minimal.
2. We have to realize TSN and hockey analysts in Canada find ways to talk about hockey for hours on end. But honestly, Hockey doesnt offer as many talking points as other sports. The 18-35 year old male who watches ESPN or listens to sports radio is drawn into the world of statistics. Hockey doesnt have very many stats, and its ultimately a slow sport when you look at the nature of scoring. Basketball -- shots are taken and made every minute. Football -- yardage is gained, a drive takes shape, points are scored. Baseball -- even a hit, a base runner, or a strikeout, is something happening. Hockey -- is very amorphous, yes there is forechecking, there are saves made, there are power plays... But to the unknowing eye, nothing is ever "really happening", or at least nothing that can be defined by statistics. Don't underestimate this. Stats create useless analysis, useless analysis takes up the airtime on ESPN, airtime on ESPN generates interest in the sport.
3. Hockey is not a national sport in the USA. SOCCER is more popular than hockey. For Americans the only national sports are baseball, football and basketball. Everything else doesn't deserve the attention of Americans.
4. In New York lots of different people listen to sports radio regularly. Its either Yankees, Mets, Giants, Jets, or Knicks. The rangers, devils, and Isles get no coverage. The radio personalities will often admit "I know nothing about hockey" as if knowing nothing, will endear them to the multitude of listeners who also know nothing. Its "cool" to not know nor care about hockey -- and that is sad from a hockey lover's perspective. But the point is that the media in the USA is not doing hockey any favors. NYC is the biggest sports market in North America, and its "cool" not to cover hockey.
5. The year-long hockey strike badly hurt hockey fans in the States. American fans are fickle.
6. Wayne Gretzky is gone, and lets face it Sidney Crosby just isn't going to fill the seats the way Gretzky did.