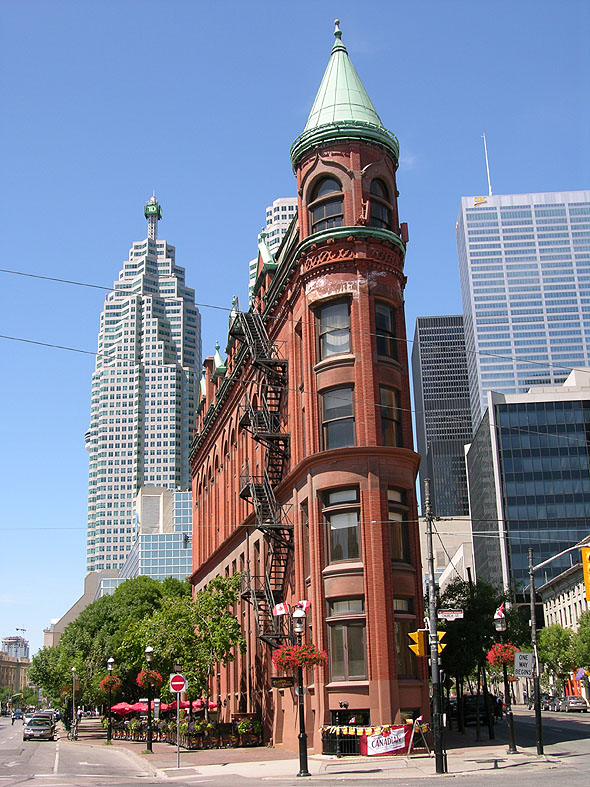 The Toronto Real Estate Market
A Guide to Homebuying in Toronto
By CM - July 2010.
When I embarked on writing this topic I did a search for "Toronto Real Estate Market" and all I found was the Toronto Real Estate Board, various broker websites, a few articles in newspapers, a couple blogs and that was pretty much it. There was no "general purpose" website about Toronto real estate, one that was just informative, provided some historical background an overview of the topic. Like a wiki page, except there is no wiki page on this topic.
Thus using a great deal of research I've collected and condensed as much information into this overview as I can. If you find some glaring omission or know of some interesting fact you think should be added to this page (provided it can be sourced and proven) please let me know.
To keep this simple I've broken this topic down into various sections and key neighbourhoods.
Downtown / Central Toronto
Alexandra Park
The Annex
Baldwin Village
Cabbagetown
CityPlace
Chinatown
Church and Wellesley
Corktown
Discovery District
Distillery District
The Entertainment District
Fashion District
The Financial District
Garden District
Grange Park
Harbord Village
Harbourfront
Kensington Market
Moss Park
Queen Street West
Regent Park
St. James Town
St. Lawrence
Toronto Islands
Trefann Court
University of Toronto St. George Campus
Yorkville

North End

Bedford Park
Casa Loma
Chaplin Estates
Davisville Village
Deer Park (Yonge and St. Clair)
Forest Hill (and Forest Hill Village)
Lawrence Park
Lytton Park
Midtown
Moore Park
North Toronto
Rosedale
South Hill (includes Rathnelly)
Summerhill
Wanless Park
Wychwood Park
Yonge and Eglinton (considered centre of Midtown Toronto)
West End
Bloor West Village
Bracondale Hill
Brockton Village
Carleton Village
Corso Italia
Davenport
Dovercourt Park
Dufferin Grove
Earlscourt
Fort York
High Park
The Junction (formerly West Toronto)
Junction Triangle
Koreatown
Liberty Village
Little Italy
Little Portugal
Malta Village
Mirvish Village
Niagara
Palmerston
Parkdale
Pelham Park
Roncesvalles
Runnymede
Seaton Village
Swansea
Trinity-Bellwoods (Portugal Village)

East End

The Beaches (also known as The Beach)
East Danforth
Gerrard Street East (Little India)
Greektown
Leslieville
Main Square
Playter Estates
Port Lands
Riverdale
Upper Beaches

East York

Bermondsey
Crescent Town
Leaside
Governor's Bridge
O'Connor-Parkview
Old East York
North York
Amesbury
Armour Heights
Bathurst Manor
Bayview Village
Bayview Woods – Steeles
Bermondsey
Black Creek
The Bridle Path
Clanton Park (Wilson Heights)
Don Mills
Don Valley Village
Downsview
Emery
Flemingdon Park
Glen Park
Henry Farm
Hillcrest Village
Hogg's Hollow
Humber Summit
Humbermede (also known as Emery)
Jane and Finch (also known as University Heights)
Lansing
Lawrence Heights
Ledbury Park
Lawrence Manor
Maple Leaf
Newtonbrook
North York Centre
Parkway Forest
Parkwoods
The Peanut
Pelmo Park-Humberlea
Pleasant View
Uptown Toronto
Victoria Park Village
Westminster-Branson
Willowdale
York Mills
York University Heights (Village at York)

York

Baby Point
Eglinton West
Fairbank
Humewood-Cedarvale
Lambton
Mount Dennis
Oakwood-Vaughan (Five Points; Northcliffe)
Old Mill
And then there is also the satellite cities of the Greater Toronto Area: Etobicoke, Scarborough, Mississauga, Richmond Hill, Vaughan, etc. Toronto is a very diverse city, the most multicultural city in the world and there is basically a community for almost every nationality or ethnic group to congregate. The city wasn't designed that way, it just happened as immigrants chose to settle and open businesses near others.
Recommended Neighbourhoods in Toronto
Obviously I can't go into detail about every single neighbourhood in Toronto, so instead I've created a short list of neighbourhoods which are more centrally located and offer great value.
Lawrence Park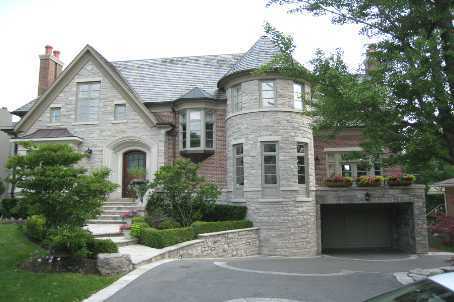 Lawrence Park is one of Toronto most affluent neighbourhoods and one of Toronto's first planned garden suburbs. Construction began around 1900 but didn't flourish until after WWII. Smack dab between Yonge Street and Bayview Avenue its one of the most scenic and convenient locations in Toronto, close to the TTC, the Don Valley Parkway, lots of schools, parks, shopping and a lush tranquil setting.
Lawrence Park's architectural styles includes English Cottage, Tudor Revival, Georgian and Colonial style designs, mostly built between 1910 and 1940. Newer mansions in the area are part of a redevelopment.
Leaside
Leaside originally belonged to the Lea family but when they sold some of their land to the railroad a town sprung up around which was for a period of 75 years was the busiest train station in Toronto. Most of the homes are detached two story homes built in the 1930s, but like Lawrence Park above its conveniently close to the TTC, DVP, schools and lots of parks/shopping. (Learn more about Leaside.) Prime Minister Stephen Harper was also born and raised in Leaside.
The nicest / hottest location in Toronto is Bessborough Drive in Leaside, known for its award winning schools, tennis club and quiet neighbourhood.
Davisville Village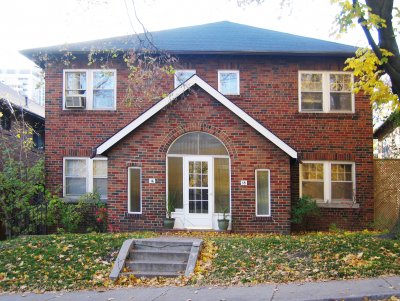 Directly west of Leaside is Davisville Village, just north of Mount Pleasant Cemetery. Davisville Village West is 91% condos and apartments and close to the Davisville Subway Station. Davisville Village East more closely resembles Leaside above and was developed around the same time frame.
Chaplin Estates
Further west of Davisville is Chaplin Estates, which used to have a railway line running through it but now has the scenic walking / biking 'Kay Gardner Beltline Trail'. The subdivision was first created in 1913 by the Chaplin family and most of the homes were built in the 1920s and 1930s, usually with Tudor, Georgian, and English Cottage architecture. The Chaplin family has a number of rules when they built the subdivision: No semi-detached houses allowed, large front yards and stucco exteriors must occupy less than 50% of the house.
Deer Park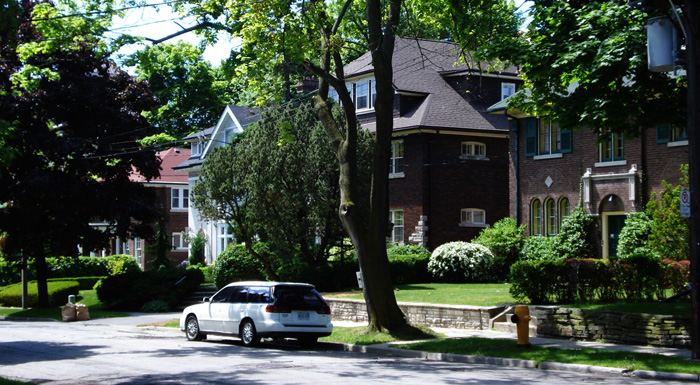 Further south of Chaplin Estates on the Belt Line Trail is Deer Park, the home of many famous Canadians including Group of Seven painter J.E.H. MacDonald, pianist Glenn Gould, writer Farley Mowat, actor William Hutt and bank robber Edwin Boyd. In the early years the neighbourhood had deer which roamed on the property, a racetrack, a hotel and a school. Today there is the St Clair Subway Station, a scenic cemetery and an upper-middle class residential district.
Moore Park
East of Deer Park is the area of Moore Park and the Moore Park ravine, named for its developer, John T. Moore, who built two bridges and helped introduce the railroad to the area.
Rosedale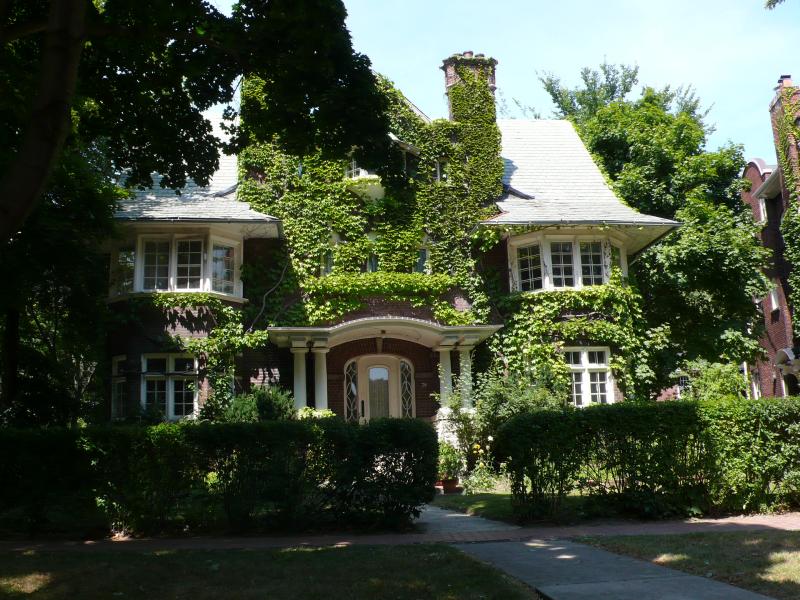 Just south of Moore Park is Rosedale, one of Toronto's oldest and most beautiful neighbourhoods. It was even home to Ken Thomson, Canada's richest man until his death in 2006. Bordered by FIVE subway stations and the Don Valley Parkway it is one of the most conveniently located areas in Toronto. Development began in 1909 and includes three ravines, lots of parkland, curvy roads, private schools, a public arts school, the Rosedale Golf Club and an untold number of million dollar mansions. It is the 2nd richest neighbourhood in Toronto (the 1st is Bridle Path, where Conrad Black lives when he's not in prison).
Summerhill
West of Rosedale and south of Deer Park is the quiet tree-lined streets of Summerhill. The homes there are often a hundred years old and conveniently close to the TTC subways and Yorkville shopping and art galleries. The neighbourhood is named after the famous 'Summer Hill' house, built in 1842 by Canadian transportation baron Charles Thompson. The old railway station is now an LCBO outlet.
Bennington Heights
In a tiny area between Leaside and Moorepark is Bennington Heights, built on top of an escarpment. First settled in the 1870s by John Cudmore and Daniel Ryan, the Cudmore farm was later subdivided in 1889 and later re-subdivided in 1912. The name Bennington came from the maiden name of Thomas Weatherhead's wife, the first couple to move into the new subdivision.
Toronto Architecture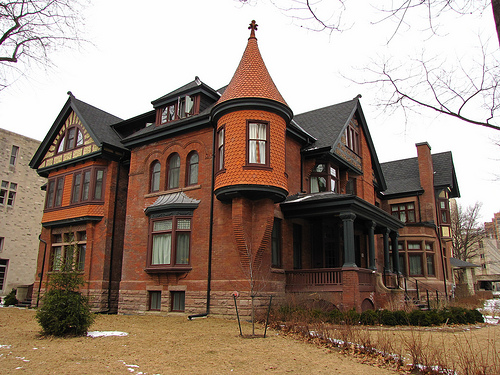 When it comes to residential homes there are a variety of architectural styles in Toronto, including several unique architectural styles like the bay and gable house and the Annex style of house.
In the early years of Toronto (previously known as York) brick was very cheap and usually made by the Don Valley Brick Works. These days modern houses are more likely to be made with concrete, cinder blocks and aluminum siding but Toronto's red bricks remain a staple of the local housing industry. Sandstone was also used for government buildings and the Annex style of houses. The Annex style uses a mixture of different styles, brick and sandstone, turrets, domes and lots of ornamentation.
Two of Toronto's oldest buildings are The Grange and Campbell House, both built in the Georgian style. Georgian manors can be found in Rosedale and the Bridle Path.
The Victorian style dominates in the neighbourhoods of Parkdale and Cabbagetown.
Toronto Real Estate Market Statistics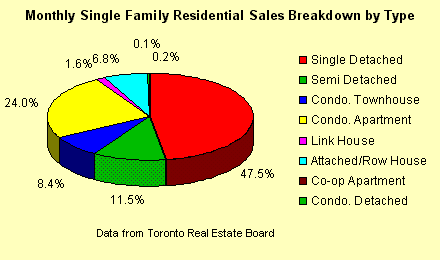 Home Sales by Type of Property: The majority of homes in Toronto being sold are single detached or semi detached, but there is a rising trend towards condos because of long commute times. (Toronto has the worst commute times in North America.) Condo townhouses are also a rising trend, but not nearly as much at the apartment-style condos.
Co-operative living is a small but growing trend as well. Co-ops are non-profit and typically grow out of townhouses and expand as more members join.

Annual Sales Volume 1980-2009: This chart shows the volume of single family homes sold between 1980 and 2009. The low volume in 1990 was due to a recession. In 1993 Jean Chretien's Liberals were elected and an economic boom in Canada grew with sales picking up dramatically in 1996. 2007 saw record sales of homes, followed by a decline during the American Recession in 2008-2009.
Note: The boundaries of Toronto expanded at various points so direct comparisons between years are not wholly accurate, but instead represent the expansion of the GTA.

Sales Year-To-Date (January to June): Following the recession in 1990 the number of resale homes spiked dramatically as the economic boom of the Chretien era saw many families cashing in their homes and upping the ante, creating a solid period with a large volume of home resales. This chart shows the number of resales each year, up to the end of June. (Spring is the busiest time of year for home sales.)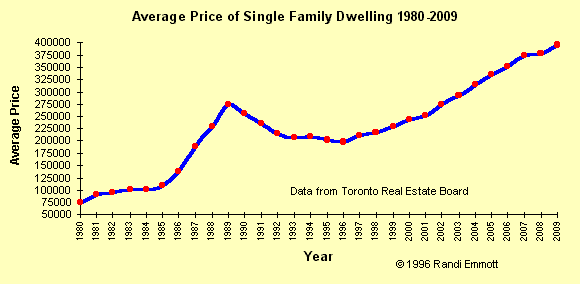 Average Selling Price 1980-2009: In this chart you can see the rise in the average sale price during the early Mulroney years, followed by a collapse in the 1990 to 1993 period. Prices in recent years (2006 onwards) under the Harper government have leveled off a bit, but continue to rise slowly.
For more real estate market statistics on Toronto see Market Statistics by Randi Emmott.
See Also: